Commercial Outdoor Furniture Buying Guide
Utilizing your outdoor space is an excellent business decision since it can bring more patrons to your space and allow you to earn more revenue. Before you can open your outdoor space to the public, you need to furnish it to ensure your guests will be comfortable. Learn how to choose commercial outdoor furniture that will add to the aesthetic and experience of your outdoor area. Whether you need benches in a park, lounge chairs by the pool or dining tables outside a restaurant, know what to look for to make the most of your investment.
Patio Furniture
An outdoor patio provides space for various things, including dining, private events or parties; extra space to accommodate guests; or an area to simply enhance your guest experience. Regardless of how you use it, there are many ways to furnish your patio depending on the desired function, or you may choose to use a combination of different furniture types. When choosing patio furniture, be sure to keep the following in mind to help you find the most useful and fitting patio furniture for your outdoor space.
Patio Tables
There are various types of tables you should consider including on your outdoor patio. Depending on the space you're creating, you may have dining tables, coffee tables or end tables. Dining tables are ideal for offering guests an area to sit down and enjoy their food and drinks outside, while coffee tables and end tables can be used to create conversation or lounge areas.
Outdoor table frames are commonly wood, metal or melamine to provide a durable, weather-resistant structure that will hold up under heavy use. Tabletops can be the same material as the frame, or they can be glass, tile, laminate or granite, among others. While most outdoor tables are made to withstand the elements, metals like iron and aluminum tend to be more durable than plastics. Durability is crucial, especially in locations where the weather allows for outdoor spaces to be used for more than one season.
Choose a material for your outdoor tables that will complement the design and aesthetic of your indoor space to keep them connected. Many materials for patio furniture come in several colors or finishes so you can achieve the look you're going for. Be sure to think about how the material of your tables will heat up in the sun — for example, metal surfaces tend to retain more heat. To help make an outdoor space more comfortable for guests, consider looking for patio tables with an umbrella hole so you can protect your furniture and guests from the sun.
Depending on your situation, you may prefer to have tables and patio furniture that are easy to move and store. Aluminum tables are lightweight, so it's easy to rearrange your space. Foldable tables offer a flexible option for those looking for temporary patio furniture.
Patio Seating
Patio seating can take many forms. In terms of chairs for a dining table, you'll want to choose a similar material that will match the table's material. The biggest factor to consider when it comes to your patio chairs is comfort. Pay attention to the shape of the seat and chair back, as materials like metal are more comfortable when they're ergonomic. With an ergonomic chair, cushions become optional.
In addition to pairing chairs with your dining tables, other options include rocking chairs, outdoor sofas and chaise lounges. These seating options are perfect for creating a relaxing, comfortable conversation area.
For example, you might position a sofa and other lounge seats around a coffee table to create an outdoor space where guests can gather with their friends and family to enjoy drinks and quality time together. Rocking chairs can be paired with an end table or be placed around a fire pit for guests to relax with the soothing rocking motion. Chaise lounge seats are a great option if you're looking to provide your guests with a seat that allows them to lean back and kick their feet up.
Restaurant Furniture
Because your guests will need somewhere to sit and enjoy their food and drinks, outdoor restaurant furniture will mainly consist of dining tables and chairs. Here are some considerations to make when looking for your tables and chairs.
Dining Tables
When choosing dining tables for your outdoor space, one of the most important things to consider is the material of the table. Outdoor tables are often made of aluminum, resin, wood, wrought iron, steel or plastic, and tabletop materials can vary widely. Your tables' material is important for a few reasons, including:
Aesthetic: Because your tables will take up so much space, they'll be key in establishing the look and aesthetic of your outdoor restaurant space. For example, wrought iron has a classic look, steel looks industrial, and wood can look rustic and natural. Consider how you can extend the aesthetic of the interior to the outdoors and what that might look like for your tables.
Durability: While most outdoor tables are designed with durability and resistance in mind, some materials will be stronger and last longer outside than others. For example, wrought iron is known to be sturdy and can last for years under heavy use. However, this material doesn't do as well near water. Pool and beachside restaurants will benefit more from tables made from resin since it's more resistant to damage from the sun, salty air and chlorine.
Maintenance: Just like wiping down and cleaning your indoor dining tables, you'll need to keep your outdoor tables clean as well. Some tabletop materials are easier to clean and maintain than others, which is why you'll want to keep this in mind when considering the material. For example, wrought iron requires quite a bit of maintenance to keep the table in good condition. On the other hand, aluminum requires little maintenance, and synthetic wood is easy to wipe down.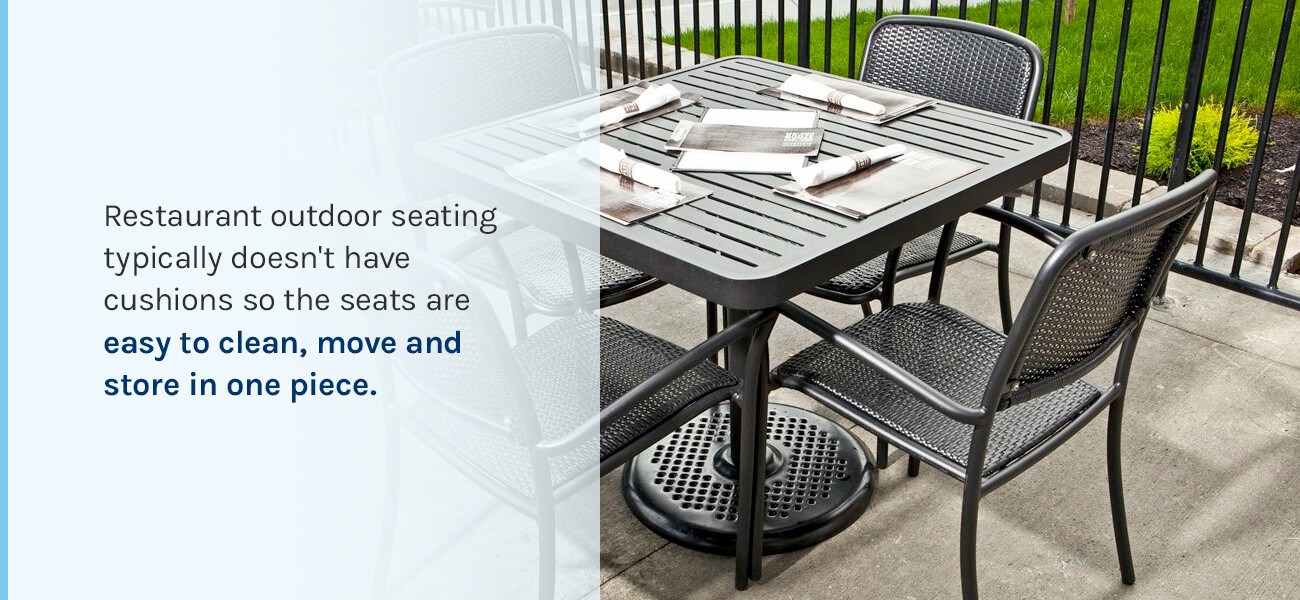 Outdoor Seating
When it comes to seating, your outdoor chairs and barstools will likely vary from your indoor ones. Restaurant outdoor seating typically doesn't have cushions so the seats are easy to clean, move and store in one piece. Instead, outdoor chairs are typically more contoured to body shape for comfort. For example, the seat and back will be curved to make the chair more comfortable.
Another option you should keep in mind is whether you want your outdoor chairs to have armrests or not. It's less common for indoor dining table chairs to have armrests, though outdoor seating often does. This option is ultimately up to preference. Armless chairs are often better for restricted space because they can be pushed under the table easily. Armless chairs are also typically easy to stack when storing them. However, armrests provide a place for your patrons to rest their arms off the table and can add an extra level of comfort.
Another aspect of comfort is associated with the material of your chairs. Metal tends to be most durable and economical, plastic is lightweight and has numerous color options, and wooden chairs offer sturdy comfort. While you'll want to keep material in mind when considering the comfort of your chairs, you should also consider how the chair material will look with the table material. You may choose chairs that match your tables or work with the aesthetic.
Park Furniture
Whether you're furnishing a park or other seating area, there are many ways to offer comfortable places for patrons to enjoy their time outside. Consider these seating options for parks and other outdoor areas.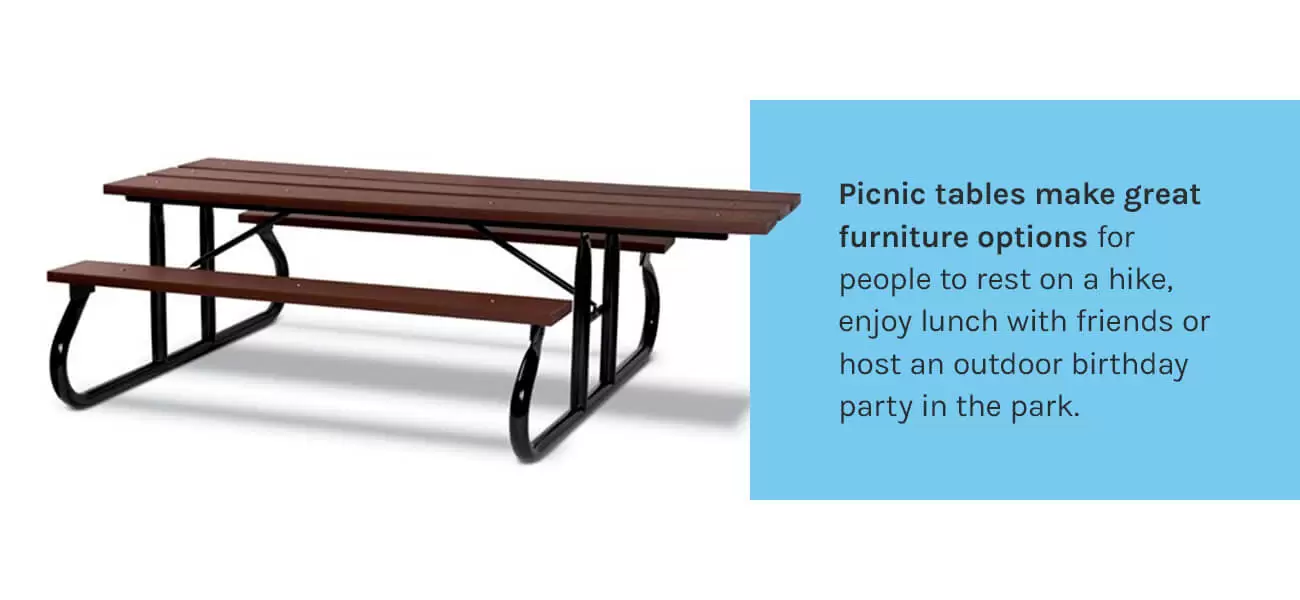 Picnic Tables
Picnic tables offer a family-friendly way to enjoy outdoor time. Picnic tables are staples in large outdoor spaces like parks and recreation areas. Large public spaces like this make it difficult to keep track of individual chairs and tables, so picnic tables are advantageous in these spaces because the seats are attached to the table. Picnic tables make great furniture options for people to rest on a hike, enjoy lunch with friends or host an outdoor birthday party in the park.
Picnic tables are also great additions to ice cream shops and other restaurants that may not offer an indoor dining area. Rather than invest in separate patio furniture pieces, a picnic table or two may be the perfect choice for your outdoor space.
Picnic tables can be made of various colors and materials, including wood, plastic and aluminum. They can also have two or four benches around the table and can be various shapes like rectangular, square or circular. Some picnic tables can be mounted to the ground, though most are considered portable so you can rearrange them or move them as needed.
Benches
Benches are versatile additions to any outdoor space. They're both decorative and functional pieces of furniture. Provide a spot for people to rest while on a walk around your park, a place to observe flora and wildlife or a seat to take in the scenery. Patrons at parks, walking trails and other outdoor facilities will appreciate and enjoy having the option to sit on a bench and watch the world pass by.
While benches are common in parks, they can also be great additions to your patio, waiting area, outdoor bar or other commercial outdoor space. Benches make great conversation areas or simply a place for guests to sit with each other while they wait or enjoy drinks.
Adirondack Chairs
Another great option for park furniture is Adirondack chairs. Guests have come to love the look and comfort of an Adirondack chair. Adirondack chairs are easy to settle into and many guests may find themselves wanting to spend all day in your chairs. With so many color options, you're sure to find ones that will complement your outdoor space. Whether you use them in a park, around a fire pit or on an outdoor deck, guests will be able to enjoy their time in your space.
Pool Furniture
Pool furniture is a necessity if you want guests to stay at your outdoor pool all day and enjoy themselves. You can add comfort to your pool facility in numerous ways. Be sure to consider adding these items to your pool complex.
Lounge Furniture
Many guests at your pool will likely be there to soak up the sun and relax. Standard chairs don't allow for leaning back and kicking your legs up, so be sure to include lounge furniture around your pool. Most pool guests will expect to see lounge chairs surrounding the pool, so these are often a must-have. Chaise lounges are a common choice for many outdoor pool complexes because they're available in numerous styles and materials.
Chaise lounge chairs feature an extended seat to allow guests to prop their legs up and get some sun. The back of the chaise lounge chair reclines and is typically adjustable so each guest can find the best level of comfort for themselves. These popular chairs come in several materials like metal, wicker, plastic and wood, and they may come with or without cushions and lounge covers depending on the style. Chaise lounge styles can be as decorative or simple as you like, allowing you to find the perfect fit for your pool area.
Lounge sets are another popular type of lounge furniture, which often include pieces like lounge chairs, sofas, ottomans and coffee tables. The seating in these sets typically has cushions to make them even more comfortable and can come in various materials and styles. Lounge sets can be mixed, matched and rearranged to make the space your own. Lounge areas are great for poolside chats, drinks and more. In the colder months, you can rearrange these versatile sets around a fire pit.
Poolside Dining
If you offer food options or have a poolside restaurant, dining tables will be essential. Guests will need a spot to sit down at a table and enjoy their meal or snacks rather than eating off their laps in a lounge chair. It's important to be mindful of the table and chair material in this case because the people using them are likely to be wet. Poolside dining furniture should be water-resistant and made of a material that won't be quickly damaged by chlorine.
Metal tables are popular because they're sturdy and durable. For dining chairs, metal is also common, and sling backing offers a more comfortable yet water-resistant option.
Accessories
Aside from outdoor tables and chairs, you can add numerous accessories to your outdoor space to make it more enjoyable, functional and comfortable. For some accessory inspiration, consider how these three additions could benefit your outdoor space.
Fire Pits
Fire pits can make any outdoor space cozy while entertaining guests long after the sun goes down. Propane fire pits or tables serve as inviting centerpieces in a variety of seating areas. From rooftop bars and patio restaurants to poolside parties and park pavilions, fire pits create an atmosphere that will keep your guests coming back. Create a cozy corner on your patio with lounge furniture, low tables and a fire pit. Consider offering s'mores for a unique experience your guests will return for.
Outdoor Heaters
Use commercial patio heaters to make your outdoor space comfortable even after the warm weather passes. Open your outdoor space in the spring and keep it open through the fall with outdoor heaters so guests can enjoy your space when the weather gets chilly. Outdoor heaters come in various shapes and sizes. For example, there are table-top heaters, mountable wall heaters and stand-alone models.
Unless you choose to mount them — since they'll already be up and out of the way — outdoor heaters can be moved and stored away for extra space or when they're not needed. Outdoor heaters allow you to keep your outdoor space open as it gets colder outside, which means you can continue to accommodate more guests and earn more revenue.
Umbrellas
We mentioned looking for patio tables with umbrella holes, so now you need umbrellas to go in your tables. Umbrellas provide shade for your guests to keep them as comfortable as possible during their visit. Aluminum and wood are the most common frame material, and the canvas material can come in nearly any color or pattern so you're sure to find umbrellas to complement your aesthetic.
While some people may enjoy the sun, others may not want to feel too hot while they eat or sit outside. To make it easy for your staff to put umbrellas up and down as your guests' needs change, look for umbrellas with either a pulley or crank system. Just be sure to train them on how to use the umbrellas you choose so they can seamlessly help your guests when the time comes.
Find Your Commercial Outdoor Furniture With Wabash Valley
Regardless of the outdoor space you're furnishing, you'll need quality products that will impress your patrons and last under heavy use. Wabash Valley is a trusted provider of commercial outdoor furniture. We offer a wide range of outdoor furniture products and accessories to help you make your outdoor space functional and attractive to guests. Investing in your outdoor space can draw new guests to your space, keep repeat customers coming back and help you stand out from competitors.
With solutions for many industries and applications, we're confident we can help you find what you need to complete your outdoor space. Contact our team to request a quote or learn more about our products.
Sign up for our newsletter