Tips for Choosing Outdoor Benches
An outdoor bench can upgrade a garden, yard, patio, park, retail center or other business and give your guests a comfortable place to relax and enjoy the outdoors. It's the perfect time to help others gather with friends and family and spend quality time in an outdoor space.
Placing benches in an area is a great way to make it more inviting and charming. There is a wide selection of benches to choose from, so doing your research ahead of time will help you choose the one that's best for you, your space and your guests.
A good outdoor bench should be comfortable and sturdy as well as enhance the beauty of the area around it. This means your decision depends on more than just the bench. You'll need to consider the location, space, material, design and color. Discover tips for choosing outdoor benches below to select the right one for your needs.
How to Choose an Outdoor Bench
There are many things to consider when choosing the perfect outdoor bench for your space. One bench may be better suited for a garden with just one or two people sitting on it once every couple of days. Another would be best for a crowded mall where many people want a place to relax. You can easily narrow down your choices by determining the following factors: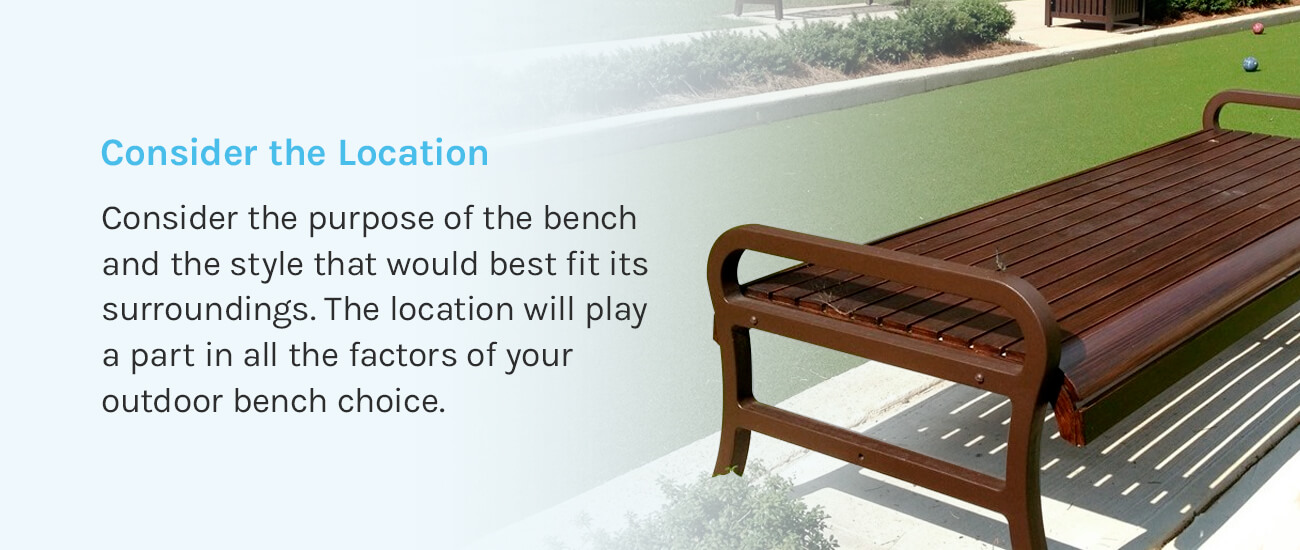 Consider the Location
First, where do you want to place the bench? Consider the purpose of the bench and the style that would best fit its surroundings. For instance, your bench may be going in:
A corner: If the area has corners, you may want a curved bench to place in one of the corners. Alcove benches also fit in corners and have a table in the middle.
A spot with a view: Consider positioning the bench so you get a great view when you're sitting on it, whether it's the view of the mountains, a rose bush or some trees.
The shade or the sun: Is your bench going in the garden or on a patio? Will it be under the shade of a tree or in direct sun? If it will be direct sun, you may have to consider if the color will fade, depending on the material you choose.
The location will play a part in all the factors of your outdoor bench choice. Note that you may also need to install multiple benches in an area to make it the most comfortable. Place the bench among tall shrubs or trees to give it more privacy. Or place your bench in an open area to connect a spread-out garden space. If people will only be sitting on the bench for a few minutes, a backless bench is enough to serve its purpose.
Determine Your Space
In addition to the location, you will also have to consider how much space you have for the bench. Is it a large space that requires a larger bench? How many people should the bench be able to seat? Benches commonly come in either 4- or 6-foot lengths. If desired, you can also get ones in 8-, 10- and 15-foot lengths.
The size of the bench shouldn't look too small or too large for the space around it. If you're placing multiple benches, think about if you want a few large ones or many small ones spread out over the area. Also, make sure there is room to walk around the bench comfortably.
Select the Right Material
The next thing to consider is the material of the bench. You can choose from wood, metal, wicker, plastic and concrete materials. For an outdoor bench, the material is essential as it contributes to:
Durability: Because your bench will be outside facing conditions from rain to UV rays, you want a durable material. Many outdoor benches are designed to prevent warping and fading, helping your exterior furnishings last longer.
Aesthetics: Your outdoor space may already have a variety of materials like wood, stone or metal. Try to choose a material that matches or complements what your outdoor space already has for a more cohesive look.
Weight: If you plan on placing your bench in a windy area, you'll want a sturdy option that can withstand the gusts. A heavy bench made of metal or concrete is also ideal for public areas, as it can deter theft. If you will be bringing your bench indoors during certain seasons or times of year, you'll likely want a lighter option that's easier to move.
Comfort: Some materials are more comfortable than others, especially for extended periods of time. If you're installing benches near an outdoor stage or where people will stop to sit and eat for a while, something like wood may be more comfortable. If your bench will likely only see use for a few minutes at a time, something like metal or concrete will be suitable.
Price: Every material comes at a different price point, and options within each category offer a range for different budgets. With wood, for instance, pine is often more cost-effective than options like teak or cedar.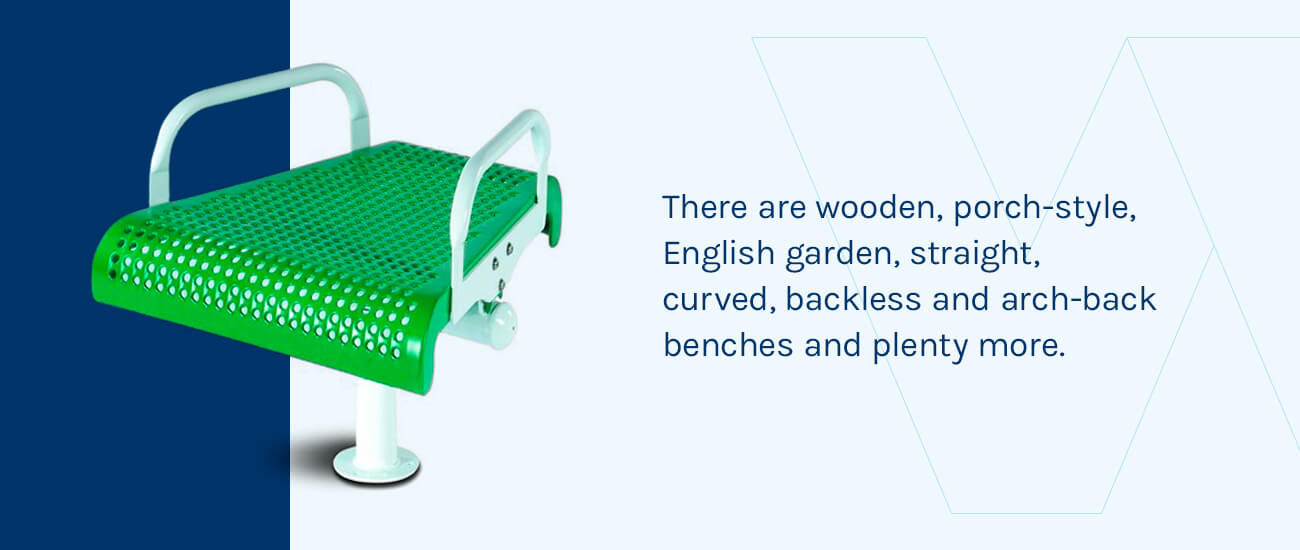 Pick the Bench Design
There are many styles of benches, and you'll need to find one that suits your aesthetic and complements your outdoor space. There are wooden, porch-style, English garden, straight, curved, backless and arch-back benches and plenty more. It'll be easy to find one that suits your aesthetics, but it will take a bit of consideration.
Curved benches are great for corners or for sitting around a fire. Should it look traditional or contemporary? Benches are also often separated by the pattern on the bench, such as horizontal, perforated, diamond and more. Browse the different styles to get to know what you'd like in your space.
The design will also play a part in how comfortable the bench is. Consider features like arms or a curved seat if you're looking for comfort, while flat seats and no arms will offer a more simplistic design. Benches with a back that is slightly angled back will also be more comfortable and create an eye-catching addition. You can also add mildew-resistant outdoor cushions to a bench to add comfort and style.
Choose a Color
Lastly, choose a color that matches your outdoor aesthetic. Whether you're looking for browns, grays, reds, greens or blues, many of our benches have multiple options. Check out the different options for the Covington Collection for examples of the many options at Wabash Valley Furnishings. You'll find that most benches have multiple color and configuration options to fit your needs.
If you're not sure what color would look best, pick a neutral color, like white, gray, black or any shade of brown. These colors will go well with any outdoor color scheme. You can always spruce up the color scheme by adding decorative outdoor cushions, which you can easily swap out if your exterior design changes.
How to Select a Bench Material
The material of the bench will determine its look, durability and how much maintenance will be required. Choosing a poor material could mean the bench won't last long. The bench will have to withstand rain, humidity, snow, ice, mold, mildew, rot, insects, sun exposure, extreme temperatures and high winds, depending on your location. Look into the possible outdoor bench materials below to see what would work for your space.
1. Wood
For a natural-looking addition to your outdoor space, choose wood as the bench material. Wood benches always look attractive and classic. Choosing a bench made from good quality wood will ensure your bench is durable and long-lasting. Look for benches made with heartwood lumber with a consistent grain. Or select a bench made from lightweight wood if you expect to move the bench around.
Most wooden benches will require regular maintenance, so you'll have to consider the time and money it takes to maintain them. You may need to seal the benches regularly with stain or outdoor paint, for instance.
Good woods for an outdoor bench include cedar, pine or teak. Natural cedar and pine often become gray with age unless sealed or painted. They can last for years if maintained properly.
Teak is a perfect choice for outdoor benches because of its high oil content that makes it resist rot and insects. Teak is very weather-resistant and can last for at least 50 years, meaning it can be more of an upfront investment. You could also select oak, but note that it is often a high-maintenance wood that requires regular treatment.
2. Metal
Metal is another good choice of bench material that comes with a very different appearance than wood. The metal is often formed into decorative swirls or designs but can also come in straight, contemporary styles. Metal benches typically come in:
Aluminum: Extruded aluminum benches are very lightweight but not quite as strong as cast aluminum. Cast aluminum is very heavy, and therefore also very durable.
Steel: Gauge steel is another great metal for your outdoor bench because it's the easiest to maintain and it's very strong. Note that steel is a more expensive metal because of its durability.
Iron: Iron benches are very heavy and durable and typically have more eclectic designs, but they may be susceptible to rust unless coated.
Most metal benches are coated and water-resistant, so they won't require much maintenance. These benches are also designed to prevent warping, splintering and general wear. However, you may have to tighten the screws every once in a while. If the bench is powder-coated, it may eventually need an inspection to see if it needs refinishing.
3. Wicker
Wicker benches can offer beachy, tropical feels, perfect for adding a relaxing and natural touch to your outdoor space. The woven look adds texture to your exterior, while the variety of warm, natural brown shades will tie in with your surrounding landscaping and architecture.
Normal, plant-based wicker is not a good choice for an outdoor bench because it is easily damaged by moisture. However, resin wicker or synthetic wicker is a good option. You'll get the same woven appearance with none of the drawbacks. It's recyclable, easy to clean and lightweight. It's important to choose one that is low-maintenance and weather-resistant. HDPE wicker is typically better quality than PVC wicker.
4. Plastic
Plastic is a versatile and durable option for benches. It comes in many colors and patterns and can look like different materials. Plastic benches are also fade-resistant because the color is intrinsic to the material.
If you are looking for a natural-looking option, you can find a synthetic wood bench that looks like natural wood but is easier to maintain. Note that these benches are more lightweight, so they should be mounted in case of high winds. Plastic benches are made to be UV-protected, fade-resistant and wear-resistant. This material can be cheaper than many of the others.
5. Concrete
Concrete benches are very durable and excel at resisting wear. They can be rebar-reinforced for an even longer lifetime. Their heavy weight means they are nearly impossible to move, so you will not have to have them bolted down. Concrete benches typically offer sleek lines, meaning they're good for minimalist or modern outdoor spaces.
Keep in mind that concrete is very hard and will absorb heat, which makes it a less comfortable option. But if your bench will go somewhere for guests to stop and sit for a few minutes, comfort isn't as high of a priority.
Outdoor Bench Design Features
You'll want to choose design features that enhance the appearance of the bench's surroundings. Browse different bench styles to find the design you like the most. You can filter benches on our website by different categories to find your favorite and what suits your needs. Many of our benches have multiple options, so when choosing an outdoor bench, you should consider:
Product Line
First, you are able to view benches from our Heritage or Urbanscape product lines. Heritage is a line of plastisol-coated outdoor furniture, and Urbanscape is a line of powder-coated furnishings.
Plastisol is a type of liquid PVC that is applied and cured, which creates a hard substance that is extremely durable and resistant against scratches and dents. It's also made to be resistant to chemicals, moisture and UV damage. Benches coated with plastisol tend to feel a bit rubberized, adding to the comfort and reducing vibrations. Plastisol-coated furniture is designed to be low maintenance because the coating can withstand all environmental conditions. Plastisol can also be colored to add to the style of the bench. For example, our Buddy Bench takes advantage of plastisol and is the perfect addition to parks and other outdoor areas.
Powder coating is a spray process that creates a thick layer that smoothly adheres to surfaces. It's made to resist peeling and the effects of weather exposure, so it's perfect for outdoor furniture. Powder coatings can be matte or shiny and come in many different colors. This coating will help your outdoor bench look new for longer.
Collection
If you find a special collection you like, you can also choose to only view products from that collection. This will help if you choose to buy other site amenities that complement your bench. We have over 20 different collections, so one is sure to have the features you're looking for. Consider City Limits for colorful benches with unique lines, Covington for classic styles, Green Valley for recycled plastic lumber, or explore our range of other options.
Mount
The mount determines how your bench is installed, and you can choose from inground, portable, surface or gullwing:
Inground benches will have a long piece of material mounted down into the ground, which makes the bench immovable and sturdy.
Portable benches are not mounted, and you can move them as long as they are light enough.
Surface-mount benches install into the top of a concrete slab, which can be easier to install.
Gullwing benches feature a leg style that allows for surface mounting.
Portable/surface-mount benches are portable out of the box, but they can also be surface mounted.
You'll have to decide if you want the bench to be moveable or select the flexible portable/surface mount. If the location has bad weather, such as flooding or high winds, choose a sturdy option. But you can select a portable option if you want to store the benches away during certain times of the year.
Pattern
The pattern of the bench plays a huge part in its style. Our categories of bench patterns include:
Many of our benches can come in different patterns. Remember to try to pick a pattern that enhances the area around the bench and complements lines in your landscaping and architecture.
Size
Remember, you'll need to pick a size that will look appropriate in the space you're placing it in. You can filter the benches on our website to show 4-foot, 6-foot, 8-foot, 10-foot or 15-foot benches. If you need to fill an area with benches, consider if you need a couple of large benches or many smaller ones. Many smaller benches can suit a variety of families and visitors, while a larger bench works well for areas that welcome large groups of people.
Style
If you're looking for a specific style, filter your options by that style. You can filter our benches by the following styles:
Some benches can come in multiple styles. Each bench also has different color options, so consider what colors would go best with the setting of the bench. Think of the colors of the plants that grow around it or the color of its architectural surroundings. You can also use your brand's colors if the benches are for your business.
Factors to Consider When Choosing an Outdoor Bench
Considering the purpose, style and material of the bench are your main choices, but there are many factors to think about. You may want to have a commemorative bench that honors a loved one or special event with an engraved plate. These benches serve a memorial purpose instead of simply being a place to sit.
Also, consider the maintenance required for a bench. Most wooden benches need treatment after six or 12 months, which requires purchasing a stain or varnish and taking the time to apply it. Medium-maintenance woods like beech or mahogany require oiling once or twice a year. Low-maintenance wooden benches, like teak, typically only require basic maintenance to maintain their color.
You'll also have to consider your budget. The material and size will have some of the greatest impacts on your budget. When choosing a material, also consider the maintenance costs, which include your time. Benches made with high-quality materials will cost more upfront but could save you money when it comes to how long they last and how little maintenance is required.
Why Choose Wabash Valley Site Furnishings?
We design our outdoor furnishings and site amenities for durability and minimal maintenance. Our wide selection of outdoor benches also have various configuration and color options, so you can be sure to find one that fits your style and space. We are a leader in the commercial outdoor furniture industry and have been for over 30 years.
If you'd like to make a bulk order for your outdoor project, we will work with you to create one that fits your specifications, design and budget. With cutting-edge technology, we offer efficient turnaround times, ensuring you get a bench for your space quickly without compromising on quality or construction.
View Additional Products to Create a Cohesive Outdoor Design
Wabash Valley Site Furnishings offers a variety of functional and high-quality outdoor site amenities, including benches, waste bins, picnic tables, chairs, planters, umbrellas, grills, bike racks and more. For inspiration for your next outdoor project, take a look at our gallery of outdoor amenities. To inquire about our product offerings or bulk orders, please reach out to a sales representative today.
Sign up for our newsletter