How to Maximize Restaurant Outdoor Seating
If you're planning a new outdoor dining area for your restaurant or redesigning the one you already have, space is a top concern. With alfresco dining becoming more in-demand than ever, you need to find room to seat more customers outside. When you can lower the wait time for patio seating and make your dining area a spot customers will enjoy and want to return to, you can grow your profits. Let's talk more about how to maximize your restaurant's outdoor space.
Read the full article or jump to a specific section:
Tips for Maximizing Your Outdoor Restaurant Space
Maximizing your outdoor dining area requires a balancing act between two essential principles. Your patio needs to seat the maximum number of patrons while also making the space more desirable and functional. It takes more than just piling in as many tables as possible to ensure your restaurant can seat the most customers. A crowded area could strain your waitstaff or make for a noisy, cramped dinner experience people won't want to return to.
After you find the optimal seating arrangement for your outdoor patio, other enhancements can help you get the most use out of it. A few investments can help you keep your alfresco dining area open in cold or rainy weather, allowing you to seat more customers outside year-round.
1. Find More Outdoor Space
The first step to making the most use of your outdoor dining area is to dedicate as much space to it as possible. Restaurants that have previously only had indoor spaces have found creative ways to establish dining areas outside.
In many major cities, local governments have made expanding outdoors more possible. Many have closed down streets to vehicle traffic in popular restaurant neighborhoods, allowing food-service businesses to occupy the sidewalk and streets. In New York City, a recent ordinance has allowed restaurants to extend their outdoor dining area into the sidewalks and streets permanently.
Outside of cities, restaurants have set up large tents in their parking lots to accommodate outdoor diners. If your building has a flat roof and easy access, you could turn it into a rooftop dining room, following the proper legal and safety steps. This solution is a creative way to add more outdoor space and even offer a unique ambiance your customers will love. Guests will enjoy looking down at the streets below and the open sky overhead.
If you're looking for a more permanent outdoor space, you could build a patio or deck attached to your restaurant. This add-on is the best long-term solution to finding more restaurant space outside. Since dining alfresco is a fun and desirable experience for many customers, a permanent porch, balcony or terrace can boost your profits over the long term.
2. Keep Pace With Outdoor Dining Rules
To have a permanent patio, you may need special permits. Outdoor dining laws vary by state and local government regulations. Get in touch with your regulators to determine what licenses you need for a temporary or permanent dining area outdoors. The laws and permit rules in your region may control whether you can:
Have a dog-friendly patio.
Allow smoking.
Serve alcohol or allow guests to bring their own.
As you plan your space, determine whether you'll need additional permits for electrical and plumbing work outdoors. You'll also need to read up on the noise ordinances in your area. They could affect how late you can keep your patio open and whether you can host live music or a DJ.
Many outdoor dining rules affect permanent spaces, but you may find some relaxed regulations for temporary parking lot or sidewalk restaurant seating. Always double-check the laws and regulations in your area before expanding into outside dining for the first time.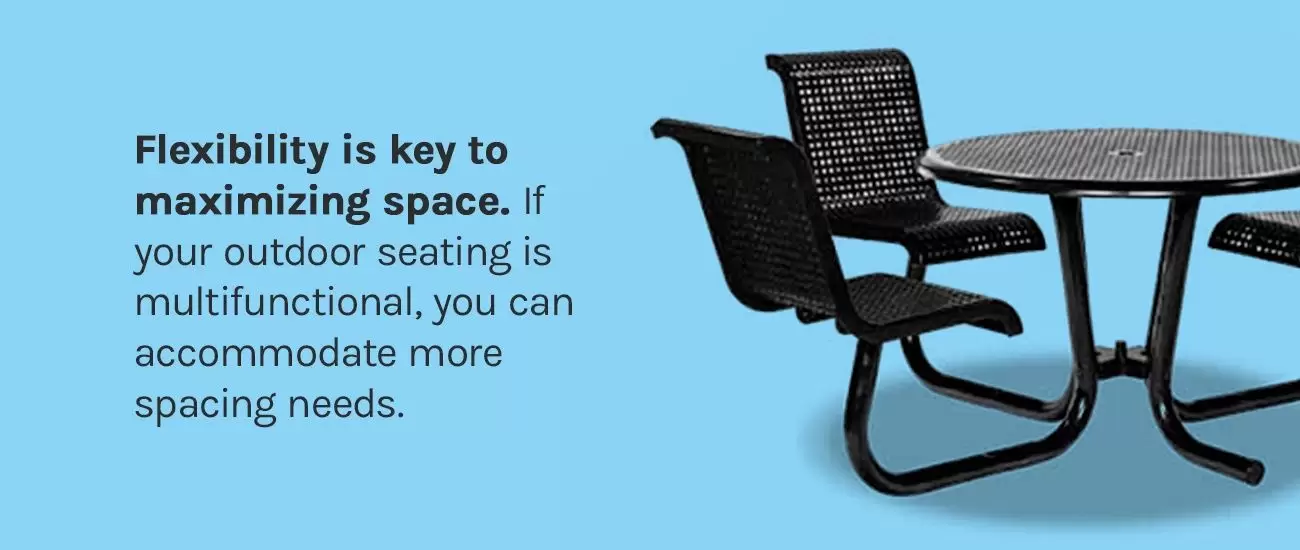 3. Keep Your Arrangements and Furniture Flexible
Flexibility is key to maximizing space. If your outdoor seating is multifunctional, you can accommodate more spacing needs. By using movable furniture, for example, you can reconfigure your dining area for private events, large groups, many small parties at once, live music, team trivia nights or any other need your restaurant could have.
While it can bolster security to affix tables and chairs permanently to the ground or set up heavy furniture that deters theft, it can also restrict your flexibility. Even something as simple as pushing two tables together or adding an extra chair can be a challenge.
Having lightweight, stackable and easy-to-move outdoor furniture helps you get the most out of your outdoor space. With the right furniture, you can optimize your arrangements for any occasion. Move tables together for larger parties, or put out more tables for two on Valentine's day and other nights where you expect a high volume of smaller parties. You can rearrange your patio for a banquet or buffet-style private event with ease.
Flexible furniture arrangements also make it easy to change your layout to make it more functional. If your waitstaff needs more room to navigate the patio, you can create wider footpaths as required. If you host live entertainment once a week, you can clear out an area for the stage. You can also add a lounge, bar or another attraction whenever you want without taking out permanent furnishings.
4. Strategize Your Seating Capacity
Even small changes in your floor plan can dramatically change your seating availability. Many restaurants have incorporated outdoor seating as a way to offset reduced indoor capacity. If you only have limited space for tables outside, it's a good idea to map out your options. You need to balance appropriate spacing between tables with the need to seat as many customers as possible. You must also dedicate footpaths for your waitstaff and allow your customers and employees an emergency exit route.
Draw up a few floor plans and compare the seating capacities for each layout. Look for tables and chairs with small footprints to fit more people while keeping each table an appropriate distance apart. While a table for six will take up more floor space, it may allow you to seat more people on your patio. If you rarely see large groups, a larger table may be wasted space.
Determine how many of each size table makes sense for your setup and the groups you expect to serve. High-top round tables and barstools have a small footprint that can help you seat more couples and small parties. Sectional seating and community tables can help you host larger groups more efficiently.
Remember that more tables won't necessarily mean more profits. Some diners prefer a quiet, intimate dining experience, and they'll pay more for the seclusion of a sparsely furnished patio. It's also crucial to keep your staff size in mind. If adding a patio will bring in more customers, your staff may have to grow alongside it. If you're not ready to hire more wait and kitchen staff, only add a few tables to your outdoor dining room.
5. Provide Enough Shade and Weather Protection
Besides space planning, maximizing your outdoor seating means making sure it's available every day. Unpredictable rain can force a restaurant to shut down its entire patio and lose out on crucial revenue. Harsh sunlight can be uncomfortable, making your dining area less attractive to customers.
Shade structures, umbrellas or a retractable roof can let your restaurant get the most out of its outdoor seating area, no matter the weather. Diners can still enjoy the scenery and fresh air while sheltered from the sun and rain. You can also enjoy more predictable revenue. Guests who want to eat outside won't have to change their plans because of the rain, and you can seat the same customer volume in almost any weather.
6. Invest in Outdoor Heaters
Like preparing for the weather, maximizing your seating also entails extending your outdoor dining season as much as possible. The longer you can extend alfresco dining into the fall — or potentially even into the winter — the more revenue your patio seating can bring in. On colder evenings, you can also extend your patio hours by a few hours.
7. Control Pests
When you offer outdoor dining for the first time, you'll soon learn the frustrations of unwelcome visitors. By the sea, hungry seagulls can pester people eating outside. Other outdoor dining areas may get squirrels and smaller avian visitors pecking at crumbs and scraps on the ground. While your customers might be torn on whether the local birds provide entertainment or an annoyance, everyone can agree that flies, wasps and mosquitoes are a menace.
As a restaurant owner, you have a duty to keep your patio as clean and pest-free as possible. While you can't control pests entirely, unsanitary conditions can jeopardize your outdoor seating. Meanwhile, insects, squirrels and other vermin can keep guests from enjoying their meals. If pests detract from your dining experience, you'll have trouble getting repeat visitors.
One thing you can do is set up some bug zappers to control flies, wasps, gnats, fruit flies, mosquitos and other insects. Bugs are particularly attracted to sugar, so limiting access to sweets is crucial. Keep fresh fruit in closed containers and sweet drinks covered whenever possible. Clean up spilled drinks and uneaten food quickly. Sweeping up the patio area often can prevent fallen crumbs and food scraps from attracting many pests, too. If a pest problem persists, consider calling in an exterminator.
8. Add Other Amenities Where Seating Won't Fit
Depending on your patio's shape and space, some sections may be too small to seat customers. If you have an outcropping, corner or a nook in your deck, it doesn't have to go to waste. This area could be an excellent spot for a decorative plant, a heating lamp, fountain or lounge seat. Since the area might be too small for a table anyway, you can enhance the dining experience without cutting into your available seating space.
Design Considerations for Maximizing Restaurant Space
Besides optimizing your layout and ensuring your outdoor patio can stay open in all conditions, you must create a space that draws people in. An attractive, well-designed area adds ambiance to your alfresco dining experience. Consider these ways to design an inviting dining space outside:
1. Place Greenery Strategically
When people eat outside, they appreciate feeling closer to nature. If your patio already has beautiful views of a wooded landscape or water feature, you'll naturally attract guests who want to eat outside. If you're in the middle of a concrete jungle, decorative greenery is a must. With a few potted plants, you can design an enjoyable outdoor dining experience that keeps customers coming back for more.
Placing plants around your patio's perimeter serves many purposes. First, it can transport guests to an outdoorsy locale, even if your dining area overlooks a busy sidewalk or parking lot. It can also make a crowded, bustling environment feel private and secluded, creating separation from the cars and pedestrians passing by.
Using potted plants between tables can serve a similar need. Psychologically, it can make your dining area feel less crowded, even if every table is full and the waitstaff is rushing from table to table. It gives every party their own little oasis where they can savor their meal in peace.
2. Set the Mood With Decorative Lighting
Lighting is another crucial design consideration for an inviting patio or deck. As the sun starts to set, the right lighting can create a warm, sunny atmosphere that makes people feel good about dining outside after dark. Decorative lighting can help you keep your patio open for a few more hours in the evening or even late into the night if your restaurant is part of the nightlife scene.
If your patio is visible from the street, attractive lighting can also help you draw in customers. Your deck will stand out to passersby, helping you seat more customers even as the dinner rush starts to die down. Lighting is also a crucial safety feature that allows you to keep your outdoor seating open after dark.
With so many decorative lighting options to meet practically any design aesthetic, you can give your patio any ambiance you like. A popular and trendy choice for decorative lighting is hanging string lights. It mimics a starry night sky, even if there's a tent or retractable roof overhead. You can also complement the lighting to your restaurant's theme or menu with options like:
Tea lights
Candles
Tropical torches
Paper lanterns
Edison bulbs
Fire pits
Color-changing LEDs
Spotlights for plants, statues, fountains and other decor
Sconces or lamp posts
3. Increase Privacy
A sense of seclusion and separation from the rest of the world does wonders to attract more visitors to your outdoor dining area. Many furnishings and decorations can create privacy between guests and partition off your patio from the hustle and bustle of the surrounding city. These design touches can make a crowded environment feel more open and help suppress noise so diners can chat with the rest of their group.
Adding planters and hedges is one way to enhance privacy. You can also use fencing or dividers to promote a more secluded atmosphere. For a reserved look, use garden trellises with creeping ivy or other climbing plants. Plastic pods or domes around each table are trendy options for private outdoor dining.
4. Choose Attractive, Comfortable Furniture
The furniture you choose for your outdoor dining area has the biggest impact on space efficiency. It also has a significant effect on the overall ambiance and design aesthetic. Comfortable seating is crucial to earn customer loyalty and encourage guests to eat outside.
Square and rectangular tables usually offer more space than their round counterparts. They can seat more people and hold more dishes and utensils. While a round table is space-efficient, it won't always seat as many people and could make for a more cramped spread if a party orders a lot. Still, you'll want to balance comfort with maximizing your seating, so choose a table shape based on your outdoor layout. For example, our rectangular table from the Yorktown Collection combines accomodating larger parties, versatility, and style.
Whatever your tables' shapes, pair them with comfortable seating, which also helps you get the most use out of your patio space. Adding cushions and choosing chairs with supportive backs or armrests will make your dining area look more inviting to new patrons and ensure your customers want to come back.
Site Furnishings Built to Maximize Space
Wabash Valley Furnishings has an excellent collection of restaurant-quality outdoor dining sets and other accessories to turn your restaurant's patio or deck into a lively alfresco seating area. Our furniture is weather-resistant and built to last. It comes in many sizes and shapes to fit the space you have. Whether you need compact and space-saving options for small groups or large communal tables, we have you covered.
To choose the right furnishings and create a cohesive, attractive atmosphere, consider these four elements:
1. Materials
High-quality, commercial-grade furniture will often last longer than residential patio tables and chairs. The color will stay bright, and the fixtures are designed to prevent warping and rusting. Durable restaurant furniture can also stand up to spills, frequent cleaning and general wear and tear from seating many patrons throughout the day.
Choosing the best materials will help you achieve a more attractive space guests want to dine in. It also prevents you from having to take a table out of commission as frequently because it's damaged or appears old and worn out.
Products from Wabash Valley Furnishings come in a range of sturdy and attractive commercial-grade materials. Our three main options include:
Plastic: Available in many designs and colors, plastic provides an excellent long-lasting furniture option. Our Green Valley collection features sturdy recycled plastic frames.
Metal: For sleek designs and lasting durability, powder-coated aluminum or steel will make any patio look attractive. Our Yorktown collection offers powder-coated aluminum furniture with a realistic wood look. Our Hanna collection is another aluminum option available in many inviting colors.
2. Flexibility
At Wabash Valley, many of our outdoor dining sets include both free-standing and surface-mounted options. When space planning is important to you, the decision between the two can be challenging. Movable furniture allows for more flexibility. You can move furniture around to serve many different-sized groups and transform your patio area for private or public events. As your business evolves, your space can stay agile and allow for maximum occupancy in any circumstance.
But, in some cases, you may not want movable furniture. If your outdoor space includes a bar area or communal tables, patrons may be more likely to move their chairs around. On a small deck, they could crowd pathways. It could block your staff from moving around. Surface-mounted furniture provides the advantage of preserving your approved layout. You'll ensure there's always enough space between tables and chairs for staff and guests to navigate.
Surface-mounted furnishings also provide added security. When your tables bolt to the ground and chairs are permanently connected, the casual vandal can't take off with them. If your outdoor dining area faces the street or has easy access after closing, permanent installations may be a better option. If you choose movable furniture, you may need to stack and move it indoors after closing for security purposes. In that case, you'll want to prioritize lightweight chairs that are easy to stack. Wabash Valley Furnishings offers all those options.
3. Furniture Types
You'll want to find the right blend of fixtures to serve your unique customer base. Find styles, shapes and sizes to meet any patio's needs from our dining sets and food-service furnishings like:
High-top tables: Bar-height tables are usually small and space-saving. They look sleek and sophisticated and provide an excellent view for diners and bargoers alike.
Stools: Bar-height chairs are a must for most restaurant high-top tables. Easily tucked away when not in use, bar stools can help you maximize your seating.
Round tables: Round tables give guests a better view of one another. They don't have to turn their heads as much to talk to the people sitting next to them, promoting lively conversation.
Square and rectangular tables: Square tables give patrons a little more room for their plates, glasses and utensils. They can spread out and dine more comfortably.
Chairs: You can find matching chairs for any of the tables in our collection. Many chairs let you choose options with and without armrests. They provide comfortable backs, and many will allow you to attach cushions if desired.
Community tables: A more casual lounge and bar area might provide flexible seating for guests as they filter in and out. We offer coffee tables and benches alongside bar-height community tables.
Drink rails: To save even more space at an outdoor bar, a narrow drink rail gives guests a place to set down their drinks at standing height. These space-efficient options will leave room for seated diners elsewhere on your patio.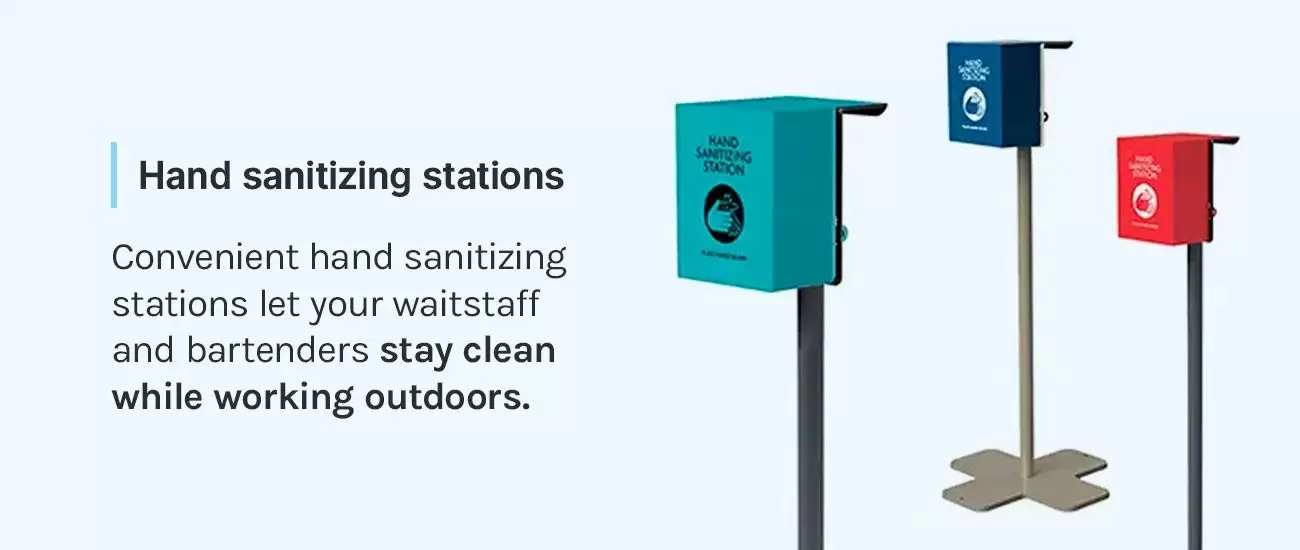 4. Accessories and Final Touches
Add some finishing touches to your restaurant patio with options like:
Commercial umbrellas: Give your diners shelter from the sun with commercial umbrellas. Some of our dining sets have slots for an umbrella, and we also have free-standing options that will fit any dining area.
Planters: For both decor and added privacy, we offer many outdoor planters. They even complement the furniture styles in our collections so you can build a visually cohesive atmosphere.
Trash receptacles: Guests will appreciate having trash cans nearby to toss out dirty napkins and other trash they generate during their meal. Even if you have waitstaff to clear the tables, having trash cans nearby is always helpful. If your patio allows smoking, an ash urn is another crucial amenity. We have some tall, narrow receptacles for areas that need to save space, as well.
Hand sanitizing stations: Your waitstaff and bartenders will need to keep their hands clean as they serve your guests. Convenient hand sanitizing stations let them stay clean while working outdoors. Guests will also appreciate the chance to sanitize their hands before they enjoy their meal.
Furnish Your Outdoor Dining Space With Wabash Valley Furnishings
Wabash Valley Furnishings has outdoor patio furniture to match any architectural style and atmosphere. With options in many different sizes, we have something stylish and functional for your patio dining area, no matter the size. Browse the dining sets, food-service furnishings and patio accessories in our collection today. Feel free to pull computer-aided design (CAD) drawings from our resources or contact our team for design advice to maximize your outdoor restaurant space.
Sign up for our newsletter