Commercial Outdoor Umbrellas
Our umbrellas are some of the toughest on the market. They are a unique line of umbrellas that are made not only to endure weather conditions but also to provide the consumer with quality, choice and longevity. What clearly distinguishes the umbrellas are their nylon joints (yokes), spindle and end tips, and fiberglass support ribs. Unlike traditional metal and wood ribs, their fiberglass ribs are strong and resilient, bending and flexing to absorb wind without breaking or disfiguring. This durability, combined with an inherent resistance to rust and corrosion, results in umbrellas that last four to five times longer than traditional steel- or wood-ribbed umbrellas
Why Choose Wabash Valley Commercial Umbrellas?
As a leader in the commercial outdoor furniture and site amenity industry for over 30 years, Wabash Valley Site Furnishings carries a wide range of commercial outdoor umbrellas in numerous shapes, fabrics, and colors.
When you need to offer protection from the sun and elements, consider a large commercial-grade market umbrella from Wabash Valley. Designed for high-use areas, our commercial market umbrellas will withstand the test of time and can be customized to fit the needs of your unique application.
If your hotel, cafe, restaurant patio, university campus, school, playground, or plaza needs large commercial umbrellas, our team at Wabash Valley Furnishings has got you covered.
LOW-MAINTENANCE, COMMERCIAL MARKET UMBRELLAS
Wabash Valley's commercial-grade market umbrellas are some of the toughest on the market. In addition to offering durable, year-round solutions for any application, Wabash Valley market umbrellas require minimal maintenance.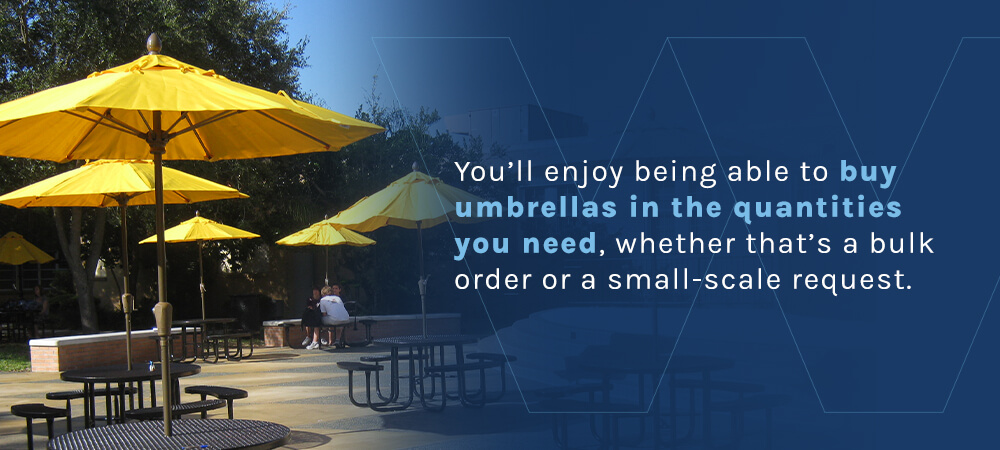 When you choose Wabash Valley Furnishings as your commercial outdoor umbrella manufacturer, you'll enjoy being able to buy umbrellas in the quantities you need, whether that's a bulk order or a small-scale request. We often fulfill small orders for commercial umbrellas — for example, we can help if you only need one or two units to complete the look of a restaurant patio or cover a picnic table at a local park.
Wabash Valley's heavy duty commercial grade patio umbrellas outperform the competition thanks to their fiberglass support ribs and nylon joints (yokes), spindles and end tips. Unlike standard metallic and wooden ribs, fiberglass ribs are incredibly resilient. Heavy duty commercial umbrellas from Wabash Valley Furnishings last up to five times longer than wood or steel-ribbed umbrellas and stand up to rust and corrosion over many years of use.
WHY BUSINESSES NEED COMMERCIAL OUTDOOR UMBRELLAS
Commercial outdoor umbrellas that are sturdy, durable, and visually appealing are the structures you want when adding shade to outside areas. Whether you want to outfit a park, school, hotel, or restaurant patio, a commercial market umbrella can beautifully complement the existing furniture and amenities of your outdoor space.
Heavy duty commercial outdoor umbrellas attract visitors to a spot and make them feel comfortable and welcome. Large commercial umbrellas serve both the aesthetics and functionality of your space, encouraging guests to return and employees to enjoy greater work satisfaction. Outdoor umbrellas are among the most frequently used shade solutions for businesses, as the right commercial market umbrella can provide sun protection that suits many locations, including:
CUSTOM COMMERCIAL MARKET UMBRELLAS FOR YOUR BUSINESS
The large commercial umbrellas from Wabash Valley Furnishings can be customized to fit the needs of your outdoor project or business.
Other advantages to choosing Wabash Valley Furnishings as your commercial grade umbrella supplier include:
Effectiveness: Our commercial outdoor garden umbrellas are easy to clean and block approximately 89% of the sun's rays.
Personalization: We offer commercial patio umbrellas in a variety of fabric shades and pole colors.
Quality materials: Our quick-ship umbrellas feature fiberglass ribs made from spun acrylic fabric.
Design variety: We manufacture commercial market umbrellas with both one-piece and two-piece poles — these make great shade solutions for patio tables, coffee shops, bistros, restaurants, and cafes.
HEAVY DUTY COMMERCIAL PATIO UMBRELLAS FROM WABASH VALLEY
Large commercial outdoor umbrellas from Wabash Valley Furnishings help create a welcoming space for visitors while providing year-round protection from the elements. Contact Wabash Valley today for more information and browse our product catalog for a better idea of our outdoor furniture and site amenity selection.