Ways to Improve Outdoor Spaces at Your Apartment Complex
When you create outdoor spaces for your residents, you're developing a competitive advantage with benefits like a stronger community, renewed leases and attractiveness to prospective renters. Here, you'll learn how to make your apartment complex family-friendly using the most influential outdoor spaces. You'll also discover budget-friendly commercial products to bring your outdoor spaces to life.
Read the full article or jump to a specific section:
Guidelines for Family-Friendly Apartment Complexes
There are a few textbook amenities and characteristics that family-friendly apartments should consider implementing, such as:
A Good Location
According to a study of the National Association of Realtors (NAR), some of the most influential factors families consider before moving to an apartment is that they're:
Close to work
Within a good school district
Near friends and family
Located conveniently near shopping areas
Most individuals, 65%, claimed that closeness to jobs was the determining factor for moving. The quality of school districts and the distance to the nearest school were most important for over 30% of families.
A quality apartment location plays a huge role in the attractiveness of family-friendly apartment complexes. Consider a location centralized to shopping and business districts, and make your apartment complex stand out even more with alluring on-site and off-site features.
Safety
Landlords are responsible for tenants' safety by law. Safety extends to boundaries both in and outside of the apartment. Outside, ensure apartments are protected from criminal activity with:
Door locks, chains and deadbolts
Window locks
Adequate lighting
Trimmed hedges to increase visibility
Controlled entrances, like a gated community or security guard
Inside the apartment, tenants require protection from emergency situations like carbon monoxide leaks or fires. Equip each apartment with carbon monoxide and smoke detectors to keep your apartment complex safe and appeal to prospective residents and families.
Quiet Hours
Most families appreciate a quiet place to live, especially later into the day as they put their kids down to sleep. Instituting a quiet hour policy keeps noise at a manageable level, minimizing disruptions and showing families you value peace and quiet.
Without a quiet hours policy, you risk constant disturbances, phone calls and potentially police calls. Having quiet hours prevents these problems, so include a policy within your lease and ensure you outline any consequences of violating the policy.
Apartment Amenities
Amenities can encourage potential renters to choose your complex over others. These additions and services are any non-essential features in or outside of the apartment complex, and they show prospective residents that you want them to enjoy living in your apartment complex.
Examples of amenities include:
In-unit laundry
Extra storage spaces
Air conditioning
Dishwashers
Fireplaces
Outdoor spaces
Influential amenities include features and services like fitness classes, walking trails and balconies. Strengthen your competitive advantage by adding these in-demand amenities to your apartment complex.
Outdoor Spaces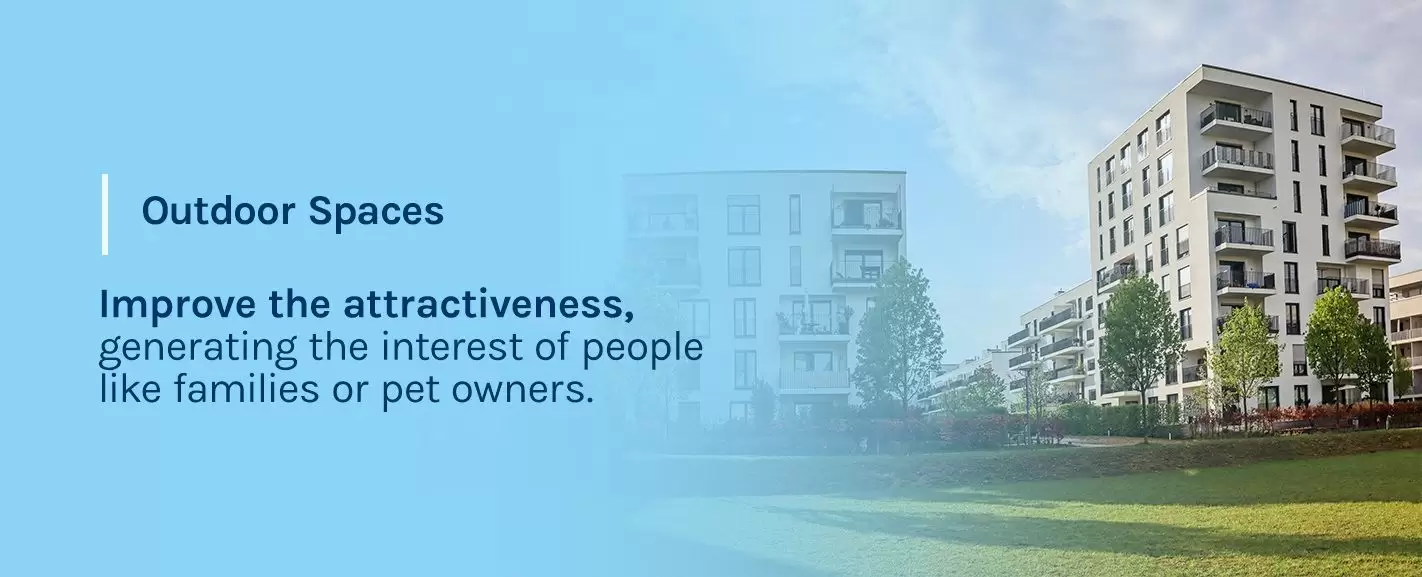 Outdoor spaces are apartment complex amenities that tenants can use for outdoor recreational purposes. They improve the attractiveness of your apartment complex, generating the interest of people like families or pet owners. These areas create a positive perception of the complex's location, and families appreciate the added amenities and on-site features.
Examples of outdoor spaces for apartment complexes include:
Swimming pools
Barbecue or picnic areas
Fitness centers
Playgrounds
Community gardens
Dog parks
Guest parking
Bike storage
Benefits of Creating Outdoor Spaces at Apartments
Designing an outdoor community space within your apartment complex comes with a set of advantages, including:
Build a Stronger Community
One significant advantage of providing outdoor spaces in your apartment complex is the sense of community it creates. Tenants have constant access to outdoor spaces like community gardens, pools or picnic areas. And, when tenants engage in these spaces, they're likely to meet and engage with one another.
Create a strong sense of community by hosting and getting involved in community events. Landlords and other management play a critical role in community involvement, planning and marketing events to attract residents.
Potential community events you can consider planning include:
Socials
Holiday parties
Potlucks
Yard sales
Pool parties
Community gardens
Informational gatherings
Most tenants, over 90%, express interest in attending informal get-togethers and informational gatherings. Families are more likely to go to youth-specific events, accounting for 20% to 30% of tenants. Survey your tenants, see what kind of events they're interested in attending and strategize your outdoor spaces to make these events possible.
Gain More Renewed Leases
The average lease renewal rate is slightly above 52%. So, it's reasonable to set your goal at a renewed lease rate higher than 50%. Achieve this goal by strengthening your competitive advantage via outdoor spaces.
Outdoor spaces keep communities strong and tenants tied to location advantages. When your apartment offers more than your competition, there are few alternatives tenants can go to with the same level of benefits. Tenants are then more likely to stay at your apartment complex.
Attract More Residents
Outdoor spaces are also attractive to new residents. By creating a competitive advantage for your apartment complex, new residents — who value on-site destinations and amenities — will feel attracted to outdoor spaces such as pools, picnic areas and community gardens. While you might have indoor amenities, prospective renters will only know of these through listings of your complex. Outdoor amenities can be visible as they're passing by, drawing their attention to your apartments.
A strong community will be apparent to new residents, too. Having a strong sense of community makes current and potential residents feel a part of something big and great, sparking feelings of safety and security within the apartment complex.
7 Ways to Improve Your Apartment Complex
Seven ways you can improve your apartment complex to gain those and other benefits include:
1. A Children's Playground
Consider the fact that many families have young children ranging from toddlers to school-aged children. Families will feel attracted to apartment complexes that showcase their interest in benefiting child development, like apartment complexes with children's playgrounds.
Young children are actively learning and developing in areas like these:
Fine and gross motor skills
Coordination
Balance
Directions, like up, down, left and right
Social cues
Parents can take their children to the playground to improve these skills. And when you offer a play area on your apartment's premises, families can conveniently visit the site and appreciate the amenity you've provided. Some playground equipment you may consider implementing into a designated area within your apartment complex are:
Swings
Climbing structures
Jungle gyms, like monkey bars
Padded free play spaces
Spaces for sports, like throwing or kicking balls
The costs of creating a playground vary based on the equipment you furnish it with. Playgrounds are an investment that will attract new tenants, paying for the equipment over time with higher rates of signed leases.
2. Sports Courts
Sports courts are ideal places for adults and children alike to strengthen their skills and stay healthy. Some sports areas you may consider building at your apartment complex are:
Softball fields
Basketball courts
Volleyball courts
Cornhole areas
Similar to the advantages of playgrounds, sports courts help children strengthen their development skills. For adults, one of the biggest reasons they don't partake in sports is lack of access. Sports courts give tenants access to regular exercise that benefits them physically and mentally.
Exercise helps manage stress, promoting self-esteem and improved mental health. It also reduces the risks of heart disease, high blood pressure, stroke and even some cancers. What's more, sports courts encourage socialization and community involvement, allowing tenants to create teams and challenge each other to exciting competitions.
3. A Swimming Pool
Like playgrounds and sports courts, swimming pools offer many physical and mental health benefits, such as:
Exercise: Swimming requires full-body movements like the breaststroke, backstroke and butterfly strokes. These exercises lower blood pressure, strengthen muscles, control blood sugar and increase endurance. Children benefit from exercise, too, helping them achieve their recommended amount of daily exercise disguised as play.
Improved sleep: People who struggle with sleep report that swimming improves their sleep quality and makes it easier to fall asleep. Families with older adults can especially find this benefit with aerobic swimming exercises.
Boosted mood: Exercise in general boosts moods, reducing the risk or intensity of depression and anxiety short-term. Children benefit from better moods, too, with improved thinking and cognition.
Keep in mind that in-ground pools are an investment to install and maintain. But pools attract residents to your apartment complex, resulting in higher rents that can make the investment worth it. You can also enhance your pool area with aesthetically pleasing commercial shade structures.
4. A Community Garden
Community gardens are community-wide plots where members can grow and collect fresh fruits and vegetables. It's a community benefit — if residents put work into the garden, they can harvest the produce.
Community members benefit from community gardens in ways like:
Lower grocery costs
Access to healthy, fresh foods
Improved health
Reduced diabetes risk
Lower crime rates
Greater community involvement
Improved relationships
Relief from stress
The biggest benefit of community gardens is access to healthy foods. Families who partake in community gardens consume more fruits and vegetables than those who don't. They're likely to consume fresh produce almost five times a day, more than the average home gardener or nongardeners.
Integrate a community garden into your apartment complex using raised garden beds or by dedicating a fenced-in plot of land for digging and planting. If you have access to a rooftop garden, consider putting it there to protect the produce from critters.
5. A Dog Park
Over 63 million households own a dog. If your apartments allow pets, build a dog park on your apartment complex to attract these families. Dog parks provide many benefits to the community, including:
Providing a safe place for dogs to play: Dogs need ample space to run around and burn off energy. Dog parks give these four-legged friends a place to exercise through play.
Reducing disruptive or destructive behaviors in dogs: When dogs don't get a chance to burn off their energy, they're more prone to disruptive or destructive behaviors like barking, restlessness, anxiety and chewing. Dog parks give dogs a chance to burn off energy, resulting in happier owners.
Encouraging socialization, both for dogs and owners: Dog parks bring community members together. Dogs can play and socialize with other dogs, and their owners can meet their neighbors and bond over their love for their animals.
Getting people outdoors: The outdoors offers many benefits — lower anxiety levels, more frequent social interaction, improved sleep and positive self-esteem. With a park right outside their homes, tenants with pets can more frequently enjoy those advantages.
Millennials especially favor dog parks. Seven in 10 millennials own a pet, 56% of which own dogs. And millennials are entering their early or mid-adulthood, starting and growing their families with children and pets and looking toward apartment living.
Create a dog park in your apartment complex by fencing in an area of land. Outfit it with cleaning supplies — such as a dog waste station — shade, water spouts and tables and benches for dog owners.
6. Picnic Areas
Consider building a picnic area within your complex — a space equipped with tables, seating, protection from the elements and grills. Picnic sites help establish a sense of community, acting as a place for families and friends to congregate or for complex-wide events.
Picnic spots offer these benefits for your apartment's outdoor areas:
Build a sense of community
Give community members something to do within the complex
Increase complex attractiveness
Picnic areas are also cost-effective, depending on what you add to the space. You can then use these areas to schedule fun events, like a cooking competition or a farmers market with local crafts and fresh produce from your community garden. Open the space for residents to use recreationally.
When building a picnic area, be clear about your expectations on how residents should interact with the community space. You may choose to operate on a first-come, first-served basis or a scheduled basis for larger gatherings. Outline cleaning protocols, too, and supply plenty of trash receptacles and sanitizing stations within the space.
7. A Fitness Center
For residents, fitness centers rank high in apartment perception. Residents are more willing to pay a higher rent when there are fitness center amenities on-site. They see meaningful benefits, like:
Saving money on gym memberships: Fitness memberships range from over $50 to a hundred dollars per month, depending on the city and gym. Annual costs can reach the thousands. Residents will appreciate saving membership fees with a well-equipped fitness center or outdoor walking path where they live.
Avoiding community locker rooms: Residents don't have to worry about sharing locker rooms with strangers. Instead, they can easily walk back into their apartment and recover from their gym session.
Increasing socialization: Gyms can feel like a community of their own. Residents are likely to run into other residents, sparking conversation and friendship over their shared interest in exercise.
Integrate fitness centers with an open-air gym, keeping some weather-proof equipment outside and other equipment under a covered space. Consider incorporating a walking path around the complex, where family members can develop a cardio routine or walk with their dogs.
Other Outdoor Amenities
If you're on a tight budget or looking to start with smaller outdoor space additions, consider these other easy ways to improve your apartment complex:
Parking spaces: Most households have at least one vehicle, with an average of around two cars. Make sure residents have adequate parking spaces. Either provide enough spaces for the entire complex and visitors or assign two to three parking spots for each household, along with a set of parking spaces for visitors.
Bike storage: Around 47.5 million people ride bikes in the U.S., so you likely have a few bicyclists in your complex. Accommodate these residents by providing bike storage or locks, keeping their property safe.
Bonfire pits: Cost-effective ways to inspire community engagement are bonfire pits or grills. Bonfire pits bring people together to roast marshmallows, tell stories and get to know each other in general. All you need is a bonfire pit and adequate seating. Be sure to incorporate these spaces at a safe distance from your apartment building and post signs instructing residents on how to safely use the amenities.
Products to Enhance Outdoor Spaces
With the different outdoor spaces you can add to your apartment complex in mind, you'll need furnishings to enhance them. Some products that can improve your complex's attractiveness are:
Start Enhancing Your Apartment Complex Today — Build a Quote With Wabash Valley
When you're looking for commercial products for your outdoor spaces, consider the reliable and cost-effective options from Wabash Valley Site Furnishings. Wabash Valley is a commercial product resource for many industries, including apartment complexes. Outfitting your spaces with our outdoor furnishings and site amenities will boost your apartment complex's competitive advantage. Provide your residents with comfortable seating, easy grilling and more.
Learn more about what Wabash Valley has to offer by building a quote today. Get started by contacting us online, and one of our representatives will connect you with the right products for your apartment complex.
Sign up for our newsletter