Guide to Designing Resort and Hotel Outdoor Areas
To keep up in the highly competitive hospitality industry, resorts and hotels must constantly be outdoing themselves. One simple way to set your resort or hotel apart from the competition is to offer guests a relaxing, charming and unique outdoor area to spend time in. Whether a guest wants to enjoy a meal outside, socialize with other guests or seclude themselves with a good book, a cozy outdoor area can provide the perfect space.
For an outdoor space guests will remember long after returning home, check out this ultimate guide for how to design a hotel and resort outdoor area. Discover the benefits of having a well-designed outdoor area, along with tips for how to create your own outdoor space.
Read the full article or jump to a specific section:
Advantages of a Well-Designed Outdoor Area
If you're considering adding a new outdoor area to your hotel or repurposing an old one, check out these top five benefits of offering guests a well-designed outdoor area:
1. Increased Sales
Having more usable space in your hotel's layout allows you to accommodate more customers. A well-designed outdoor area can provide more space and promote a fabulous customer experience, prompting customers to stay longer and spend more. By increasing your seat capacity without detracting from the overall customer experience, a chic outdoor seating area can significantly enhance your hotel and secure more sales.
2. Greater Customer Satisfaction
An outdoor area designed with guests' comfort in mind will naturally boost customer satisfaction. Customer satisfaction is a key component of good business because guests who were thrilled with their experience will be more likely to recommend your hotel to others. Prioritizing guests' comfort is a reliable way to ensure they enjoy their stay and feel inclined to promote your business.
For example, providing adequate outdoor heating so guests can enjoy your hotel's outdoor area at all hours of the day is an effective method of making sure your guests are comfortable and happy. Happy guests are more likely to leave positive reviews online, which will ultimately attract more customers to your hotel.
3. Additional Amenities
Expanding your outdoor spaces will allow your hotel to offer its guests more amenities. For example, offering well-designed outdoor dining spaces gives your guests the freedom to enjoy the hotel dining services anywhere. Guests will be able to eat and socialize wherever they would like, whether that be in the garden, by the pool or on the patio.
You can also repurpose your hotel's outdoor space to be an exercise area. From patio Pilates to rooftop yoga, outdoor exercise has become a trendy and preferable alternative to traditional, stuffy indoor workout rooms. Your guests will love having the option of an open-air workout space that allows them to get their blood flowing while getting some fresh air.
4. More Social Media Shares
Outdoor spaces have the chance to be more aesthetic and eye-catching than many indoor spaces. A well-designed, visually pleasing outdoor area will make your hotel more Instagramable and may allow your business to gain more traction on social media. Once your hotel has an established social media presence, you can begin distributing more original content, developing relationships with customers and more.
5. Elevated Brand Recognition
Gaining more popularity on social media with a stunning outdoor area can instantly increase brand awareness for your resort. Boosting your brand's visibility will do wonders for generating new leads and expanding your customer base. People will begin to recognize your hotel as a cool or cute place they saw on social media, which may make them more excited about staying there.
If your brand expands on social media, you could have customers coming solely because they saw your resort's beautiful outdoor seating area online.
How to Design a Resort and Hotel Outdoor Area
We'll walk you through how to create a comfortable and cohesive outdoor space that your guests will love. Discover how to design your ideal outdoor hotel or resort area below:
1. Develop Your Concept
Before starting to select outdoor furniture pieces or a color scheme, you will need to develop the concept of your resort's outdoor area.
Begin by assessing any outdoor spaces you already have and how they are performing. Look into whether the revenue accredited to these spaces is up to par and how they could be improved to give you a baseline of how to plan your new or repurposed outdoor area.
Look for information on these areas of your hotel:
The restaurant exterior
Poolside spaces
Beachfront lounges
Balconies
Patio areas or plazas
Interior courtyards
Once you've reviewed the relevant information, you'll be ready to design a space that meets your guests' needs and exceeds their expectations. Based on what you learned about your existing outdoor areas, you can decide what type of activity should define your new outdoor area. Labeling the outdoor space in this way will determine what the area is used for and how you can update it based on current trends.
A well-thought-out design will provide the perfect combination of comfort and luxury, making guests feel at ease and cared for. Ensure your outdoor area's form and function work together seamlessly so guests can fully enjoy the space and make use of its features hassle-free.
2. Remain Consistent
After deciding the basic concept of your outdoor area, you will need to stay consistent with your design and theme choices. Focus on what you want your guests to feel when they sit in your resort's outdoor area and choose colors, fabrics and textures that elicit those feelings. Engage your guests' senses by selecting materials based on their texture and practicality — choosing decor that is fun and exciting to look at, yet relaxing and comfortable to live in.
Above all, remember to harmonize your new outdoor space's design with its environment and the preexisting hotel design. Making design choices that work well with your hotel's theme will ensure the new space fits in with its surroundings. Pick colors that match your hotel's decor and coordinate the other sensory details of your outdoor space, such as background music and fragrances, with your hotel's theme as well.
3. Consider Customer Needs
Once you've settled on the overarching concept and theme of your hotel exterior design, you can start asking yourself what your customers really want out of the outdoor resort space. Your ultimate goal is to create an outdoor area that your guests will enjoy spending time in and want to visit again and again, so you'll need to consider all your design choices from the customer's perspective.
Think about whether anything is restricting the customer experience and how your new or repurposed outdoor area can solve it. Is there a lack of shade? A need for more restaurant seating? Make a list of the obvious and more negligible issues so you can begin coming up with solutions.
Another reliable way to ensure your outdoor area meets your guests' needs is to take an informal customer survey. Ask your customers directly what they would like out of the hotel's new outside space to make sure you incorporate their wants and needs into your design plans whenever possible. Taking your customers' opinions into account will make them feel valued and may increase customer satisfaction.
4. Integrate Existing Structures
Chances are, your hotel or resort already has existing exterior structures that could be incorporated into your new outdoor design. Make the most of these outdoor structures and save time and resources by integrating them into the landscaping plan. If your hotel already has a pool, focus your patio design around this feature and include furniture that will enhance the structure, such as umbrellas, lounge chairs and cabanas.
5. Plan for All Seasons
Regardless of the weather, resort guests will always enjoy getting some fresh air and making use of an outdoor space. Try to make your new or repurposed outdoor area versatile so guests can use it year-round.
For example, avoid creating a courtyard or rooftop area that can only be enjoyed on warm, sunny days. Instead, make sure to include outdoor elements like umbrellas, awnings, pavilions and other structures guests can take shelter under when it rains.
If your hotel or resort is located in a colder climate, make sure you provide various heat sources, such as fire pits and heat lamps, to guarantee your guests stay comfortable in your outdoor areas. You can also invest in removable furniture coverings and portable space heaters if your environment tends to only get cold for a couple of months in the winter.
Depending on your hotel's location, you may also need to consider storm season. If your area is prone to snow, ice, heavy rain or high winds, make sure your outdoor area furniture is durable enough to endure the elements. Find high-quality commercial outdoor furniture that is stable and dependable enough that it won't blow over easily on a windy day.
6. Maximize Flow Between Spaces
Just as your outdoor area needs to be consistent with your hotel's overall theme, your exterior space needs to function as an extension of your hotel's indoor aesthetic. You want your guests to sense a smooth transition between the indoor and outdoor areas. You can achieve this coherency by matching the flow of the indoor space in the colorings, fittings and services of your outdoor space.
Creating a consistent flooring design, such as tiles throughout the lobby and into the patio or pool area, will reinforce your design flow
Every area of your resort should include some unifying feature, such as a furniture theme, color scheme or logos used for branding. Using custom colors or graphics will make the seamless flow from interior to exterior feel even more natural and well-planned.
Be intentional about creating outdoor flow between your interior and exterior spaces because mismatching these areas could confuse your guests. Even the most subtle of differences could throw off your customers. However, you can influence your guests to have a flawless experience regardless of where they are in your resort's space by deliberately focusing on the flow of your interior and exterior spaces.
7. Fine-Tune the Details
After coming up with the basic outline of your outdoor area project, you can start planning out the finer details, such as lighting, seating, fixtures and other outdoor furnishings. Building your outdoor space with these details in mind will keep the resulting space from feeling disjointed or thrown together. When you concentrate on doing the little things right like matching your trash receptacles to your dining sets, you can end up with a polished, clean and attractive outdoor hotel area.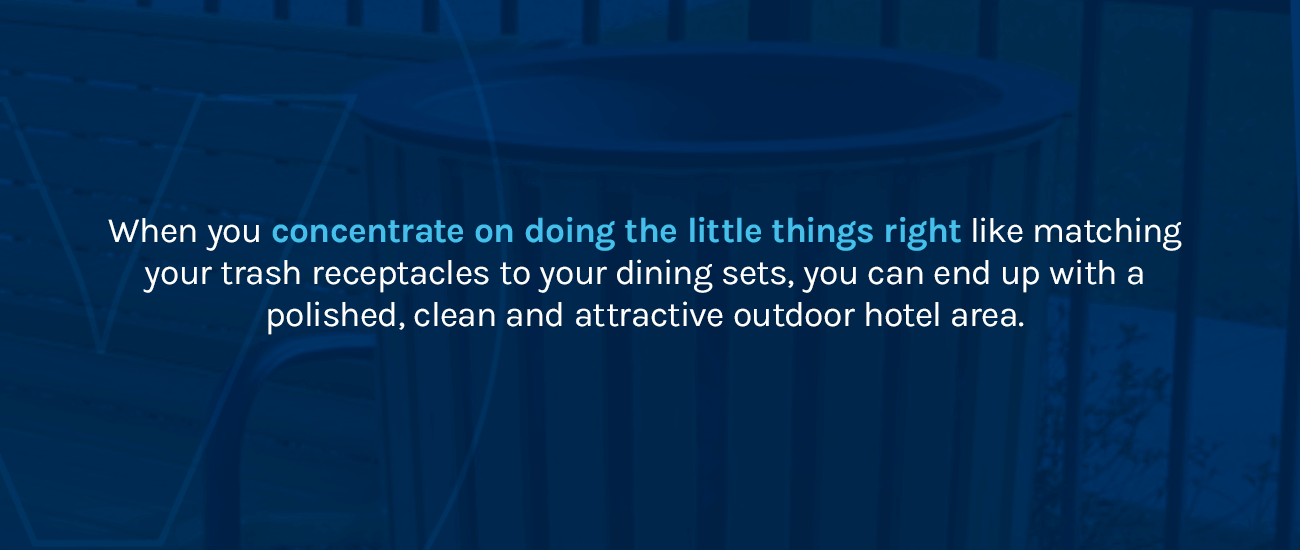 Here are five of the main details to focus on when discussing hotel exterior design ideas:
Seating: If you want your guests to relax and enjoy your hotel's outdoor area, you will have to provide them seating options. A sleek and stylish commercial outdoor bench can enhance your outdoor area's aesthetic while meeting the practical need for seating. Your guests will be drawn to your outdoor area by the visual appeal of the benches and the respite they promise from standing.
Dining sets: In addition to offering guests plenty of places to sit, you will want to provide tables for eating, playing games and other activities. The ideal set of tables and seats for your outdoor area will depend on the size of your space and the theme you've chosen. From classy high-top tables to cozy picnic tables, the right outdoor dining set can serve as a functional and appealing feature for your hotel's exterior.
Shade: Whether your resort or hotel is in a tropical location or not, shade is essential to an outdoor space. Completing each table setting with a commercial outdoor umbrella is the perfect way to ensure guests are comfortable and protected from the sun at all times. An outdoor umbrella can be conveniently adjusted to align with the sun's trajectory so your guests can stay out of direct sunlight no matter the hour of the day. You can also use commercial outdoor umbrellas to boost your outdoor area's aesthetic by getting them in customized colors.
Trash receptacles: Having plenty of trash receptacles around is the best way to prevent guests from littering. Cutting down on litter will automatically make your outdoor area more appealing because there won't be any trash lying around. You can incorporate trash receptacles into your outdoor area design seamlessly by choosing colors and materials that complement your seating and dining sets.
Lighting: You will need to include some type of lighting if you want your guests to be able to enjoy the outdoor area after the sun goes down. Try to make your outdoor lighting visually attractive by choosing options such as string lights, pathway lighting and pool lighting. You can also add to your outdoor area's nighttime appeal by avoiding harsh lighting and embracing more natural light sources like fire pits.
8. Make the Most of the Space
While you might want to think big when designing your resort's outdoor areas, don't let small exterior spaces go to waste. Instead, think through all the smaller areas around your resort that could be improved. Even if these areas do not seem important to you, a hidden corner of outdoor seating could greatly enhance the overall experience of a guest staying long-term.
Specifically, a reading bench tucked into a small garden or a secluded picnic table could become a guest's favorite part about your resort. Making the most of these smaller spaces is a creative, easy and cost-effective way for you to deliver an extraordinary guest experience and increase customer satisfaction.
9. Embrace Nature
Because your hotel's outdoor area will be situated outside, it is important to create a harmonious blend of nature and design.
The colors, textures and scents of nature are on-trend for exterior decor and landscape design, so implementing these elements into your layout can attract more customers. Intertwining your outdoor area with the environment will promote a sense of unity and make the area feel more inviting.
Natural elements are also known to encourage relaxation and reduce stress, so adding some plants, flowers and other greenery to your patio area could help your guests unwind. You can work more allusions to nature into your patio design by using fabric prints with flower or botanical motifs and including other natural materials like wood, stone and clay.
10. Introduce Unique Features
You want your resort or hotel's outdoor area to stand out. Make sure you incorporate something special into your outdoor area design that will set the space apart. Try to find a statement piece that will get your guests' attention and draw them into the exterior space. For example, a large sculpture or topiary could intrigue your guests to spend time in your hotel's outdoor area.
Your outdoor area's defining feature could also be a collection of smaller elements. Never underestimate the power of small touches like fairy lights or artfully placed peonies. Pick a feature of your design, such as a color, pattern or theme, and highlight it in a way that will be memorable for guests and their families.
Outdoor Area Design Tips
Besides nailing down your overall concept and layout, there are several other factors to keep in mind when planning an outdoor area for a resort or hotel. Check out these outdoor area design tips before breaking ground on your new project:
Be open to changes: Though you'll likely spend a significant amount of time developing a detailed design for your outdoor space, have an open mind about potential changes to the plan. Be flexible and listen to the advice of your contractor, landscaper and other project team members — you may even end up with a space better than you planned!
Set a budget and stick to it: While you should be prepared to adapt your design plans when necessary, you should try not to compromise on your project budget. Create a detailed budget that allots funds for specific aspects of the project, such as outdoor furniture, tiles, lights and more so you know exactly what structural basics and outdoor accessories you can afford to get for your outdoor area.
Plan for delays and unexpected problems: As with any construction project, you are bound to run into an unforeseen issue or delay. Take this into account when coming up with a timeline so you can establish a realistic opening date for your outdoor area.
Choose quality materials: Durability is key for an outdoor area. Because the components of your outdoor space will be continuously exposed to the elements, invest in top-quality materials that can withstand harsh conditions. In particular, make sure you choose reliable outdoor furniture that will last for years.
Choose Wabash Valley Furnishings for All Your Outdoor Furniture Needs
If you're ready to select your resort or hotel outdoor area furnishings, check out the variety of outdoor furniture and accessories available from Wabash Valley Furnishings. We offer our outdoor furniture and accessories in a range of colors and configuration options, so you can find the perfect fit for your outdoor design.
Our outdoor furniture materials and finishes are chosen for their durability, so you can be confident you're getting a high-quality, long-lasting and stylish product. To find out more about which items may be right for your project, contact Wabash Valley Furnishings today.
Sign up for our newsletter