Guide to Landscape Design for Apartment Complexes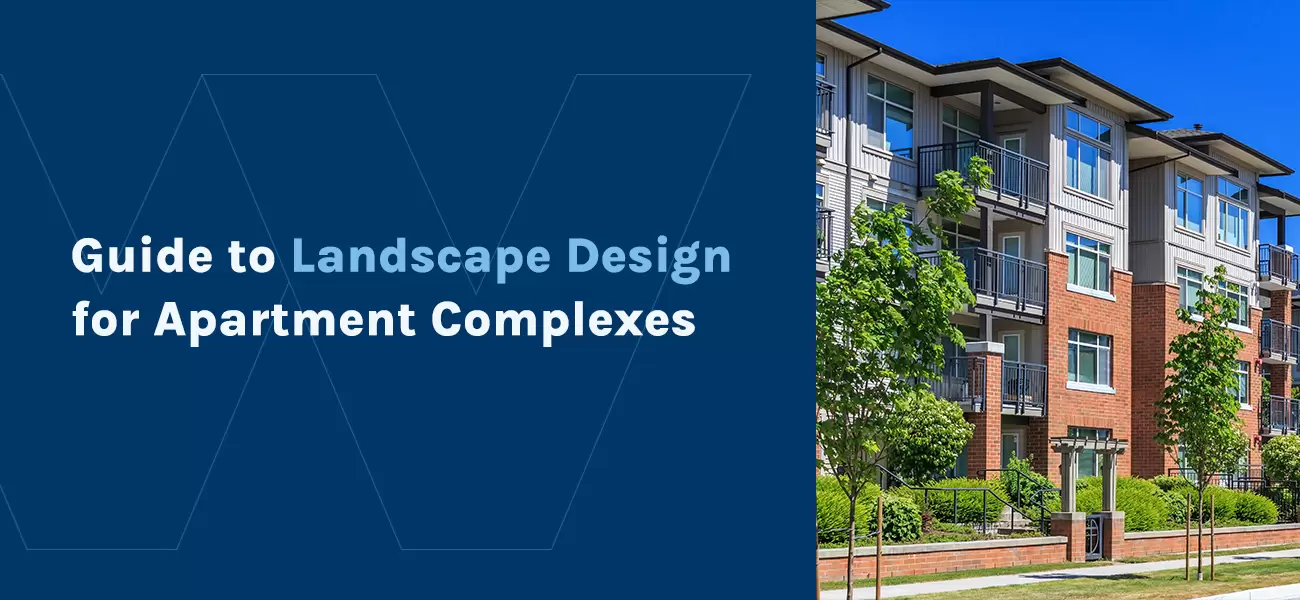 As an owner or manager of an apartment complex, you want to create the best possible experience for your tenants. The property's landscape conveys the kind of care and attention you put toward the building and all other aspects of your complex. Providing a comfortable, safe, and fun space for all your residents will help attract new tenants and encourage current residents to remain.
In addition to responsive maintenance and other amenities, the landscaping design for your apartment buildings can significantly impact tenants' experience. Our guide to apartment complex landscaping ideas can help you learn what designs and features will appeal to your tenants.
Read the full article or skip to a specific section:
Create a Beautiful Entrance
Because your building contains many different apartment units, the front entrance of your building is everyone's front door. It should be welcoming and inviting, offer information about the complex and complement your building's overall design scheme. If your building has modern architecture with sharp, clean lines and asymmetrical designs, you want your front landscaping to complement that with a contemporary feel. On the other hand, you can lean into classic design features with a more traditional entrance design.
The benefit of creating a beautiful entrance that complements your building's style is that it provides a sense of continuity in your design. As soon as people see your entrance, they'll associate the features with your brand and create a lasting memory. Furthermore, your entrance is the first thing that greets your residents after a long day at work or out running errands. It should offer a feeling of homecoming and familiarity, which will help encourage current and future tenants to stay.
Use Flowers and Greenery
Flowers and greenery have an enormous impact on the feel of a space. With the right landscaping and natural elements, even an apartment complex in the middle of a city can feel like a retreat. Using native regional plants is an excellent way to support the environment, especially the local pollinators. Rather than planting trees, shrubs and flowers randomly, consider following a motif. Different landscaping motifs you might choose include:
Cottage: A cottage landscaping motif will include many different plants with varying heights and textures. You can use plants like ivies and other vines to adorn trellises and complement them with shorter shrubs and flowers. To accomplish this look, you will want to encourage an element of natural disorder to the landscaping without letting the plants become too untidy.
Woodland: A woodland landscaping design will rely on rich greens and browns, with occasional pops of color to give the impression you have just walked into the woods. Paths that wind around trees and moss-covered boulders can help enhance this look. You might also include water features like natural fountains or a small pond.
Formal: More formal landscape design will rely on a sense of simplicity and symmetry. Usually, this includes closely manicured lawns with trimmed bushes. Clear spaces convey a sense of openness and often feature more formal features like stone fountains and planters.
Desert: Not everywhere has access to water, and many areas experience frequent droughts, making keeping up with landscaping difficult. The desert landscape motif includes plants that thrive with little water and lots of sunlight. Aloe, cactuses, succulents and stonecrops are fantastic plants for these gardens. Spacing these elements out between pebble and stone gardens or adding in sculptures can be an excellent way to dress up a garden without requiring the use of too much water.
Another great idea for your apartment complex landscaping is to add a community garden where residents can plant and pick their own herbs and veggies. Research proves that community gardens improve nutrition, increase physical activity levels, and decrease stress levels. Providing a space for your residents to work together and reap the rewards of fresh food and herbs will increase their sense of community and also give them opportunities to meet and interact with each other.
Build a Common Area
Encourage camaraderie and promote community by installing a common area in your outdoor landscaping design where people can gather. Offer seating and tables so people can enjoy meals outdoors, and include areas of shade to protect people from the sun and heat. Features that will encourage gatherings include dining sets, picnic tables and umbrellas.
In your common area, you can host events such as monthly mixers or trivia and game nights to promote community bonding. You can also provide benches and chairs in other areas to provide smaller gathering places if people want to enjoy the space while the main common area is being used.
If your community has a pool, this is the perfect spot to create a common area. Since many people will want to gather around the pool anyway, providing extra features like chairs and tables will enhance the space and encourage residents to spend time there and have fun.
Consider a Grill and Fire Pit
You've got tables and chairs, umbrellas and maybe even a fountain or pool to enhance the ambiance. Now, all you need is a grill and a fire pit to complete the perfect outdoor area for your apartment complex. If you want to make your apartment community stand out from the crowd, these amenities will certainly make an impact on potential residents. These additions can also improve your current residents' experience, as they'll have a space to cook fresh food and gather around a comforting fire.
There's nothing better than gathering with good food around a warm fire. Residents will love to use the fire pit to make smores and roast hot dogs and kebabs. They'll build wonderful memories eating food fresh off the grill with others and telling stories around the fire. In addition to providing opportunities for community building, the fire pit can also be a practical addition to stave off the cold during winter gatherings.
Making fire safety a priority is essential when you might have children and pets near flames. Ensure that only competent adults can operate the grills and fire pits, and provide fire safety equipment like fire extinguishers, gloves, stokes, tongs and covers.
Make Sure It's Safe
Safety measures are necessary to prevent crime and give your tenants peace of mind. Gates and fences help prevent anyone who isn't a resident or a guest of a resident from entering the property. Another safety precaution to include is a gate around the pool to prevent kids and pets from accidentally falling in. You might also install emergency phone stations if someone needs to call 911 quickly.
Part of securing your property is providing sufficient lighting so residents can see their way as they navigate. In addition to making residents feel safe, research suggests that lighting has a direct relationship to reduced levels of crime. You can choose from various lighting options, including:
Motion detecting lights
Pathway lights
Lanterns
Spotlights
Floodlights
LED light strips
If you want to create an extra special ambiance, consider installing outdoor string lights for a festive twist. Some string lights even come with customizable colors.
Offer Privacy
While it's great to have spaces where everyone can join together and hang out, some people may also want space to get away. That's why you should offer privacy through carefully placed bushes, trees and even fences. You can use landscape design to separate areas creatively and provide privacy and seclusion to those who want it. Simple additions like lattices and trellises with vines can provide easy, non-permanent privacy solutions.
In addition to offering private spaces within your landscaping, make sure your residents have plenty of privacy from the outside world. If your outdoor areas are not already protected by surrounding buildings or structures, consider adding privacy fencing to ensure outsiders can't see into the common areas. These additions will be especially important for buildings with pools since residents will want privacy for themselves and their families while they swim.
Add Walkways
Everyone should be able to get around your property safely. Adding walkways to your apartment complex landscaping provides spaces where people can walk without disturbing the grass or other plants and creates clear paths to the main areas of the building. If you have seating areas, grills and fire pits, you'll also want to maintain sufficient paved areas surrounding these places for maximum comfort and safety.
The Americans with Disabilities Act (ADA) requires walkways to be at least 36 inches wide to accommodate wheelchairs. Additionally, make sure the grade of your pathways is not too steep so people who use wheelchairs or other mobility devices can navigate them easily. In addition to ensuring your walkways are ADA accessible, keep in mind other needs of your tenants, like ramps, automatic door openers and tactile paving.
Include a Kids' Area
If you have families with young children living in your apartment complex, providing a kids' area for them to play would be another excellent addition to your landscaping. Install playground equipment or a simple set of swings, and consider an exciting addition like game tables. Kids can engage in classic fun games like chess or checkers or set up other board games they enjoy playing with others.
Adding a playground can have enormous benefits for the children living in your apartment building:
They help children build essential social skills like communication, collaboration and sharing.
Kids can practice their fine and gross motor skills with various challenges.
Playgrounds promote an active lifestyle by providing opportunities for physical activity.
Offering a playground can attract families with kids to live in your apartment complex.
They also provide a safe place for kids to take risks, like climbing a high ladder to sliding down the big slide.
Add a Dog Park
To create a more inviting space for all your residents, even the furry ones, including a dog park can add many benefits to your apartment complex. Knowing you have space for their beloved pets to run around and exercise can increase potential renters' interest in your apartments and enhance the quality of living for your current residents.
According to the National Recreation and Park Association (NRPA), nine in 10 Americans believe that dog parks benefit the community. Some of the advantages of a dog park at your apartment complex might include:
Providing a safe place for dogs to roam freely, with the option to be off the leash.
Helping promote socialization by introducing dogs to each other.
Giving residents an opportunity to exercise alongside their dogs.
If you add a dog park, you may want to include benches for owners to sit while they watch their dogs. Providing bags and trash cans make it easier for residents to clean up after their furry friends.
Keep Things Clean
If you're planning to integrate some of these landscaping ideas at your apartment complex, be sure to have a plan to maintain its appearance and keep things clean. Schedule regular lawn trimming and garden maintenance to ensure the plants are healthy and your space looks clean. Remove dead leaves that might clutter pathways in the fall, and keep walkways clear of ice in winter. Consider sweeping and washing the outside equipment regularly to prevent dust build-up so your tenants can comfortably use the seating areas.
To ensure the cleanliness of your facilities, provide trash receptacles so people can discard their trash responsibly. Place at least one at the entrance and a few more around any pool or common areas to encourage residents to clean up after themselves. Additionally, you might consider purchasing additional receptacles for recycling purposes.
Update if Needed
To encourage residents to stay and attract new ones year after year, update your apartment building's landscaping and outdoor areas as necessary. Some things you might want to do to keep your complex up to date include:
Repair or replace broken furniture and equipment quickly so residents can enjoy it.
Ensure your plants are healthy and trim any overgrowth.
Powerwash walkways and furniture to blast away built-up dirt and debris and keep your spaces looking like new.
Add features like bike racks if you notice many residents have bikes.
Get Outdoor Furniture for Your Apartment Complex From Wabash Valley Site Furnishings
If you're looking for furniture to complement your apartment complex design ideas, look no further than Wabash Valley Site Furnishings. We have a wide selection of chairs, benches, tables, umbrellas and other outdoor furnishings to keep your residents happy and enjoying the outdoors.
Our furnishings suit many building styles. If your complex has a modern design theme, choose some of our sleek metal furnishings that are long-lasting and stylish. We also offer multiple colors and configurations options for many of our products.
Shop our collection of premium outdoor furnishings to find the right solutions for your apartment complex. To request a quote or learn more about our furnishing options, contact us today.
Sign up for our newsletter