Top 10 Design Tips to Create Commercial Spaces
Having a commercial property with an outdoor space adds tremendous property value, builds community and provides areas for enjoyment and entertainment. With the right tips and approach, you can design a commercial space that achieves these goals. Learn more about these design considerations for commercial spaces by reading our guide.
Our guide to designing commercial spaces offers plenty of tips and advice on creating beautiful, functional and memorable outdoor spaces for your visitors, customers and staff to enjoy. We also cover a few of the top considerations when choosing the right outdoor furnishings for your commercial space, including how to select the right benches, trash receptacles and planters that enhance your outdoor area's design.
Table of Contents
1. Determine the Function of the Space
Design your space with functionality in mind. Functional spaces are usable and enjoyable to your clientele. When defining your outdoor space's function, consider the following factors that contribute to how the space is used:
Safety: Different outdoor spaces have different safety factors to contend with. The first safety consideration should be whether your space will be used primarily during the day or at night. Consider how much privacy there should be and the amount of lighting you'll need.
Accessibility: Make your space as welcoming as possible by creating pathways, seating areas and other facilities that are wheelchair accessible. Having ADA-accessible ramps and other access points ensures inclusivity for all.
Seasons: Different climates have specific seasonal weather considerations to factor in. Consider whether your space will be used year-round or only during peak seasons. In precipitous or sunny regions, you may consider adding covered areas, while in desert climates, you might consider how to make your space drought-friendly.
Demographics: Consider who will use your space primarily. Schools and universities might prefer informal seating areas and open spaces, while shopping centers and other facilities serving the general public may prefer to maximize seating to accommodate families and seniors.
2. Blend Aesthetics and Functionality
They say form follows function, so after you've developed a clear vision for how your space will be used, the next important factor is your aesthetics. To make a space as enjoyable as possible, it should be thoughtfully designed with style and beauty for visitors to appreciate.
Consider the following factors to help blend the space's functionality with aesthetics:
Style: The first step in aesthetic commercial area design is deciding on an overall style suitable for the space's function. A courtyard of a modern art museum will have a very different aesthetic style than an outdoor seating area in a busy shopping center.
Colors: SImilarly with colors, consider whether you prefer bright hues with high contrast or muted tones that complement any natural surroundings.
Materials: Your choice of material is critical to achieving the desired aesthetics in your outdoor space. A blend of concrete and metal is suitable for modern or contemporary spaces, while wood and wood-like finishes feel at home in more traditionally styled spaces or natural settings.
Decor: Consider the types of decor elements to include. From art installations and water features to decorative rocks and functional features, there are plenty of ways to maximize your space's aesthetics using various display items.
3. Highlight Your Business Entrance
Create an inviting atmosphere for your customers by showcasing the front entrance to your business. Your office or storefront is the first impression a customer is left with, and it can make or break their entire experience with you. It's important to spend some time thinking about how to create a positive perception from the start.
A welcoming entrance may have the following elements:
High visibility and openness: Ensure there are no obstacles or barriers to the entryway that would make it difficult to notice or access.
Professional signage: Ensure your business's name is visibly and legibly displayed on an eye-catching sign.
Framing and features: Frame your front entrance with planter boxes, light stands, benches or other features.
Focal point: Consider what is the main product, area or feature you want your customers to first see when they walk in and ensure this remains the focal point.
De-emphasize receptacles: Ensure cigarette, trash or recycling receptacles blend into the background and don't steal focus from your design.
Cleanliness: Keep a pristine storefront by avoiding architectural or decorative features that tend to collect a lot of grime or are difficult to keep clean.
4. Add Seating Areas
When designing an outdoor commercial space for customers to enjoy, it's critical to provide seating. Having seating available allows people to make use of your space and feel welcomed and invited into your business. Whether your seating is for customers, employees, visitors or all of the above, ensure you provide ample seating for the size of the area and the amount of traffic you expect.
Some various ways to add seating to your outdoor space include:
Benches: Benches provide casual seating for customers to wait outside for appointments or for employees to eat their lunch outdoors. Strategically position benches so that some are in the shade while others receive full sun. You can line the perimeter of your outdoor area with multiple benches spaced equally apart.
Picnic tables: For more formal seating and to encourage longer visits and more gatherings, consider installing picnic tables. Coming in a variety of materials, shapes and sizes, picnic tables provide the perfect setting for families and groups to converse and share a meal.
Stools: When space is limited, consider installing single stools as a convenient outdoor seating option for customers or staff. Stools provide a casual place for visitors to rest and enjoy your outdoor space while waiting.
Conference tables: Take your staff or client meetings outdoors with outdoor-friendly conference tables. Install rectangular tables with detached benches in a covered area outside to enjoy your work meetings in the fresh air.
5. Install Outdoor Lighting
Outdoor lighting is critical to the extended enjoyment of an outdoor space. Lighting creates ambiance, and it's practical. Visitors can enjoy your outdoor space well into the night with the right approach to lighting.
When choosing your outdoor lighting options, consider using a variety of light fixtures and positioning to achieve three types of outdoor lighting:
Uplighting: When landscape lights shine upward from ground level or slightly below.
Downlighting: When light fixtures are mounted up high, such as in trees or beneath eaves, shining downward.
Moonlighting: When downlighting is positioned to resemble natural moonlight.
Below are various light options to help achieve the perfect balance of outdoor light:
Lampstands and path lights: Lampstands provide structure and framing to your outdoor space and provide ample downlighting for better visibility and enjoyability. Path lights add a tasteful glow and can be designed to blend seamlessly into the landscape.
String lights: Providing an elegant and subtle twinkle, string lights are popular types of lighting for small restaurant patios or cafes. Commercial-grade LED string lights are also suitable for outdoor event venues and festivals, providing a temporary lighting solution that's easy to adjust.
Canopy lights: Canopy lights provide ample lighting for businesses with outdoor structures, including convenience stores, gas stations, parking garages and more. Depending on the type of commercial property, canopy lights can be installed with energy-saving features that maximize light efficiency.
6. Match Your Brand
Coordinate your outdoor landscape design with your business branding. There are plenty of creative ways to incorporate your brand into commercial landscapes, including using your logo, brand colors and overall style to create a cohesive image that extends to your commercial landscape.
Some ways to incorporate your brand color scheme and style into your outdoor design elements include:
Painted planters: Order custom planters or update existing ones with your company colors. Cement and wood planters can be painted in your brand colors, giving your front entrance a memorable feel. You can also have your logo painted onto the planters for additional branding.
Branded benches and tables: Outdoor benches, tables, chairs and umbrellas can reflect your brand as well. Paint your seating in your brand colors or have them monogrammed with your company name or logo.
Colored lighting: Replace some lightbulbs with colored ones that reflect your brand colors. Swap out pathway light bulbs for a combination of your brand colors to give a special nighttime glow that reminds visitors of your business.
7. Choose Quality Materials
When designing an outdoor commercial space, it's critical to choose high-quality materials that look good and last long. When it comes to any hardscape materials, you want them to have the following characteristics:
Durable: High-quality outdoor landscape materials must be long-lasting and durable. For example, choose high-quality wood or recycled plastic benches that won't warp, peel or crack after repeated use. This helps maximize their lifecycle and protect your investment in your commercial landscape design.
Weather-resistant: Since hardscape materials are exposed to the elements on an ongoing basis, it's important they be designed to withstand various seasonal weather patterns. From rain and moisture to snow and ice and sun and heat, your outdoor material must maintain its quality over time.
Comfortable: Outdoor commercial spaces should be inviting and user-friendly. Any hardscapes meant for seating must be comfortable and safe. Ensure benches and tables are finished in a protective coating that prevents painful splinters. Certain finishes also help reduce heat absorption to prevent surfaces from getting too hot.
8. Line Pathways
Lining outdoor pathways is one of the key principles of landscape design. Lined pathways guide visitors and show them where to go as they cross your property, and they also create an inviting and thoughtful setting that feels warm and welcoming. Lining walkways, as well as the perimeter of the area, highlights the extent of the property and provides implicit instructions to visitors for accessing the business.
There are many different ways to line pathways, including:
Planters: Use a series of evenly spaced planters along one side of the pathway or on both sides to create a visual line toward your business entrance. Choose planters that are the appropriate size and height for your pathway and proportional to the area.
Lighting: Lighting is an important way to line a pathway for nighttime use. Pathway lighting can either be in-ground, lighting from below or downlighted from an overhead pergola or covering.
Landscape material: Use gravel, mulch or other landscape material to create a visual pathway toward your business. Consider the optimal type of material for the nature of your business as well as your climate.
Decorative brick or stone: Install decorative bricks or stones along the pathway to lead visitors into the property. Brick and stone are lovely additions to properties to recreate the feel of a private garden or park.
9. Allow for Shade
Outdoor spaces benefit greatly from structures that provide adequate shade. Some of the ways to create shade and shelter in your commercial outdoor space include:
Trees: Strategically plant a variety of trees to provide shade during peak daylight hours. Position benches or seating underneath trees to make your outdoor space more functional and enjoyable.
Arbors: When you want to add a bit more structure to your shaded areas beyond just trees, install an arbor on your property. Arbors are wooden shelters constructed with either two or four posts that provide a structure for climbing plants and vines to grow along. Arbors provide a limited amount of shade and are perfect for positioning over a small bench or bistro table.
Pergolas: Compared to an arbor, pergolas are larger and provide more shade. They are ideal partial coverings over a patio or deck and can be freestanding or attached to the building. Pergolas can be fully or partially covered in plants, depending on the amount of shade needed.
Pavilions: If you want to provide the maximum amount of shade and shelter, a pavilion is a solution. Unlike pergolas that have open, slatted roofs, pavilions are completely covered. They provide shade from the sun as well as a covering from the rain and wind.
10. Make Use of Plants
Plants add life and vibrancy to commercial spaces and are a critical design element you shouldn't overlook. Include a combination of indoor and outdoor plants, in-ground and potted plants, as well as a variety of trees and flowering shrubs.
Some of the benefits of adding a botanical appeal to your commercial property include:
Air purification: Whether you're planting indoors or out, plants have natural air purifying properties that help create a fresh environment. Include a variety of greenery for the maximum cleansing effect.
Sound insulation: Trees and shrubs are natural sound insulators. Keep street noise and echoes to a minimum with plants to dampen noise pollution.
Privacy screening: Plants can also act as partitions and privacy screens when strategically positioned along pathways or near windows. Use plantings like boxwoods, clematis or ivy to divide off areas of the property, direct the flow of traffic or create a more natural structure.
Mood enhancement: Nature has known health benefits for mood and well-being. Having a commercial space with ample greenery adds to a positive customer experience.
Hire an expert with a horticultural background to help you select the ideal plantings for your hardiness zone as well as your property's unique sunlight and weather patterns.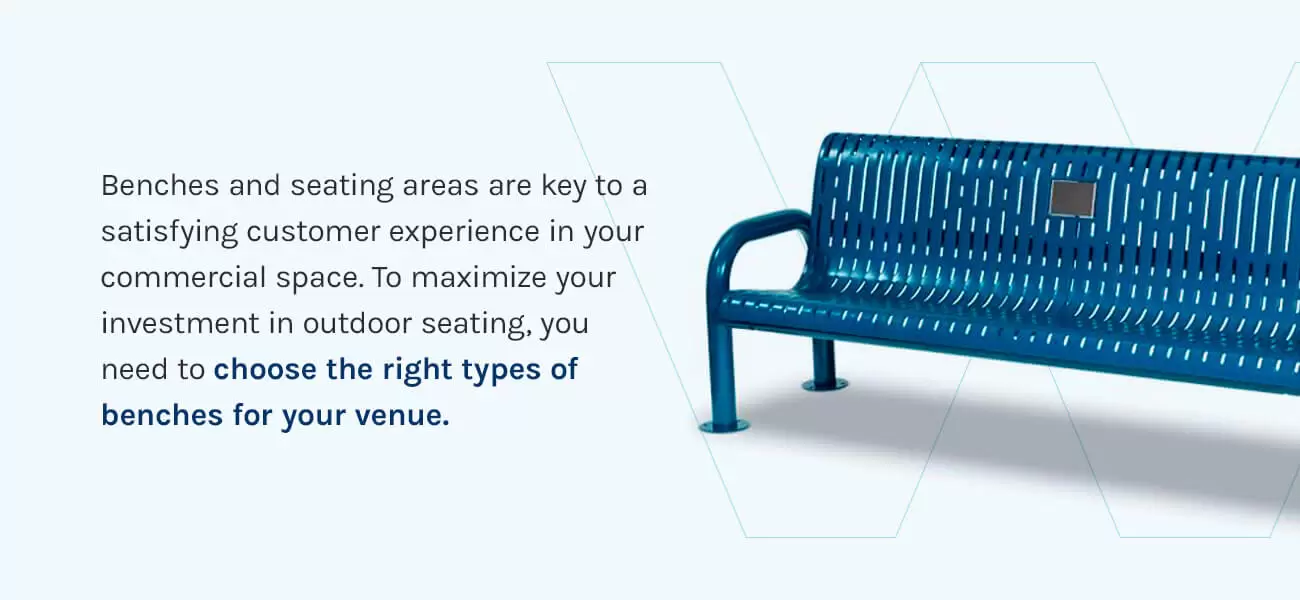 Tips for Choosing the Right Benches
Benches and seating areas are key to a satisfying customer experience in your commercial space. To maximize your investment in outdoor seating, you need to choose the right types of benches for your venue.
Review the following tips before selecting your outdoor benches:
Plan for maintenance: Before choosing benches for your commercial outdoor space, consider your commitment to maintenance. Certain bench materials require more ongoing and seasonal maintenance than others. Wood benches require regular coatings and potential repairs. Benches made from recycled plastic materials offer a lower maintenance solution and require limited ongoing cleanings or repairs.
Decide on movability: Another choice when it comes to benches is whether you want them to be installed in-ground or remain movable. Fixed benches are a better option in spaces where the risk of theft or vandalism is higher. Movable benches allow visitors to position their seating where they desire.
Pick an adequate size: Consider how large the benches will be and how many of them are suitable for the property. Budget will be a factor in this choice, as larger benches require more material. Consider whether your space caters to larger groups or smaller ones and which bench size will ideally accommodate these visitors.
Tips for Choosing the Right Trash Receptacles
Trash receptacles are an essential part of a clean and functional commercial outdoor space. Though trash receptacles are necessary utilities, they can still appear stylish and blend in seamlessly with your landscape.
Choose the right trash receptacles with the following tips:
Choose the right shape and size: Trash receptacles come in a variety of shapes and sizes. Choose from round vs. square or tapered vs. straight, as well as whether you'd like your receptacles pole or surface mounted.
Pick a stylish finish: Trash receptacles are available in a variety of materials and finishes you can match to your setting. Powder-coated metals look sleek in a modern, urban setting, while wood materials are perfect in a natural environment surrounded by trees and greenery. It's also vital to choose a finish suitable for your climate, such as weather-resistant materials that are long-lasting.
Decide on the right top: In terms of functionality, choosing the right top for your trash receptacle is important. Receptacle lids can be rounded, flat or hooded and can also include a rain bonnet to protect the bin from filling with water. You can alternatively choose to add an ash bonnet so people can cleanly dispose of cigarette butts.
Tips for Choosing the Right Planter
Add warmth and elegance to your commercial space with lots of bright vegetation grounded in beautiful planters. The right planter acts as its own design element, showcasing your trees or flowers.
To choose the right planter, follow these commercial space design tips:
Decide how planters will be used: As we've seen, vegetation can serve both an aesthetic and functional purpose. If you plan to use plants to line pathways, create a privacy screen or dampen sound, choose planters that fit the location and look good in a sequence.
Create balance and structure: One of the main principles of design is to always aim for balance and harmony. Planters located on either side of an entrance also add structure to your space by creating the illusion of a frame around a focal point.
Match your vegetation needs: It's important to choose the right type of planter for the variety of vegetation you plan to have. Tall, slender plants or trees need a planter of equal proportion, while shrubs and bushes need shorter, wider planters to match.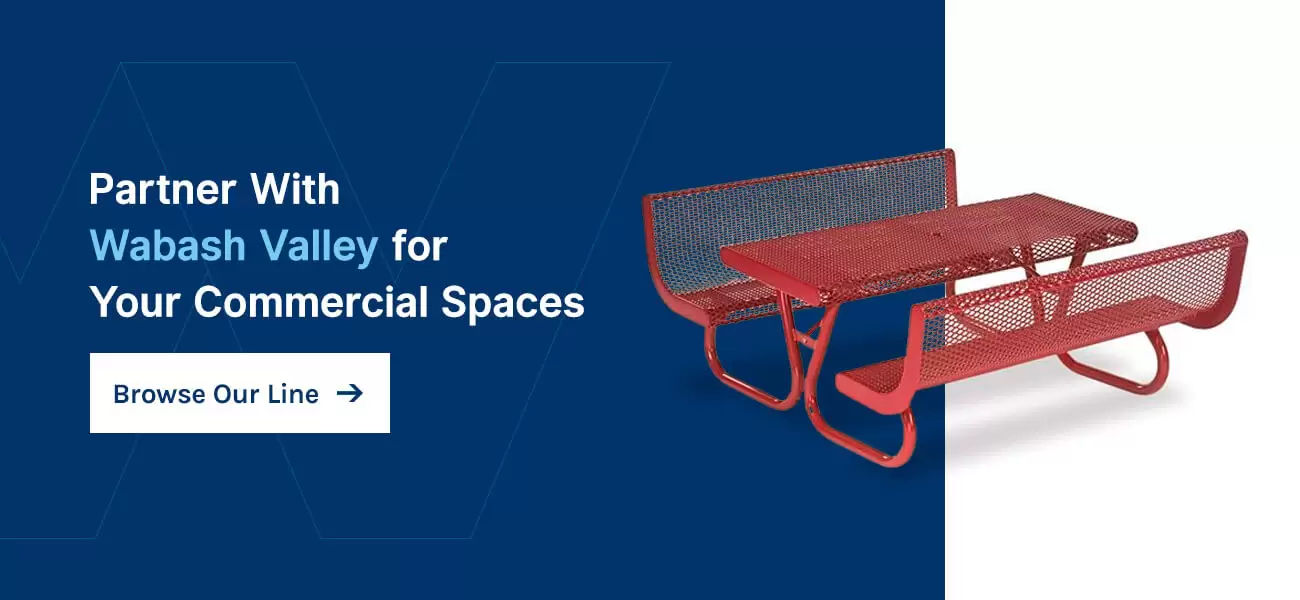 Partner With Wabash Valley for Your Commercial Spaces
Creating a beautiful, inviting commercial space is possible by following a few key design principles. For more resources on designing functional and aesthetic outdoor spaces, browse the Wabash Valley blog, or visit our installations gallery for inspiration to design a unique and vibrant outdoor commercial space.
Partner with Wabash Valley Site Furnishings for high-quality outdoor-grade products. Browse our line of outdoor benches, picnic tables, trash receptacles, and other products for your commercial space. Contact us today to learn more about our outdoor furnishings.
Sign up for our newsletter