Tips for Choosing the Best Picnic Table
Installing a picnic table in a commercial space gives visitors and employees a spot to enjoy meals and recreational activities outside. The best picnic table for a business depends on aesthetic preferences, seating needs and local weather conditions. You'll need a durable, long-lasting table to help businesses attract potential customers and promote a relaxing atmosphere.
As you plan a commercial outdoor space, consider your picnic table's size, shape and style to complement the property's overall design. This picnic table buying guide explores the popular types of picnic tables, materials and features to help you find the perfect product for your design project.
Read the full article or jump to a specific section:
How to Choose a Picnic Table
Choosing a picnic table is a careful decision full of considerations about the space and its needs. Follow these steps to select the best picnic table for your purposes or a client's.
1. Pick the Right Material
The first step to purchasing a commercial outdoor picnic table is choosing a durable, aesthetically pleasing material. Most picnic tables contain aluminum, steel, recycled plastic or wood. Consider the following factors when deciding on a material for your product:
Weather resistance: Your picnic table's material should be able to withstand the rain, snow, sun or humidity the area experiences throughout the year.
Cleaning and repair requirements: Some table materials take more time to clean than others. Most commercial location owners will want their maintenance staff to spend a minimal amount of time cleaning tables.
Appearance: Keep in mind how your table looks when you first order it and how it will change over time. Wood tables tend to develop a patina when exposed to the sun, for instance. If you want a uniform look throughout the picnic table's surface, you might choose a different material.
Resistance to spills: If visitors will eat meals on the table, you'll need to think about how the surface will withstand residue from food and drinks.
Comfort: Your table's seating should be a comfortable place for employees or visitors to sit for a long time so they can relax while eating their meals or playing games.
Weight: Your picnic table's weight determines how well it'll withstand heavy winds. Keep in mind that a heavier table might be a little more challenging to install, but it has the potential to last longer than a lightweight one.
Price: Each material comes at a unique price point. Think about how much of your budget you're willing to spend on a new table.
2. Find Out How Much Room You Have for the Table
Picnic tables take up a considerable amount of space on a commercial property. Figure out where you'll install the table, whether you'll put it out front where the public can access it or in a private area for employees to enjoy. Measure the space where you'll put the table before you buy it so you know you'll have enough room for it. Besides the table's size, you also need to make sure you add a few feet around the table to allow people to walk by it conveniently.
Look for a table with the right shape and dimension to accommodate your space and seating needs. Most picnic tables have attached seating integrated into the design. You'll then have enough space for getting into and out of the seats, as well as moving around the table. Each table shape also has a specific seating capacity for intimate meals or large gatherings.
3. Choose the Picnic Table's Design
After figuring out how much space you'll need for the table, consider what design you want. The shape, size and configuration of a picnic table affect the experience that employees or customers will have as they sit around it. The number of people that'll sit around the picnic table will help you figure out what size and shape to get. Even though the traditional picnic table is rectangular, you can also find square, round, octagonal and oval tables to accommodate different area needs.
Think about whether you'd like attached or separate seating, as well. Attached seating takes up less room, but separate chairs can make those seated at the table more comfortable. If young kids will use the commercial space, you might also want to get a kid-sized table.
4. Select a Color the Best Color for Your Picnic Table
Steel, aluminum or recycled plastic picnic tables offer a wide selection of colors to help you design your commercial space. Choose one or many colors that match the company's brand to give the whole property a cohesive look. You could also complement the nature surrounding the area with subtle, earthy tones. Or choose bold, vibrant colors that stand out against the trees and buildings around the property and help employees and visitors find the table conveniently.
5. Add an Umbrella
If you don't have trees around the commercial space to shade people sitting at the picnic table, accessorize it with a patio umbrella. Umbrellas can withstand UV rays from the sun and make warm days more pleasant. It can also give the patrons at an outdoor restaurant privacy to enjoy their meals with their loved ones. Add an umbrella in a stand attachment or in the center hole that some tables have.
Picnic Table Materials
A picnic table comes in various materials to accommodate your weather conditions and design needs. Here are some of the most popular picnic table materials.
1. Wood
Wood picnic tables are typical in residential settings, but you may also find them in a commercial space. This material has a timeless appearance and comes in various species with unique aesthetic and durability qualities. Here are some reasons why people enjoy having traditional wood picnic tables on their property:
Earthy aesthetic: Due to its grainy patterns and hues that come straight from nature, a wood picnic table complements the surrounding trees and greenery in the commercial space.
Moisture-resistant treatments: Wood picnic tables are traditionally vulnerable to rotting and warping from excessive moisture. Some companies offer pressure-treated or stained planks to help guard against water damage.
Ease of storage: If a commercial space will only use a picnic table during certain times of the year, the business owner can conveniently place it in storage so it lasts longer.
Convenience of painting or staining: While wood comes in an aesthetically appealing color, you can easily paint or stain a wood picnic table to change its color or match the company's brand better. Painting or staining the planks also protects them against developing a patina in the sun.
2. Recycled Plastic
Recycled plastic picnic tables can resemble natural wood but with enhanced durability and longevity. Your company will benefit from having a picnic table made from recycled plastic for the following reasons:
Eco-friendly: Recycled plastic is better for the environment than most other materials. The planks used to make these tables contain milk jugs and other high-density polyethylene (HDPE) products. Instead of throwing out these scrap pieces, a recycled plastic picnic table gives them a new purpose.
Durable: While these tables contain used plastic products, they're sturdy against wear and tear. Advances in modern technology allow a recycled plastic picnic table to withstand weather damage, insects, mold and mildew.
Easy to maintain: The surface of a recycled plastic table is convenient to clean with mild soap and warm water. Unlike natural wood, you won't need to sand or repaint the surface to maintain its appearance.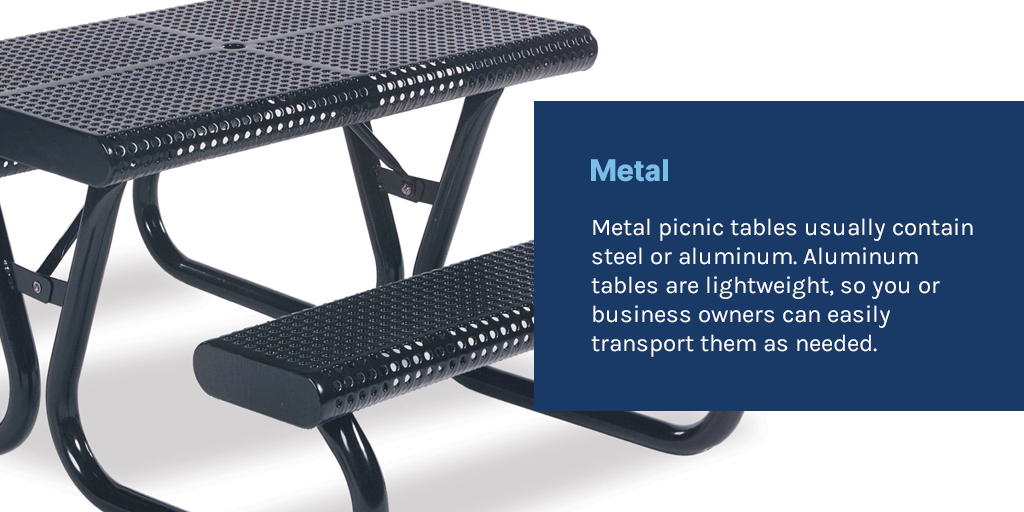 3. Metal
Metal picnic tables usually contain steel or aluminum. Aluminum tables are lightweight, so you or business owners can easily transport them as needed. This material won't split, rot or warp when it comes into contact with moisture or sunlight. Aluminum picnic tables are convenient to clean, and they tend to last a long time.
Steel is another option for metal picnic tables. Consider some of the advantages of this material:
Long-lasting durability: Steel can resist damage from harsh weather conditions and last for a long time. Picnic tables with thick metal tubing provide extra strength to the whole structure. When you get a coating on the table, you protect it against UV rays from exposure to the sun.
Versatile coating options: Steel metal picnic tables have coatings applied to them to strengthen their integrity. PLASTISOL is a thermoplastic covering that involves dipping the table parts into a heated pool of HDPE. The liquefied plastic completely covers the metal to protect it against rust and corrosion. Manufacturers can also apply a dry plastic powder electrostatically to the metal to create a bond that also prevents wear and tear.
A varied selection of colors: Metal picnic tables with a thermoplastic covering come in various vibrant colors. The powder coating also gives the table a bright, glossy appearance.
Perforated surfaces: Metal tabletops and seats with intentional holes allow water to seep through them instead of pooling on top. The perforation also allows air to pass through the holes so the table doesn't get too hot.
Picnic Table Design Features
After choosing the right material for your project's picnic table, consider these other characteristics for its design.
1. Shape
Picnic tabletops come in the following shapes:
Square: A square table doesn't take up a lot of space, so you can conveniently put it in a smaller area of a commercial lot. You might install a square-shaped picnic table if you're designing an outdoor dining area for a restaurant or an amusement park. This small shape creates an intimate dining setting for your guests to enjoy eating with their loved ones. Most square tables seat four people, with one person on each side, but larger tables can accommodate more.
Round: A circular picnic table can also fit in a smaller area of the commercial lot. This shape is suitable when designing a community park or recreational area. A round table is ideal for talking or playing games with friends and family. Depending on the size of the round table, you can typically fit between four and eight people around it.
Rectangular: A rectangle is the traditional shape of a standard picnic table. This configuration offers the biggest seating capacity, especially if you get a large size. There's also space on the short sides for those who use wheelchairs to join the table. A rectangular picnic table is great for any commercial outdoor setting, whether you're designing a restaurant or park or you want to create a space for employees to gather during lunch breaks.
Oval: An oval table can almost fit as many people around it as a rectangular one. Its rounded edges allow you to install it in a smaller space. You can put an oval-shaped picnic table in a restaurant or park for visitors or in a break area for employees.
Octagonal: An octagon picnic table has eight distinct sides, so one person usually sits on each side. Since it's different from most outdoor tables, it's an attractive option for any commercial space that requires a large table.
2. Seating Capacity
Consider how many people you'd like to accommodate around the table. If you're designing an outdoor dining area for a restaurant, consider more than one table variety to provide a comfortable space for couples and large families to enjoy their meals. You can also get single-sided tables and ADA accessible ones. Typically, tables that have an odd number of seats have space for someone using a wheelchair. At Wabash Valley Site Furnishings, we offer the following seating options:
Two seats
Three seats
Four seats
Five seats
Six seats
3. Seating Type
Your outdoor picnic tables might come with different seating types to accommodate the number of people you want to have around the table. Consider whether you want individual chairs or benches. Benches allow you to have more people around the table, but separate chairs give each person more space to be more comfortable. It also helps to think about whether you want your chairs or benches to have backs on them. Seating with back support is more comfortable, but backless chairs or benches offer a seamless design.
4. Pattern
The picnic table's pattern you choose depends on the location owner's aesthetic preferences. At Wabash Valley Site Furnishings, we offer these designs for our outdoor dining tables:
Diamond
Faux-wood
Horizontal slat
Perforated
Perforated top
Round perforation
Solid
Solid top
Square perforation
Traditional slat
5. Color
The color of the picnic table can help complement the commercial space's overall design. When you invest in recycled plastic or metal picnic tables, you have a wide selection of picnic table color ideas. If you want a table with a unique look instead of a uniform design, mix and match the colors of the:
Tabletop: Consider what color you want to make the surface of your picnic table. Since this component takes up the largest surface area, it'll serve as the whole table's focal point.
Legs: The legs under the table are usually visible to people sitting at it, so choose a subtle color that complements the tabletop.
Seats: If the commercial space is in a sunny area, you might want to make the seating a lighter color to reflect the sun's heat.
6. Size
After measuring the designated space for your picnic table, you can decide what size to order. Keep in mind that the size refers to the length or diameter of the table. Here are some of the sizes we offer:
4 feet long
6 feet long
8 feet long
36-inch diameter
40-inch square
42-inch diameter
46-inch diameter
46-inch square
7. Mounting
Commercial picnic tables are available with individual leg bases, a single pedestal base or frame support bases. Determine whether you want to have your picnic table firmly planted on the ground or if it should be portable. Consider some of the options we provide on our site:
Inground: If your client plans on keeping the tables in the same spot, have the items mounted in the ground to keep them in place.
Surface mount: A surface-mounted picnic table is also secure because it attaches to the top of a concrete slab.
Portable: Portable tables are easy to transport and store during off-season months.
Portable or surface mount: If you'd like to store or transport the picnic table throughout the year, use surface-mount clamps to secure portable tables to the ground and protect against weather damage.
Considerations Before Making Your Purchase
Before choosing a picnic table, think about the following factors to make sure your product will accommodate a commercial space's design:
Temperature: As you look for a picnic table for an outdoor area or park, think about the area's climate. Heat and cold throughout the year could affect the table's integrity over time. If the property owner will keep the table up when it's hot outside, pick a lighter color or an umbrella that reflects sunlight and keeps the seats comfortable. Perforated steel picnic tables can also provide air to flow through the table to stay cool in the summer.
Weather: Besides the temperature, it's also necessary to determine how much rain, snow, sun and humidity the area experiences. Recycled plastic tables and metal ones with PLASTISOL or powder coating are usually the most durable against the elements. If you choose a different material for your weather resistant picnic table, find a portable option to store somewhere during hurricanes or snowstorms.
Purpose: As you choose a picnic table's design, consider why you're including this furniture in the outdoor space. Think about your client's business and how a picnic table can enhance the experiences of their guests, employees or customers. If the commercial property hosts lots of people outside, you can order more than one table to accommodate large and small groups.
Why Choose Wabash Valley Site Furnishings Picnic Tables
Wabash Valley Site Furnishings offers durable, high-quality picnic tables to accommodate any commercial space. We manufacture all our products with long-lasting materials that come pre-covered in PLASTISOL or powder coating. Choose from our wide selection of color options to match your client's brand and buy your picnic tables in bulk to save money on the entire purchase.
As you search for outdoor furnishings and amenities, consider one of the most reliable names in the business. With more than 30 years in the industry, Wabash Valley Site Furnishings will help you find the perfect picnic table to complete your outdoor commercial area. We work with landscape architecture and design firms to make your plans a reality.
Discover the following benefits when you work with Wabash Valley Furnishings:
High-quality products: When we create our outdoor furnishing and amenities, we use eco-friendly, long-lasting techniques and materials. We're aware that outdoor site furnishings need weather protection throughout the whole year. As a result, we test our products for durability and stability against harsh weather conditions before making them available to our customers. Our careful design process produces picnic tables in various styles and colors compatible with your commercial space.
Timely manufacturing: If you're on a limited timeline, trust our team at Wabash Valley Site Furnishings to create your products quickly and efficiently. We use cutting-edge technology to streamline the process of making our picnic tables. At the same time, you can still expect excellent, quality results from our production methods.
Little maintenance: Once your picnic table arrives at your site, have peace of mind that it'll last on the commercial property for years. Our products' designs require minimal maintenance, preventing warping and other signs of wear and tear.
Bulk purchasing: If you'd like to order several picnic tables for a commercial space, our customer service team can provide them for you at a reduced bulk price. Our efficient manufacturing methods ensure that your bulk purchase items all have a uniform design according to your exact specifications.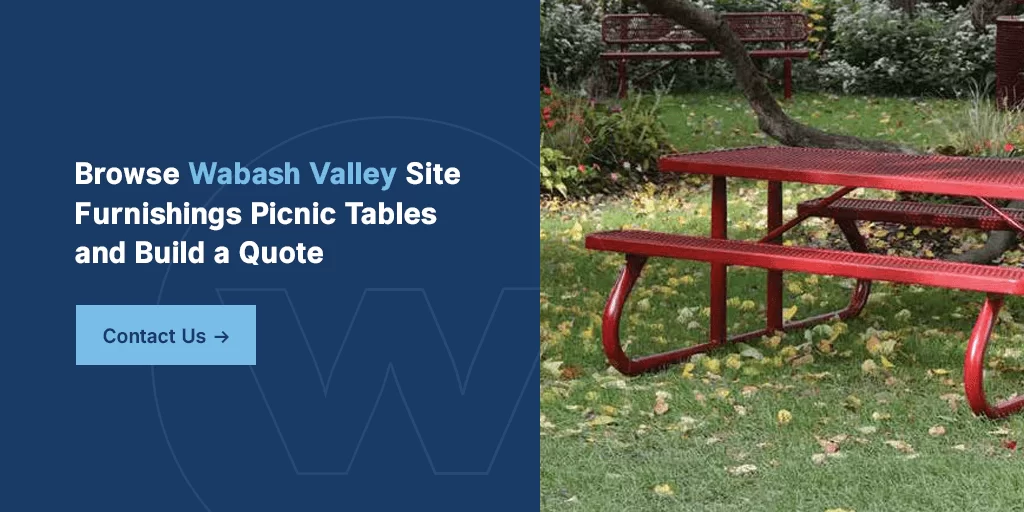 Browse Wabash Valley Site Furnishings Picnic Tables and Build a Quote
If you're looking for the perfect picnic table for your commercial space, browse through our inventory of high-quality outdoor picnic tables and chairs from Wabash Valley Site Furnishings. Since our outdoor products are beautiful and long-lasting, you'll enhance guests' experiences and make them want to come back more often. Choose from a variety of colors and styles to find the best product for your overall design. As you look through our collection of outdoor picnic tables, let us know if you have any questions.
Sign up for our newsletter