Tips for Choosing the Best Commercial Umbrellas for Restaurants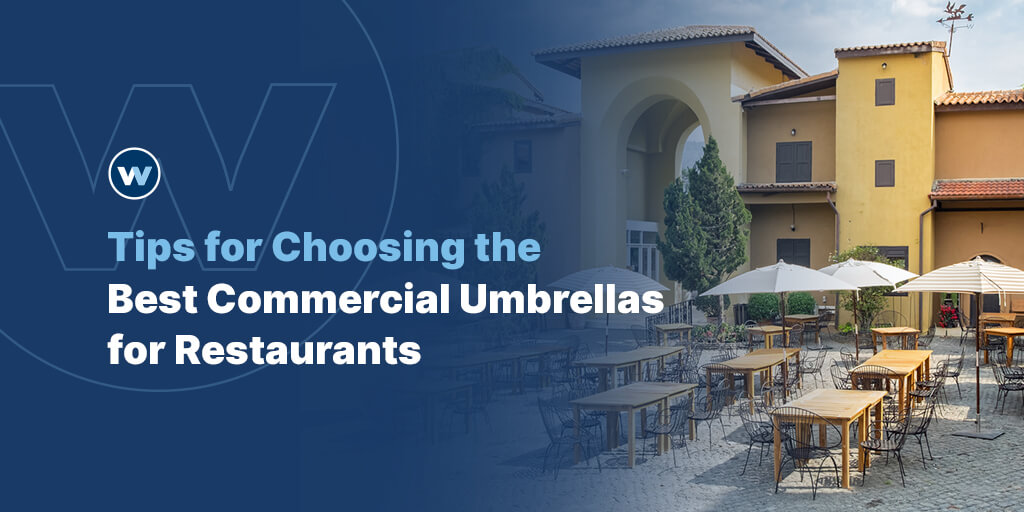 Outdoor dining is an exciting feature of many restaurants. Guests love to sit out on a patio and enjoy delicious food, the company of friends and great service. A sunny day perfectly complements an outdoor breakfast, lunch or dinner, and the shade from an umbrella makes this experience comfortable.
Commercial umbrellas are different from those you might use in your own backyard. While personal use umbrellas are mainly decorative, umbrellas meant for outdoor businesses are built to last, durable enough to withstand constant use and different weather conditions for many years in a row. When choosing umbrellas for your restaurant, you want to provide shade and decor that matches the high quality of your establishment.
Why Restaurants Need Commercial Umbrellas
As a restaurant owner, your goal is to accommodate as many happy guests as possible each day. A set of commercial umbrellas can tie together the carefully selected details of your restaurant while providing other benefits, including:
Maximizing your space: Outdoor dining under a colorful umbrella is a great way to add more seating options to your restaurant while providing customers with a fun eating experience.
Advertising: Outdoor patios show off your restaurant's amenities from the outside. A stylish and comfortable-looking patio will draw guests in.
Making guests comfortable: Umbrellas provide the perfect balance of sunlight and shade so your outdoor guests can be comfortable throughout their entire meal. Umbrellas also ensure guests can enjoy your outdoor dining area in different types of weather. If it's hot and sunny, guests can cool off under the shade of the umbrella at their table. And if it's drizzling a little, umbrellas can still provide protection and encourage guests to have a meal outside at a dry table.
Including a stylish touch: Umbrellas as featured pieces add a bit of flair to your dining atmosphere. Whether your restaurant is casual or more upscale, umbrellas are universal features that are both decorative and functional. Your guests will be glad they can sit in the shade while still enjoying the view from your outdoor area.
Personalizing the experience: Commercial umbrellas are a great shade option for restaurants because they create a personalized section of shade. Outfitting each table with its own umbrella makes guests feel welcome and allows them to customize their level of shade as the sun travels across the sky.
Making setup easier for you: In a fast-paced restaurant environment, you want to spend as little time as possible setting up tables and packing them up at the end of the day. Umbrellas are easy to open, close and carry into storage. Simply attach them to tables or anchor them on your patio to create a low-maintenance environment that's still of high quality.
How to Choose the Best Commercial Umbrellas
If you're considering new commercial umbrellas for your space, keep in mind a variety of factors. Think about the type of outdoor dining environment you want to create, as well as the values of your restaurant and the needs and wants of your guests.
Umbrellas are a versatile shade option because you can place them through the middle of some tables or set them up off to the side to provide shade for multiple tables at once. How you set up your outdoor area and which umbrellas you choose depend on your vision for the space.
Umbrella Size
Commercial umbrellas come in a variety of canopy sizes. Two common sizes are 7 feet and 9 feet in diameter. The size of the umbrella canopy you choose depends on the size of the tables you'll put them over, as well as how much space you have to fit different umbrella arrangements in your outdoor dining area. Knowing the size of the umbrellas you're looking for can help you choose how many umbrellas to buy.
Umbrella Colors and Branding
With many canopy colors to choose from, you're sure to find an umbrella that matches your restaurant's color scheme. From warm to cool colors and everything in between, the color of your umbrella sets the stage for the type of atmosphere you're looking to create.
Bright, warm colors are perfect for a kid-friendly environment. Cool blues and greens create a relaxing, natural setting. Browns, beiges and taupes elevate your patio for sophisticated guests who still crave a laid-back experience.
If your franchise restaurant has specific branding requirements, you can find umbrella colors and styles to meet those specifications, ensuring uniformity and quality across locations.
Umbrella Fabric
When choosing an outdoor commercial umbrella, select a fabric that's both durable and aesthetically pleasing. Certain umbrellas are designed for light-duty use, while others are made to withstand more extreme weather. Assess where you'll be using these umbrellas, what kind of weather you'll use them in and where you'll store them when not in use.
Vinyl-coated weave canopies are great for adding casual shade to your restaurant's patio. A thin layer of vinyl offers a small amount of water resistance, ideal for sunny weather and the occasional short drizzle of rain.
Many other fabric umbrellas are made to withstand the same extreme weather conditions as boats and other outdoor equipment. Marine-grade acrylic fabric is durable and lightweight, with excellent fade-resistant capabilities and breathability, so your umbrellas can look as good as new even after many seasons in the sun. When properly maintained, acrylic fabrics are also effective at preventing mold.
Umbrella Canopy Type
The canopy is one of the most important features of an umbrella, as it keeps your guests shaded while looking sophisticated and stylish. You have options when it comes to what kind of canopy will work best for you and your customers.
Perforated aluminum canopies are great for more permanently arranged outdoor spaces. If you're looking for an umbrella that provides coverage while still letting in a little light, a sturdy metal canopy fits the bill.
Woven fabric canopies flow with the wind. Some fabric umbrella canopies have sewn-in vents at the top, allowing for airflow and stability during windy days while still providing maximum coverage from the sun.
Available Outdoor Space
Creating an ideal outdoor space involves being intentional with your layout and design opportunities. The type of commercial umbrella you choose will largely depend on how much outdoor space you have to work with and what other patio furniture fits in that space. It's a good idea to measure your outdoor space and experiment with different table arrangements to create a layout that's functional while still allowing as many seating options as possible.
Many outdoor dining tables include a hole in the center to hold a freestanding umbrella. If you'd like to include umbrellas in your outdoor dining area on other types of tables, many commercial umbrellas also have clip-on capabilities, so you can include them on a variety of tables and stow them away when not in use.
You'll also want to consider canopy size. Smaller umbrellas over smaller tables will allow you to make the most of your space. When umbrellas are proportional to their tables, you can move existing tables closer together and maybe even add a few extra seating options.
Umbrellas are great space-saving products and a minimal-hassle way to transform your outdoor dining area to suit your guests' needs. They fold up, so you can easily store them in compact places when you're not using them. Their light and versatile design means you can also quickly move them out of the way to make the most of your outdoor space by turning it into a dance floor or cocktail party atmosphere.
Umbrella Pole Materials
Good quality umbrella poles go a long way. The standard umbrella pole types you'll see are one-piece and two-piece. One-piece poles are some of the most durable options, as they have no natural breaks in the middle. Two-piece poles offer versatility and portability in their compact design.
A common pole material is hollow aluminum, which is strong enough to withstand windy days and light enough to carry.
Another way to customize your outdoor dining area to your restaurant's color scheme is by choosing your umbrella's pole materials. Many umbrellas have multiple pole color options, so you can choose the best color combination for your business.
Other Umbrella Materials
You'll want your outdoor umbrellas to withstand all kinds of weather. There's more to consider than just shade fabric and pole materials. Many other features will make or break your umbrellas, including joints and support ribs.
Nylon is a sturdy, flexible material to consider for umbrella spindles and end tips. Nylon pieces cover the sharp points of the umbrella while offering a sleek look.
Fiberglass is an ideal material for umbrella ribs, which are the long, thin supports that hold up the umbrella canopy. Other materials, such as wood or metal, can break or rust when exposed to the elements. Fiberglass is corrosion-resistant, resilient and strong, so it can flex with the direction of the wind and absorb powerful gusts without breaking. Fiberglass is also lightweight, making umbrellas of this material portable and easy to set up in multiple locations.
Commercial Umbrella Stands
Along with the umbrella itself, you'll also need to consider stands or bases for your heavy-duty commercial patio umbrellas. For both freestanding and in-table umbrellas, bases provide stability to ensure your umbrellas will stay in place even in windy or harsh weather.
Stands come in all different colors, styles and weights, so you can customize your choice based on how much support your umbrellas will need. Some bases can be filled with sand or water to weigh down lighter-grade umbrellas, making them lightweight when empty and easily portable when not in use.
For even securer setups, aluminum-concrete-filled stands can weigh upwards of 100 pounds, ensuring maximum stability for your umbrellas in any weather. Some stands even have wheels for ease of movement as you set up, tear down or rearrange your outdoor dining space.
You can choose stand colors and designs to coordinate with your umbrella colors and complete the look of your outdoor atmosphere.
Sun Protection
Umbrellas shade your guests, but they also prevent them from getting sunburned by providing a physical barrier. Commercial umbrellas can block up to 89% of the sun's rays, so everyone can enjoy the sunlight while staying protected. Acrylic material in particular offers excellent UV ray protection because of its tightly woven structure.
Umbrella Cleaning Standards
Outdoor spaces can get messy, especially in various weather conditions. Most substances easily rinse off of durable umbrella fabric, allowing you to always present a pristine atmosphere for your guests.
To keep umbrellas as clean as possible, always allow them to dry out after rainy weather to avoid mold growth. Also, rinse your umbrellas from time to time if you notice they've accumulated dirt. Quick, routine maintenance will allow you to keep your umbrellas in good shape for a long time.
Ease of Use
With simple designs for opening and closing commercial umbrellas, your restaurant's staff will easily be able to help set up and adjust these shades to your guests' preferences. Umbrellas made from aluminum, fabric and fiberglass are also very lightweight, so you can efficiently transport them and set them up wherever they need to go.
Types of Commercial Umbrellas
Depending on what your restaurant needs, you'll be able to find an umbrella that combines all your ideal features.
Some common commercial umbrella types include:
All-aluminum umbrellas: Made entirely of aluminum — from the canopy to the pole and ribs — aluminum umbrellas are permanent once installed and stay in an open position, so your guests can enjoy constant shade with little maintenance from you. Aluminum umbrellas are the perfect addition to permanently mounted tables and are a great way to add comfort and flair to a concrete dining patio. 
Market umbrellas: Market umbrellas are some of the most common umbrella designs you'll see in outdoor public spaces. These shades offer durability and style for a variety of applications at restaurants, bars and beyond. Ventilated canopies and stable poles allow market umbrellas to stay standing during strong winds, and their sturdy design allows for years of use in even the toughest, busiest commercial settings. 
Terrace umbrellas: For a budget-friendly option of dependable quality during light use, consider a terrace umbrella. If your restaurant offers occasional outdoor seating or seasonal events, these umbrellas are the perfect patio accessory to bring out from time to time. 
Garden umbrellas: Pretty and functional, garden umbrellas are another light-duty option. Made from resilient materials such as fiberglass and vinyl, garden umbrellas create a visually appealing atmosphere for casual outdoor dining. 
Contact Wabash Valley for All Your Commercial Umbrella Needs
Wabash Valley Site Furnishings has an array of commercial umbrella colors and designs to choose from. The umbrellas we offer will stand up to harsh weather and continued use for years to come, so guests can create outdoor memories at your restaurant season after season.
Whether you're looking to create a new outdoor dining space or embellish your existing one, Wabash Valley is passionate about helping your guests feel at home at your restaurant. Browse our commercial umbrellas and contact us today to see how our products can transform your outdoor space into a fine dining setting!
Sign up for our newsletter