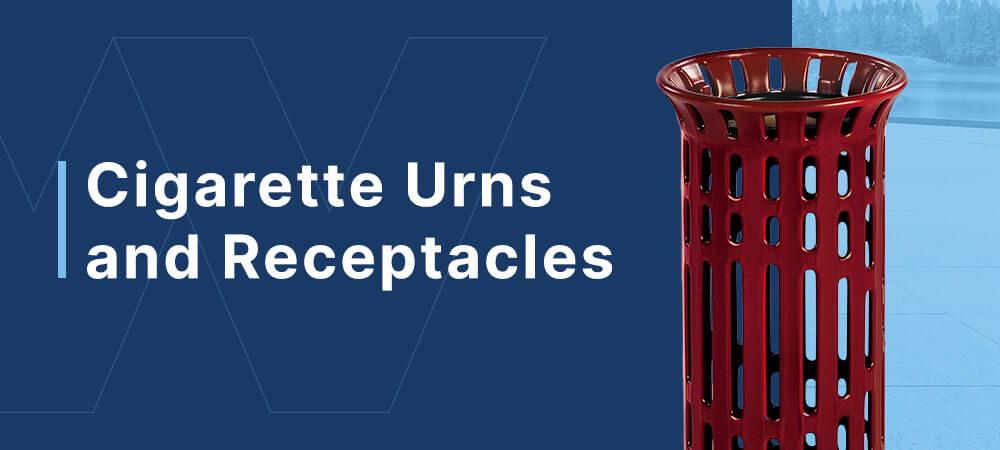 Nothing completed the look of beautiful outdoor furniture better than functional accessories. Our assortment of ash urns and receptacles was designed to complement the styles of our diverse collections, so you can match them to which seating options you choose.
CIGARETTE URNS AND RECEPTACLES BY WABASH VALLEY
At Wabash Valley Site Furnishings, we carry a wide selection of outdoor commercial ashtrays. Free-standing ashtrays help protect the environment and come in a variety of colors for use in business settings. Our receptacles and ash urns are designed to complement our commercial outdoor furniture and site amenity collections, including our picnic tables, outdoor benches, dining sets, trash receptacles and planters. 
WHERE TO PLACE OUTDOOR ASHTRAYS?
Commercial ashtrays keep entrances and sidewalks clear of unsightly cigarette butts. Free-standing outdoor ashtrays can also help you eliminate health risks, maintain your property and prevent accidental fires. A free-standing ashtray is ideal for:
Businesses
Commercial centers
Outdoor malls
Sidewalks
BENEFITS OF FREE-STANDING OUTDOOR ASHTRAYS
Outdoor commercial ashtrays can help make a great impression on patrons and visitors by keeping parking lots, entryways and sidewalks clean. Without them, cigarette butts often end up wedged in between sidewalk cracks, pushed into street gutters, scattered around walking paths or piled up around back doors and designated smoking areas.
According to Keep America Beautiful, a non-profit representative of litter prevention in the U.S., cigarette butts are the leading cause of litter in our everyday environment. Free-standing outdoor ashtrays and garbage cans with ashtrays can help reduce the amount of cigarette litter in your community area.
COMMERCIAL OUTDOOR ASHTRAYS PROTECT THE ENVIRONMENT AND ITS INHABITANTS
Discarded cigarette butts pose significant threats to our environment and its wildlife. When animals and creatures such as birds, fish and marine life ingest cigarette butts, the toxins remaining in the filters are released into their stomachs, causing illness or death.
The shape, color and compactness of cigarette butts can also attract the interest of toddlers who may mistake them for food and put them in their mouths. If children ingest cigarette butts, they may experience several adverse reactions, including lethargy, nausea, vomiting and gagging.
The solution? Encourage people to dispose of cigarette butts responsibly by outfitting sidewalks, walkways and open public areas with commercial outdoor ashtrays for their safe and sanitary disposal.
GARBAGE CANS WITH ASHTRAYS
Combine the benefits of a garbage can and ashtray with Wabash Valley ash trash receptacles. This commercial outdoor ashtray and garbage can satisfies two purposes and is ideal for the entrances to offices and retail businesses.
The garbage can with ashtray site amenity from Wabash Valley Furnishings is available in the Flare Top Design or the Wabash Straight Sided Design. Choose from a wide range of PLASTISOL and powder-coat finish colors for your standing commercial outdoor ashtray with a garbage can.
BUY OUTDOOR COMMERCIAL ASHTRAYS FROM WABASH VALLEY
Encourage proper disposal of cigarette butts with our extensive selection of commercial outdoor ashtrays. Whether you prefer ashtray garbage cans or free-standing ash urns, you can use either option to keep your business clean, healthy and litter-free.
For over 30 years, Wabash Valley Furnishings has been an industry leader in designing high-quality, low-maintenance commercial outdoor furnishings and site amenities. We sell outdoor ashtrays in bulk to meet your specific needs. Contact us for a quote or browse our commercial outdoor furniture gallery today.