What You Need to Know About Purchasing Outdoor Dining Sets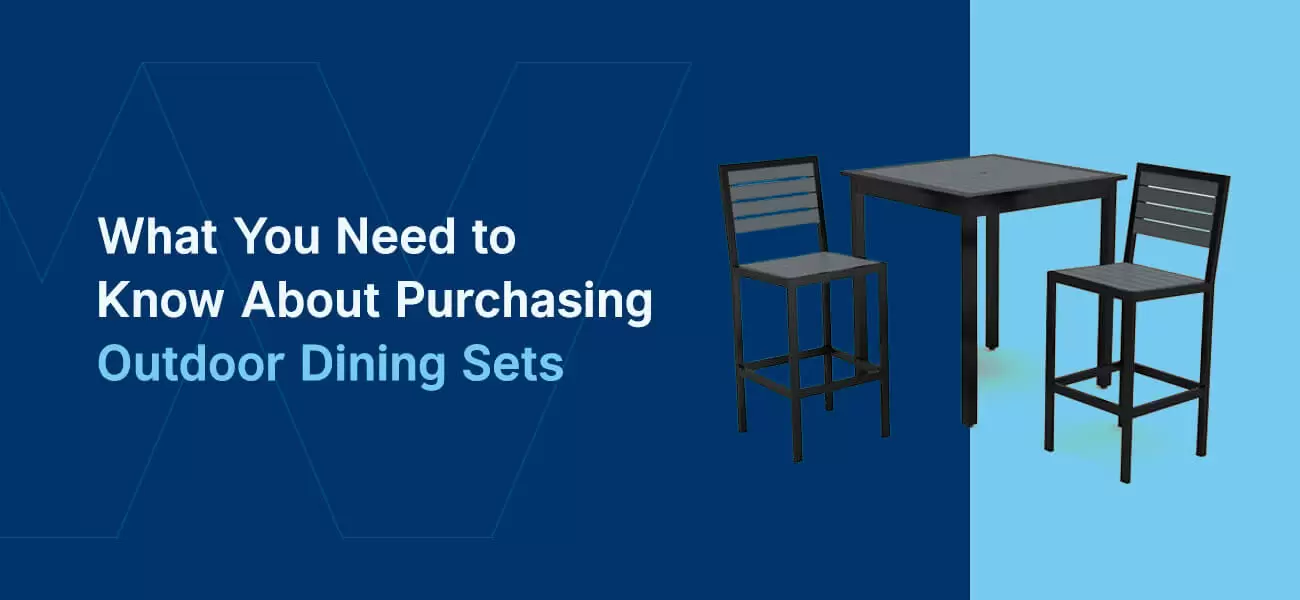 Outdoor dining flourished following the pandemic restrictions, and many restaurants continue to take advantage of their outdoor spaces. Whether you're creating a new outdoor dining space or expanding a current space, you'll likely need new outdoor dining sets and patio furniture to pull the space together. There are endless options for outdoor furniture, so how do you know what will work best for the restaurant and its guests?
You should consider several factors when purchasing outdoor dining sets to find the best option for your clients. Find out how to choose outdoor dining sets and more with this commercial outdoor dining sets buying guide.
Table of Contents
Ten Factors to Keep in Mind When Selecting Outdoor Furniture
Selecting outdoor dining sets for a restaurant or outdoor eating space takes more thought than you might think. While many aspects contribute to a well-designed outdoor dining space, the dining sets themselves make a huge statement and are typically thought of as the feature that draws customers in and keeps them at the restaurant. To help you choose the best outdoor dining sets for a restaurant, here are ten factors you should keep in mind.
1. The Client's Budget
Outdoor dining sets can vary significantly in price based on numerous factors, including the furniture's material, style and quality. When selecting outdoor furniture for a given space, you need to keep the client's budget at the forefront of your mind. If your client has a high budget, you'll have much more flexibility regarding the furniture you can select. With a limited budget, you'll have to select furniture carefully to ensure you stay within budget while still choosing quality pieces.
However, before bringing up prices and budgets, be sure to fully understand the scope of the project. Determine a maximum budget, and whether the client is willing to compromise their upper limit for more quality pieces, or if their budget limit is strict. This is an important step to take early on to prevent misunderstandings or errors from occurring.
Ease into the question with other open-ended sales questions, and explain that knowing their budget helps you understand their needs and what you have to work with to make their project a reality. This interview is also a chance for you to educate your client about the buying process. Your client will also need to factor your cost of service into their budget, so provide them with a rough quote for the job and let them know you're open to budget discussions.
2. The Client's Needs
Some clients may have very specific needs for their outdoor spaces while others may trust you with creative freedom. In either case, understanding your client's needs is crucial when selecting outdoor dining sets. For example, if you're selecting dining sets for restaurant chains, they'll likely have specific colors and design elements in mind to ensure the furniture is consistent across locations and matches their brand.
Your clients' needs will vary, whether it be their budget, design preferences, space to work with or timeline for project completion. For example, a certain customer group may indicate that they want more bar height tables than standard dining tables. Regardless, most clients will share their needs with you to ensure you're designing the best outdoor space for them.
A client with specific needs will likely be easy to buy dining sets for, as they'll already know what they're looking for. To help clients without specific needs narrow their choices, you may show them inspiration examples from similar previous jobs. Help them pick apart aspects they like or what may complement their existing designs to better determine the best dining sets for their outdoor space.
3. Furniture Quality
The quality of outdoor dining sets can vary significantly, which typically affects their price, appearance and life span. Since the quality of the furniture has such a significant impact on other aspects of the project and the dining set itself, it's a crucial aspect to consider for your clients. Depending on their needs, your client may not put a lot of importance on selecting dining sets of the highest quality.
For example, a client that needs dining sets in high volume may not be as concerned about quality as a client who needs one or two really good tables. The level of quality a client seeks may also depend on their branding. A high-end dining establishment would be expected to have higher quality dining sets to maintain the expectations their customers have of them. A dive bar can enhance its rugged aesthetic with mismatched or rustic dining sets.
Regardless, be sure to select dining sets that meet the client's standard of quality. Additionally, direct your clients toward higher-quality pieces if they are looking for suggestions. While they may cost more up-front, quality will always save your clients money in the long run. Lower-quality dining sets tend to wear down more quickly and need to be replaced sooner than high-quality sets. Encouraging your clients to go with quality materials and designs can help ensure the sets last for numerous outdoor dining seasons.
4. Styles and Sizes
Outdoor dining sets are available in a variety of sizes and styles ranging from small two-person minimalistic round dining tables to long rustic bar height tables that can seat numerous people. Depending on the client, you'll likely incorporate tables and chairs of various heights and sizes to create variety in the outdoor space. In most cases, you'll choose the same style for all your outdoor pieces to match the design elements. For example, if the style of the establishment is rustic, the dining sets should reflect that style as well.
Be sure to consider the style of the interior dining sets, too. Matching design elements should be consistent from the interior to the exterior. The style of the dining sets may also play into the client's brand, so it's often an important feature to consider. You'll also want to carry the interior branding and aesthetic over into the outdoor space. A simple way to do this is using colors.
For example, if part of your client's branding includes specific colors, those colors are likely incorporated inside the restaurant, so you should do the same for the outdoor space. Many aspects of dining sets have the potential to be customized, like the tabletops and chair cushions. Consider how you can make features like this part of your client's branding.
Additionally, look for ways to carry designs, patterns and decorations from inside to the outdoor space. For example, if the restaurant uses Aztec patterns throughout the interior, you may look for ways to incorporate the same patterns outside. Or, if there are string lights hanging inside, you can easily use that decoration outdoors, too.
5. Look for Commercial-Grade Furniture
There's a big difference between residential and commercial outdoor furniture, especially when it comes to durability. Commercial-grade outdoor dining sets are explicitly designed for sturdiness and resistance to wear under heavy use. Additionally, many commercial-grade outdoor dining pieces are non-corrosive and have UV-resistant surfacing. They maintain their appearance and structural integrity over time and require less maintenance than residential pieces.
When selecting outdoor dining sets for chain restaurants or other dining establishments, it's crucial that you choose commercial-grade furniture to ensure it holds up for years to come. Your clients need commercial-grade outdoor dining sets to give their customers a comfortable and reliable place to eat their food. Choosing commercial-grade furniture ensures your clients are getting the quality they need for the intended use of the dining sets.
6. Easy Cleaning
Many businesses want to invest in outdoor dining furniture that is easy to maintain and care for. While the restaurant workers or building employees are busy attending to customers, you will want to reduce upkeep as much as possible so employees can focus on other tasks.
Furniture materials like wicker, cedar, metal, or teak can withstand weather and sunlight. Perform regular cleaning and washing of the material and fabric to help the furniture last for years. If you want to accessorize with cushions and pillows, consider investing in removable cushions that you can take inside during rainy days, or buy pillows with removable covers that you can launder in a washing machine.
7. Storage
Consider where you'll store your furniture during the off-season or winter months. Whether you plan to place the outdoor sets in an oversized garage, the basement of a building or an outdoor shed, keep in mind that many furniture sets last longer when stored in a protected space.
If your business does not have much storage room, try to find furniture that effortlessly folds in half, can be taken apart, or stacks on top of each other. For example, stackable chairs help you maximize your storage space.
8. Location and Specifications
Consider the location and specifications of your outdoor space. In many commercial settings, the type of outdoor space determines what kind of furniture you need, particularly when it comes to size and shape. Some types of locations include the following:
Patio: Patios are often found in restaurants or bars, where the need for extra seating places dining areas in the front or back of the building. The size and shape of furniture here depend on how much room you have.
Sidewalk: Cafes, restaurants, or coffee shops often use sidewalks for additional seating areas. Small round tables and low-profile chairs suit these spaces.
Pool: Many hotels, resorts, or spas like to place open bars or food areas near the pool. Water-resistant furniture will be important here, along with features like table umbrellas for shade.
Terrace: Some businesses house a terrace where guests can enjoy food or wine in a wide outdoor space. Again, tables with umbrellas may be more suitable for these locations.
Balcony: Some hotels or restaurants may have a balcony allowing smaller dining tables and chairs.
9. Surroundings
Pay attention to the surroundings near your building and the land where your business is located. Some restaurants may be limited in outdoor seating space, and you may want to modify your plans for furniture based on these discoveries.
Note where the sun often hits the space and whether you'll need extra lighting during the day or spaces for shade. If you need room for shade structures, you can choose smaller tables. Alternatively, if you want to add lighting to guests' tables, consider larger surfaces so the light fixtures don't take up too much space.
Be aware of your local trees and shrubbery, as well. Some branches may create overhangs in the space or create extra shade, meaning you won't need tables with umbrellas. If there are no overhanging plants, you then have more room to choose high tables and bar-height chairs.
If your space is often hit by direct sunlight, you'll want UV-resistant tables and chairs, and you might add umbrellas to the tables. The space around your outdoor area is just as important. Will it be surrounded by fences or shrubs? Those features minimize the room you have for furniture, so you might have to select smaller pieces.
10. Environment and Weather
The last thing to consider should be your local environment and weather patterns. Note these conditions and consider how they could impact your outdoor furniture:
Heat: Think about the heat during the summer and how that would impact your furniture's condition. You might choose lighter furniture colors that don't get as hot in the sun.
Cold: During the off-season or winter months, furniture may need to be stored in a different location. Consider lighter materials, like aluminum, that are easier to transport.
Sunlight: Direct sunlight can cause some furniture to crack or fabric to fade. UV-resistant materials can help prevent fading and wear.
Rain: Excessive rain could cause furniture to collect mildew. Select mesh furniture designs that let water pass through instead of collecting pools of rain.
Winds: High winds can knock over furniture or umbrellas. Choose heavy, sturdier options like steel tables and chairs.
Determine the Purpose of the Furniture
The purpose of the furniture is one of the main factors that businesses consider when buying new dining sets. Think about the function, usage, and flexibility you want for each piece of furniture. Both chairs and tables should fit the space and be easy to maintain.
Function and Use
Make a list of what you plan to use each piece of furniture for. A list can also help you organize the space and decide where you want each chair and table and how many of each piece you need. Do you have a bar area outside that requires higher chairs and tables? Is your outdoor space solely for hosting large groups? Do you have a combination of areas that serve different purposes? Consider how expansive your outdoor dining area is, as well.
Flexibility
Factor in how you'll rearrange your outdoor dining sets and the various purposes they could serve aside from seating areas. Multi-functional and flexible pieces make it easy to move seats around, accommodate large parties, and store pieces during the off-season.
For example, some ottomans have compartments beneath the seat, making it easy to store extra napkins or silverware. Some chairs are stackable or foldable for easy storage. If your business wants to switch out different seats or tables, foldable pieces may make this process smooth. Also, consider tables or chairs with wheels that make it easy to move seating around or pack up if the weather turns bad.
Outdoor Furniture You'll Need
Now that you know what factors to consider when buying outdoor furniture, you may be wondering what types of furniture to get for an outdoor restaurant. Any outdoor dining sets guide will tell you the basics — tables, chairs and umbrellas. However, there's much more to consider about those pieces and many more pieces you can get to make an outdoor space comfortable for guests. Consider how you could incorporate these pieces into your clients' outdoor dining space.
Tables
Because tables are obvious in outdoor dining sets, they're often overlooked as anything but a necessity. While they're certainly a must for any dining space, quality tables can be the center of attention and enhance a guests' experience at a restaurant. Tables are commonly made of aluminum, cast iron, steel, synthetic wood and resin, and they can be made in numerous colors, finishes and designs.
Additionally, tables come in numerous heights. Consider alternating different table heights to create some visual appeal with your tables. For example, dining height and bar height tables are most popular in restaurants. Using both heights adds some variety to the space and gives your clients' patrons more seating options.
Chairs
When choosing chairs and barstools for outdoor dining sets, there is much to consider. Your client's outdoor dining area is meant to improve the guests' experience at the establishment. Comfortable chairs can significantly increase enjoyment while dining and can also increase the length of time guests spend at a restaurant. Look for chairs that you find comfortable and would enjoy sitting in, and chances are, the guests will find them comfortable too.
For outdoor dining purposes, chairs and bar stools are commonly made of steel, aluminum and resin so they're durable. Chair seats and backing may be a different material, depending on your client's choices. For example, many outdoor chairs have metal frames and cushions to make the seat more comfortable. Chairs come in many shapes and colors, so be sure to use them to add to the aesthetic and comfort of the space.
Additionally, consider whether your client wants or needs chairs with armrests or without. Armrests can add another aspect of comfort to chairs and barstools, though armless chairs can easily be stacked or pushed under tables to save space. Consider what's most important to your client's space, as this aspect is ultimately a preference.
Umbrellas
Umbrellas are typically part of outdoor dining sets because they protect patrons from sun and rain, which makes their dining experience more comfortable and enjoyable. Whether you put umbrellas in each table or let them stand alone, they are important for protecting the furniture and guests. Umbrellas shade the furniture from the sun and elements, helping to keep them in good condition for longer.
Umbrella frames come in various materials like aluminum, fiberglass and wood, and the vinyl can come in numerous colors, shades, patterns and designs to match your clients' aesthetic and branding.
Bars
If your client's restaurant has an indoor bar, consider getting a bar for the outdoor patio. In nice weather, guests will likely seek an area of the patio to sit and enjoy drinks with friends and family. Rather than having to consistently walk back inside to get new drinks from the bar, an outdoor bar would be convenient for both guests and servers.
Portable outdoor bars allow your clients to set up where there's space and move for events and large parties. Depending on the available space, you may designate an area for the outdoor bar and incorporate special bar-height seating options to accommodate those guests.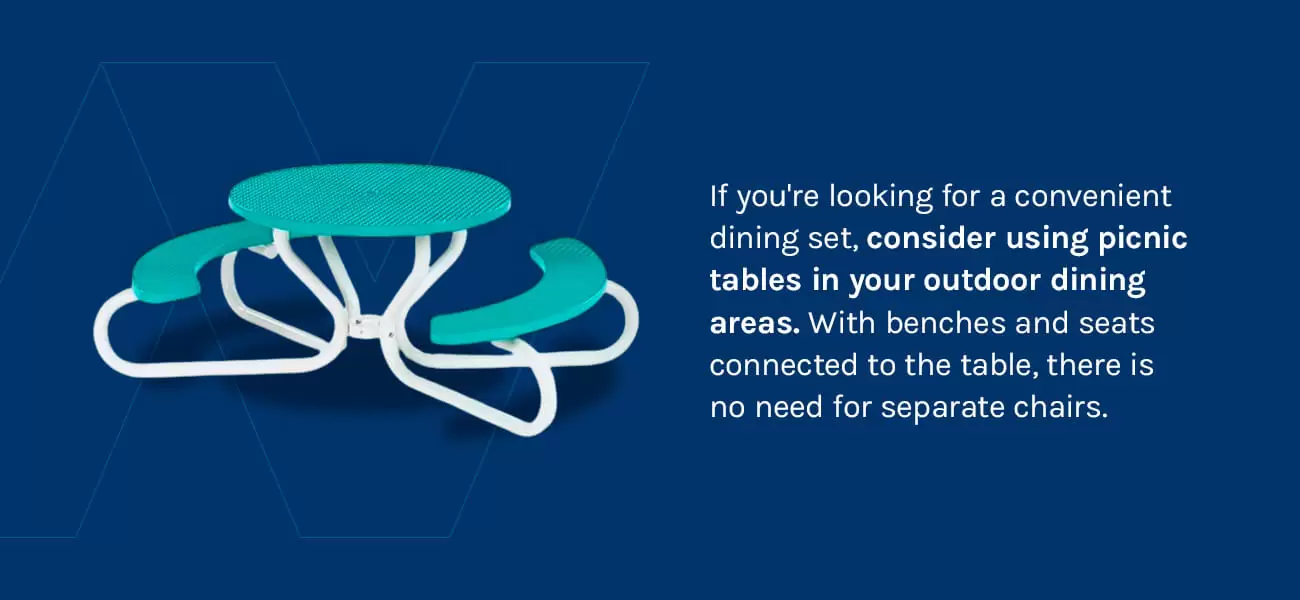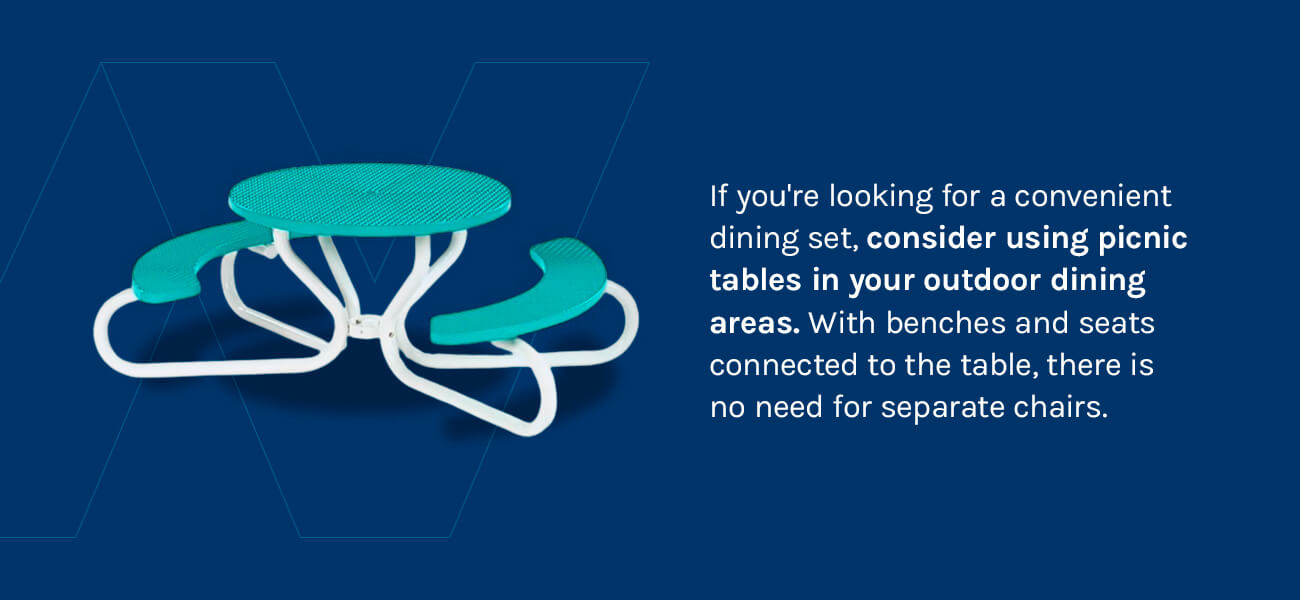 Picnic Tables
If your client is looking for a convenient dining set, consider using picnic tables in the outdoor dining areas. With benches and seats connected to the table, there is no need for separate chairs. This aspect also makes them easy to move and keep track of, as your clients won't have to worry about chairs getting up and walking away overnight. Picnic tables are great options for large, open spaces and are family-friendly.
Picnic tables come in various colors and materials, ranging from plastic and metal to resin and wood. Many picnic tables also have the option for permanent installation, which means they can be secured to the ground. If your client won't need to move the outdoor furniture, be sure to consider that option for additional security.
Patio Fencing
Patio fencing is an effective yet visually appealing way to mark the borders of an outdoor space and provide privacy for guests. If your client's outdoor patio shares borders with a parking lot, sidewalk or other areas, consider using fencing to indicate where the patio space begins and ends. This helps restrict access to the patio to restaurant patrons only, which gives them a more private dining experience. You may also use fencing to protect gardens in or around the patio.
Patio fencing can also be used to direct foot traffic. For example, you may use fencing around a designated lounge or bar area to differentiate the space from regular dining tables. You might also use fencing to direct patrons to the hostess, bathrooms or other important areas of the restaurant. At the very least, patio fencing provides a decorative perimeter for the space.
Decorative Trash Cans
To help prevent littering, trash cans are an important aspect to include around your client's outdoor dining space. Decorative trash cans are functional and attractive, so consider getting cans for both trash and recyclables. With trash cans around the patio, restaurant guests will be more likely to keep the space clean and servers can easily clear off their tables to quicken turnover.
Space Heaters
Outdoor dining is typically a fair-weather activity. Your clients can keep their guests comfortable after the warm months have passed with space heaters. Extending the outdoor dining season with portable heaters allows your clients to accommodate more guests and earn more revenue. Plus, some guests will be excited at the prospect of dining outside when restaurants typically move everything indoors.
Fire Pits
If your clients are looking for a fun way to attract patrons to their patio space, fire pits tend to be a fan favorite. Propane fire pits are ideal for most restaurant settings because they add certain ambiance guests enjoy when out for food or drinks. Create a classy and easy-to-maintain centerpiece with a propane fire pit table. Guests will enjoy gathering around the warmth without worrying about smoke.
Planters
Plants and greenery help create an inviting atmosphere and help guests feel more connected to the outdoors while they're dining. If your client lacks space for a garden, consider using planters of various sizes around the outdoor patio. Small trees, flowers and other plants can happily grow in planters to enhance the space and bring nature closer to the guests.
How to Arrange Your Outdoor Furniture
Maximizing patio space is crucial to fit as many guests as possible without overcrowding the outdoor dining area. Creating a layout of the furniture prior to putting it in your client's space can give you a good indication of what size tables and chairs will work. Using multifunctional and flexible furniture allows you to create more effective seating arrangements. For example, stackable, lightweight furniture is easy to move and rearrange to adjust the layout as your client's needs change.
Be sure to strategically arrange the seating to accommodate as many guests as possible while still keeping an appropriate amount of space between tables. Something as simple as angling tables a certain way can create room for another table or two. Having walkways is also crucial so guests and staff can maneuver the area safely without disturbing others.
How to Maintain Outdoor Dining Sets
Properly maintaining the outdoor dining sets is crucial to the longevity of the furniture. While outdoor furniture is designed to be durable and resist the elements, cleaning and taking care of the furniture will help prevent them from deteriorating too quickly. The maintenance needs will vary depending on the material of the outdoor furniture. For example, steel and iron require a bit more attention than aluminum. Be sure to check with the manufacturer for maintenance best practices.
Stick with a maintenance schedule. Businesses should inspect and perform maintenance tasks on their outdoor furniture regularly. Tightening loose parts and repairing cracks or scratches from time to time can elongate the life of your items. You can clean your outdoor tables and chairs according to their material, and you can wipe down most metal and plastic furniture pieces.
Communicate any cleaning and maintenance needs to your client so they know what to do to keep the dining sets in good condition. Advise them of any cleaning solvents that may interfere with paints or coatings on their outdoor furniture. You might also recommend wiping off excess water to prevent damage after storms. If the furniture has removable cushions, storing them indoors when they're not in use can prevent damage and allow them to be used for longer periods.
Find the Right Outdoor Dining Set for Your Clients With Wabash Valley
With so many considerations to make when choosing outdoor dining sets for your clients' restaurants, you may wonder where to begin. Wabash Valley Site Furnishings offers an expansive collection of outdoor dining sets and patio accessories to complete your client's outdoor space. Regardless of the restaurant's atmosphere and style, we have options for you. We offer a variety of dining set sizes to meet your clients' needs, whatever they may be.
There are so many possibilities for outdoor dining spaces, and we're here to help you find them. To learn more about our solutions and products or if you need help getting started, contact a member of our team today.
Sign up for our newsletter