Investing in new picnic tables? Discover everything you need to know about choosing the right picnic table and quality maintenance practices. 
Table of Contents:
What types of picnic tables are there?
Picnic tables come with several features and functions you can consider to find the right one for your business. While one option might be best, you can also mix multiple types to address various needs and purposes.
1. Picnic Table Functions
When exploring the different picnic table types, you can meet customer needs by including surfaces with other functions. General picnic tables can already serve many markets, from socializing, eating, playing games or working. They are adaptable to many industries and businesses. For additional functionality, consider including:
Umbrella tables: Some picnic tables come with holes in the center where you can fit umbrellas. These tables are great for offering shade and weather protection if you lack shelters on your property for increased comfort and functionality. Umbrellas come in many styles and colors, allowing you to find the option that best supports your business's brand.
Children's tables: If your property attracts many families or young kids, you might invest in tables designed for children. Children's picnic tables have smaller dimensions, providing better comfort and accessibility to younger visitors.
ADA-accessible tables: You can make your picnic spaces more accessible to wheelchair users by implementing tables that meet standards set in the Americans with Disabilities Act (ADA). These tables usually have a longer tabletop that hangs past benches or seats to allow individuals using wheelchairs to access picnic tables better.
2. Picnic Table Shapes
Picnic tables come in various shapes. You can choose forms based on their aesthetic, but others offer excellent space efficiency:
Circular: Round picnic tables let you fit more tables in one place. They are also a suitable option if you want to create a more intimate setting since everyone can face each other at all times. Their round shape and symmetry make them very visually appealing.
Rectangular: Rectangular picnic tables are a classic shape that many people picture when they think of this table type. They can fit the most visitors and optimize tabletop space, allowing customers to place several items on the surface to match their needs better. Know that rectangular tables are less space-efficient, so you'll use more space with fewer tables.
Square: Square tables offer the same symmetry and intimacy as circular tables with the added benefit of being easy to arrange in rows. You can offer a more organized picnic space with this shape. These options usually only seat four people, making them less ideal for more populated areas.
Oval: Oval picnic tables combine the benefits of circular and rectangular options. You can fit more people around the table due to the longer shape, and the lack of corners makes it easier to place more in your available areas.
Octangular: This table shape fits eight people — one for each side of the table. Their unique shape offers an aesthetic that catches the eye and helps your outdoor settings stand out, making them useful for highly populated commercial areas where you might be competing against other companies.
3. Picnic Table Finishes
Finishes offer many benefits for your picnic tables. They protect surfaces from outdoor elements for increased durability and longevity, and they provide more visual appeal that better matches your branding standards. For picnic tables, you can finish with a powder or thermoplastic coating.
Powder coats strengthen picnic tables by protecting them from breaking and wearing. The powder coat is resistant to chips, scratches, rust and fading, increasing your picnic table's life span, comfort and visual appeal. This option is popular because it creates a clean, even look.
Thermoplastic finishes add a thick layer of protective plastic over your picnic tables. The result offers additional protection against harsh weather conditions, from snow and ice to hot, humid days. This finish is also great for repelling dirt and liquids, creating a cleaner setting for your visitors.
4. Picnic Table Bench Types
You also have options for picnic table benches. These styles tailor your seating solutions to your visitors' needs while supporting your aesthetic and spacing requirements. Two decisions you should think about when investing in picnic tables include:
Benches versus seats: When choosing a seating option, you can decide how you spread people out by offering benches or chairs. Use this decision to suit your traffic level and provide optimal seating options.
Detached versus attached seats: You can also choose how mobile you want your solutions to be. Detached benches or chairs can move, while attached ones are held to your tables with fixtures. Detached options promote flexible seating arrangements, encouraging people to gather around tables or make solutions that fit their needs. Alternatively, attached seats protect your investments from theft and weather damage.
What Are picnic tables made of?
Picnic tables come in many materials. Make selections based on appearance or the features they offer:
Wood: This material is a classic option, creating a more natural, rustic look for your business. It goes excellent with greenery, like grass, trees and shrubbery. However, you might have to take more care and protective measures to maintain its quality. Applying a sealant can prevent rotting, splitting and warping.
Metal: Metal is incredibly strong and durable, making it a long-lasting solution. Its sleek surface is easy to clean, so your visitors can have a more enjoyable experience using your picnic tables. This option is also heavier, helping prevent theft and adding to its permanency. The downside of this material is that it can get hot in the sun and can be prone to rust and deterioration if not adequately protected and maintained.
Aluminum: For a lighter metal option, consider aluminum picnic tables. This material is still very durable, withstanding rust and warping. Because it is lighter than other metals, aluminum tables and seats are easy to move, providing more flexibility.
Recycled plastic: Recycled plastic is an eco-friendly solution that repurposes used plastic products into durable seating options. Rely on recycled plastic when you want a material that resists cracking. It is more lightweight, so you can rearrange seating options as needed. You can find finishes that make it resemble other materials, like wood and metal, for a more customized experience.
Concrete: When looking for permanency, concrete is a heavier option that adds increased stability and sturdiness to picnic tables. This material can better resist various elements, including moisture and weather — you gain a seating solution immune to rotting and rusting. Its appearance is more limited and better for industrial settings. You'll likely need a forklift if you want to move your picnic tables.
Perforated material: Perforated picnic tables have a pattern of holes throughout the benches and tabletop. The mesh layout means rain and spills can go straight through it, allowing it to dry quicker, be easier to clean and be more continually available to your customers.
What are the dimensions of a standard picnic table?
Knowing your picnic table dimensions is essential when planning your layout. Each model and style will have unique measurements and most suppliers will include this information in their product catalogs. The most common dimensions for a rectangular picnic table are 6 feet by 5 feet.
How Long is a standard picnic table?
A standard rectangular picnic table is around 72 inches long, or 6 feet. However, you can find many variations in table length to fit your needs and different shapes. Wabash Valley Site Furnishings offers 4-foot, 6-foot and 8-foot rectangular picnic tables. Our circular picnic tables measure 36, 42 and 46 inches in diameter, while our square tables come in 40 and 46 inches.
How tall is a picnic table?
Most picnic tables are around 30.5 inches tall. Benches usually sit 17 inches tall, leaving about 11 inches between the bench and the tabletop. Depending on your table model and manufacturer, you might have some variety in these dimensions. Function can also impact table height. For example, a children's picnic table is around 22 inches tall to accommodate shorter kids.
How wide is a picnic table?
A typical rectangular picnic table will have a 30-inch width. This measurement ensures your visitors have enough room to sit and place items on the tabletop comfortably.
How wide is a picnic table bench?
A typical bench width is around 11 inches. Bench width is a critical measurement when picking your seating solution. You want to provide enough room for people to sit and enjoy your outdoor tables.
How many people can comfortably sit at a picnic table?
Around six adults can fit comfortably on a standard 6-by-5-foot table. These dimensions will give them around 1 foot of space each. While six-person tables are the most common, you can also find rectangular tables that seat eight people. These tables can measure 96 inches long, 30 inches tall and 29 inches wide.
How Much Does a picnic table weigh?
There's lots of variety when determining the weight of picnic tables. Weight will depend mostly on your selected material. Plastic and wood tables can be fairly light, while concrete tables will require moving equipment to rearrange placement. Your seating solution can also impact weight. Attached benches will cause your table to weigh more, making them challenging to move. And, of course, larger tables will be heavier than smaller ones made of the same materials.
How much is a picnic table?
Your picnic table's price will depend on many factors, from your chosen material to dimensions. Adding accessories like umbrellas will also increase the price. Requesting a quote from manufacturers and suppliers can give you a better idea of what your desired solution will cost.
How should you clean a picnic table?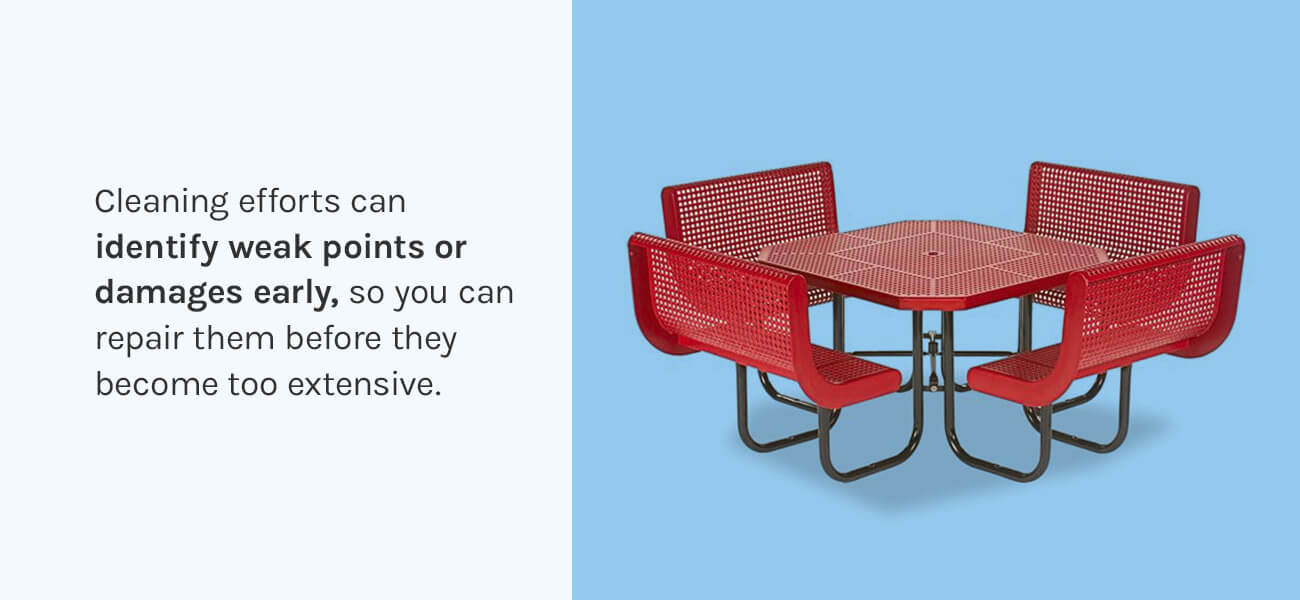 Keeping your picnic tables clean and neat ensures their availability and functionality to customers. Clean tables are more inviting, allowing visitors to sit and settle. Maintaining and cleaning tables regularly can also prevent materials from rusting and rotting, lengthening their life span. Cleaning efforts can identify weak points or damages early, so you can repair them before they become too extensive.
Specific cleaning actions might depend on your picnic table materials, but most can handle gentle soap and water. Scrubbing dirty points can help provide a cleaner solution for your guests. When cleaning your tables, avoid power washing. This option might seem like a deep-cleaning solution, but it can strip away paint, sealants and finishes, damaging your picnic table's appearance and quality.
Implementing other tips and strategies can also reduce how much cleaning you have to do later. Umbrellas can keep bird waste and dirt from gathering on tabletops, while tablecloths can make it easy to prepare tables for the next set of visitors. You can prevent rot and rust by keeping debris off the ground around your table, especially wooden ones.
How should you store a picnic table for winter?
When colder winter months keep people inside, many companies respond to the decreased demand by putting their picnic tables away until spring. This option can also benefit your picnic table quality because it protects surfaces from snow, ice and sleet that can seep into your table and cause lasting damage you'll need to address when people are ready to use them again.
Consider your storage solution when determining how to store a picnic table for winter. You have several options, including:
Using an on-site shed: If you have access to a storage solution on your property, save money and time by using this option, especially if you can fit your tables. Assess the shed's quality before choosing this option. Sweep out any debris and check for leaks. Keeping out moisture and dirt can ensure your picnic tables are ready and sturdy when spring comes around.
Renting a storage unit: A storage unit can be convenient for many businesses without access to a shed. Storage units are usually spotless and dry, reducing the amount of preparation you'll need to do beforehand. You can also find options in various sizes, ensuring you can fit all your tables inside. While they require some investment, a quality storage solution will protect your table for the long term, ensuring you can use them for their entire life span.
Covering tables with waterproof solutions: While storage solutions are great for unsecured tables, many companies choose to install their picnic tables permanently. Durable, waterproof covers can be a powerful solution when you have permanent tables or can't afford a storage solution. Tarps and other covers can protect your picnic tables from various weather conditions, including rain, snow, ice, hail and sleet. They can also signify to guests that your tables are out of commission until the tarps come off.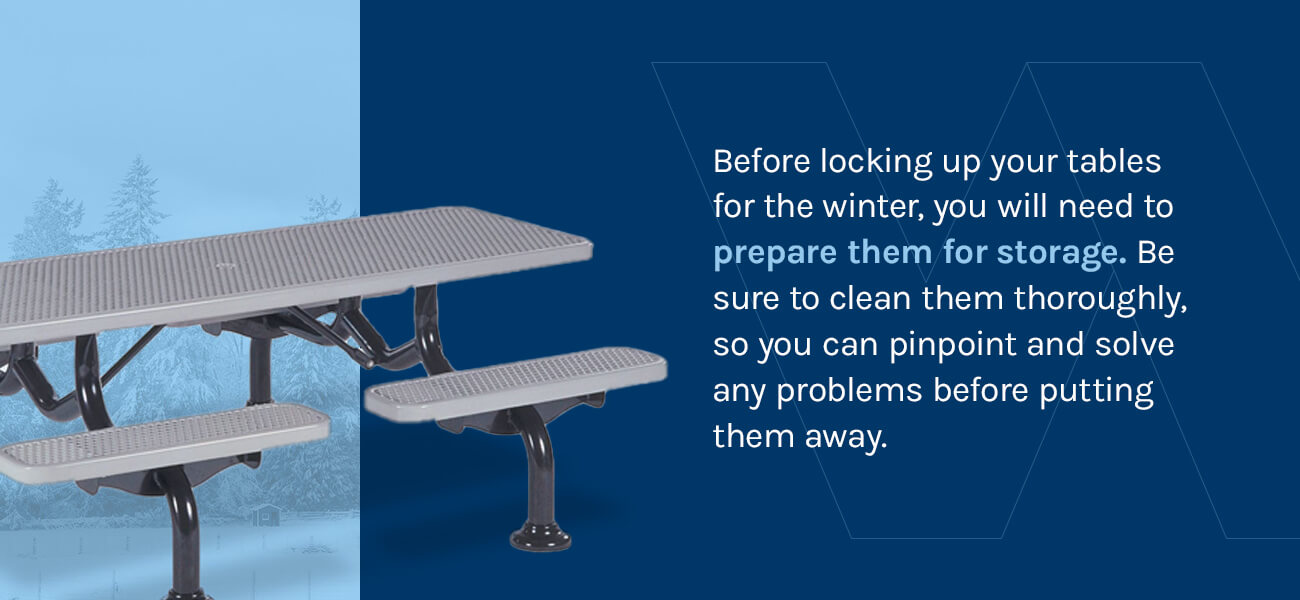 Before locking up your tables for the winter, you will need to prepare them for storage. Be sure to clean them thoroughly, so you can pinpoint and solve any problems before putting them away.
How should you cover a picnic table?
If you choose to forgo storing your picnic tables elsewhere, know how to cover a picnic table correctly. Using your covering solution properly can ensure you protect your picnic tables and reduce the amount of maintenance and repairs you have to do in the spring. Some features you might consider include:
Waterproof material: A waterproof cover or tarp is a must. Waterproof options will protect your picnic tables from the worst winter weather has to offer, from rain to snow and ice. These cover solutions can also keep out mud and wet debris, like leaf litter. When you want comprehensive protection from the winter elements, a waterproof cover can keep your concrete, metal, wood and plastic picnic tables safe.
Ties: You'll need a way to secure your cover when it's time. When searching your tarp options, look for a type with metal rings at the edges and invest in quality chords. Keeping your cover tied down will offer various functions. It will keep your cover from blowing off in strong winds and intense storms, ensuring it can continue to keep out harmful rain and snow. Ties also keep your tarp closer to the ground so fewer things can blow under your cover, like leaves or trash.
Durability: Your cover solution needs to be durable. Winter is a harsh season, so your tarp must support heavy snow and ice buildup to keep your tables safe throughout storms. The material should be thick and strong to withstand rough winds and broken branches. A more durable tarp will last several winters for a higher return on investment and continual protection.
You can also strengthen your choice by caring for your tarp. After snow or ice storms, clear the surface debris and precipitation to reduce the strain on the material. You can also frequently check on the condition of the ties and how well they're holding.
What is the best way to secure a picnic table to the ground?
Permanent picnic table solutions prevent theft and protect your outdoor furniture. They're also ideal if you have a specific layout in mind and want to preserve it better. Consider your installation method when determining how to secure a picnic table to the ground.
In-ground installation involves placing your table and bench legs in holes and then filling them with concrete. This process will prevent your picnic tables and benches from moving, so you can reduce the risk of theft. In-ground installation is also excellent for locations prone to intense storms, from hurricanes to blizzards. The concrete will keep your picnic tables in place during high winds or heavy precipitation.
While this option is beneficial, it comes with some considerations. Because in-ground installation eliminates furniture movement, your company and customers will have less freedom to rearrange your tables and benches. Your customers might experience more discomfort when they can't push benches further to their preferences. If you want to move furniture, you will need to demolish spaces.
What are some ways to protect a picnic table?
Before investing in new outdoor furniture, you should know how to protect a picnic table. Your maintenance and protective measures can secure its quality and help it last for its whole life span. Some ways to protect your new picnic tables include:
Sealants: Sealing your picnic tables helps preserve their material and properties. For example, a wood sealant will help keep out moisture and strengthen the wood while allowing you to enjoy its natural look. You can find sealants for most materials, making it an excellent choice for picnic tables.
Finishes and paint: Finishes and paint are added materials that offer a different style to your tables, letting you create a unique aesthetic for your outdoor areas. They can also provide extra protection. Paint can prevent moisture from getting in and strengthen the table's surface. Finishes offer weather protection and increased durability.
Accessories: Invest in accessories to protect your picnic tables even more. Umbrellas and shade structures block the sun, preventing your materials from fading or cracking under harsh UV rays. They can also keep precipitation from pooling on surfaces.
Find the Right Picnic Table with wabash valley site furnishings
The right supplier will provide you with quality picnic table options that meet your customer's needs. Wabash Valley specializes in outdoor furniture and site amenities, helping you find the option that best meets your requirements and standards. With various shapes and materials available in our picnic table selection, you can explore different features and functionalities. Most picnic tables come in several colors, so you can tailor your seating solution to match your company's aesthetic.
Explore our picnic tables today!
Sign up for our newsletter