How to Purchase Outdoor Site Furnishings in Bulk
As an architect, construction engineer, urban planner or business owner that deals with outdoor furnishings, you know how important it is to find the right pieces for your clients and ensure they receive quality, durable materials. However, locating the right furniture company to keep your inventory stocked can be a challenge. Often, you may find yourself settling for cheaper materials because they're more affordable or over-stretching your budget to get the best craftsmanship.
Luckily, doing some research can help you narrow down commercial suppliers and find the most suitable and customizable furniture options. If you're looking to shop wholesale for your current and upcoming projects, we have a few tips and tricks.
1. Plan the Space
The first step to buying bulk outdoor furniture is to think about the space where you'll place it. Are you furnishing an outdoor restaurant, library, apartment complex, park or corporate building? Consider the existing style of the building and what pieces would fit and look best in the location.
If possible, always make sure to measure your outdoor space to get an accurate idea of how many tables, chairs and other commercial accessories you can fit and avoid ordering too many or too few pieces. This step is important because you need to leave plenty of space around the furniture for guests to walk around comfortably. When planning, create a physical or virtual drawing of the dimensions and where each piece will go so your project goes smoothly.
These are all considerations to make when designing and planning the commercial area.
2. Consider the Elements
One of the most important things to consider when buying furniture in bulk is the general climate or weather patterns in the area you'll be furnishing. The type of weather in the area will help you determine what kinds of furniture to pick because they must hold up well to the environmental conditions.
If you're working on a project in a location that's hot and dry, you'll need to think about getting furniture that has heat-resistant properties or ultraviolet protection to prevent sun damage and cracking. If you're furnishing an outdoor setting in a location that sees a lot of rain and snow, it may be more important for you to focus on waterproof furniture to prevent rot or include pieces that are easily winterized.
Simply put, outdoor exposure is hard on all furniture — no matter the weather. Even factors like elevation, close proximity to the ocean or strong winds must be considered. Taking a minute to consider the space's location can help you eliminate unsuitable options and save your customers from having to replace their furniture too often.
3. Think About Storage
The next thing on your list should be what type of storage space the furniture will require. While storage space matters for the businesses and clients you provide furniture for, it's just as important for you to have a proper storage plan for your inventory. No matter the type of space you're furnishing, consider the storage cost, where the pieces can be stored during off seasons and whether the furniture will be outside year-round.
This can help you develop the best storage and maintenance plan for your customers, which we'll discuss below. As a general rule, remember that not all businesses will have the space or means to store furniture during harsh weather seasons, so you may want to find a supplier that offers durable products that can withstand intense weather conditions.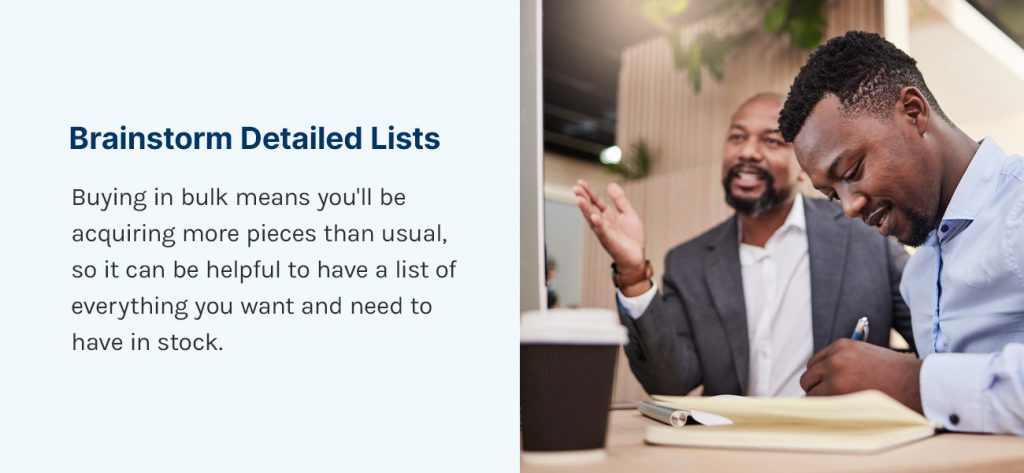 4. Brainstorm Detailed Lists
Buying in bulk means you'll be acquiring more pieces than usual, so it can be helpful to have a list of everything you want and need to have in stock. To keep everything organized, consider creating separate lists of your "wants" and "needs" so you know how to prioritize your order.
For example, you may have a project coming up that requires several outdoor dining sets, so those may be at the top of your list. However, you might also have a client who's particularly interested in outdoor benches and picnic tables, so having those in stock can make you an attractive option for their business.
Be sure to note which colors, styles, sizes and other preferences tend to be requested in your projects. Keep in mind whether you're working on a project that requires you to fill a new, empty space or simply replace old, worn-out furniture with complementing pieces.
5. Research Furniture Companies
When buying any furniture, product or material in bulk, it's important to research furniture companies and take your time to decide which is best for your needs. The furniture industry has its own wholesale supplier networks and product supply chains, so learning more about them can help you understand this market sector and which ones specialize in the products you need.
Keep in mind that wholesalers are looking for buyers just like you, so note advertisements in trade magazines and other industry news channels. If you prefer to view the furniture you buy for projects in person, make a short list of the companies you want to meet. If you tend to buy your furniture online, be particularly careful and thoroughly look through their website for any issues, such as poor reviews, high shipping costs or customers receiving damaged furniture.
There are countless companies to choose from for buying bulk outdoor furniture, so creating a short list of the ones you're interested in can streamline the shopping process and help you find the furniture company you want to partner with.
6. Compare Market Options
Once you've researched various furniture companies and narrowed down the ones you want to check out, be sure to compare their actual offerings to determine which one offers the best deal on all ends. When you start shopping, use your detailed lists to navigate and make the right decision.
Whether you're looking for specific pieces, such as outdoor tables or chairs, or simply want to browse and see what's out there for your clients, it's essential to shop around and compare options from several companies and suppliers. For example, one furniture company might have styles and color options that you love, but they may be out of your price range or not have the pieces you want in stock.
The key to investing in quality yet affordable furniture in bulk is to weigh your options before you commit. Consider which companies offer hardwearing materials, warranties, excellent customer service and other perks before you make your decision.
7. Budget for an Investment
Before shopping for furniture, especially when buying bulk, it's essential to create a budget. Depending on how many pieces you need, you could spend thousands on furniture. Still, choosing pieces that are more expensive but of high quality can help you plan for the long term.
As an example, if you use a smaller budget and get less expensive products, you may end up spending more down the line to replace them because of cheap materials, poor workmanship and faulty designs. This is particularly true with outdoor furniture because it'll require more maintenance and have to hold up to weather elements.
If you want to create an effective budget, consider shopping with a brand that carries durable yet reasonably priced materials for outdoor furniture.
8. Wait for a Sale
If you're buying bulk outdoor furniture for business purposes, it's wise to consider how the investment may affect your budget for the rest of the year. Keep an eye out for suppliers and wholesalers who offer bulk sales at certain times of the year, often seasonally. This way, you and your team can plan ahead for next year and ensure you get all the pieces you need for your projects.
Remember that the best time to buy furniture in bulk depends on the type of furniture you're buying. You'll generally see the best sales for outdoor furniture toward the end of summer — usually between the Fourth of July and Labor Day. Often, many stores want to clear out their outdoor furniture before fall hits, so this is the best time to look for discounted prices.
9. Mix and Match Pieces
Contrary to popular belief, outdoor furniture doesn't need to match perfectly to create a beautiful and aesthetically pleasing space. Unless a business is specifically looking for perfectly matching pieces, it can be more exciting to mix and match furniture and create something different.
If you're ordering bulk furniture for a particularly large outdoor space, consider mixing various pieces, such as tables, chairs, dining sets and accessories. Instead of using the same style and color of furniture, mixing it up can create a unique look that makes your projects stand out and even attracts more visitors.
This strategy adds variety and interest to your outdoor space and makes them look more appealing. If you have a project coming up for a restaurant, outdoor gym, lounge or other social space, try blending different aesthetics and functionality to achieve a look that visitors can appreciate.
10. Order Ahead of Time
When dealing with projects, you know there are plenty of factors that can go wrong and cause delays. Ordering in bulk is beneficial for many reasons, including allowing you to have plenty of inventory ready for clients and businesses. However, when you order too late, the convenience may be canceled out by unhappy customers.
Take a look at your scheduled and potential projects for the year and determine the best time for ordering your supplies. Keep in touch with your furniture company or supplier and discuss their shipping procedures, so you know the items will arrive before they're needed.
Likewise, be prepared to receive bulk shipping. Whether you keep inventory in a warehouse or other dedicated space, it's necessary to ensure you have enough space for the number of items you've ordered and enough staff on hand to help oversee the delivery and storage.
11. Attend Industry Events
If you prefer to view your products in person rather than in pictures online, attending furniture events is an ideal way to get the job done. Buying bulk furniture can be a costly investment, so it's worth it to spend time at various events to talk with representatives, network and build trust among various suppliers and other industry experts.
Industry trade shows are an excellent way to gain more knowledge of wholesale buying from suppliers. You can find these events by searching online, joining trade associations and keeping an eye on industry publications that tell you when the next event is coming up.
Business-to-business and industry-specific shows are your best bet because they'll help you directly connect with potential partners and suppliers that can fulfill your needs. If you meet a vendor you like, be sure to schedule a follow-up, one-on-one meeting with them to let them know you're serious about viewing and purchasing their outdoor furniture.
12. Create a Care Plan
Outdoor furniture is often exposed to many harsh conditions, such as excessive heat, salty air, winds, snow and rain. While there will always be some form of maintenance required for outdoor furniture, developing a proper care plan can help it last longer and give your customers years of enjoyment.
Most outdoor furniture tends to be made of strong materials that can withstand the elements and are relatively easy to clean, but they still need a bit of care every so often. No matter what type of project you're furnishing, be sure to give your clients full instructions on how to clean and care for their furniture.
If they don't have the space to store them on their property during severe snow storms, heat waves or strong winds, help them find a local storage or shelter space to protect their pieces from the elements. For more mild weather conditions, businesses can protect their outdoor furniture with covers and tarps to keep their products looking like-new for as long as possible.
If you're buying outdoor furniture in bulk for a client that needs to furnish a large outdoor space, it can be extra helpful when they know how to properly care for their investment — and yours!
Create a Beautiful Outdoor Space With Wabash Valley Furnishings
No matter what type of project you're working on, it's critical to choose the right partner for all your commercial furniture needs. At Wabash Valley, we take outdoor furniture to a new level and provide our customers with quality, customizable options that work in any outdoor space. We carry an extensive selection of tables, benches, dining sets, umbrellas and many other commercial site amenities to help you build an aesthetically pleasing and long-lasting design.
Whether you supply furnishings for other companies or want to furnish your own business, we have everything you need to create an inviting and functional outdoor setting. Our knowledgeable team has worked with design and landscape architecture firms to furnish a wide range of projects. We can work with your budget, specifications and design needs to create a bulk order that fits your requirements.
To learn more about our offerings, browse our products or visit our online installations gallery to learn how we can upgrade your space.
Sign up for our newsletter