How to Make Your Multi-Unit Living Facility Stand Out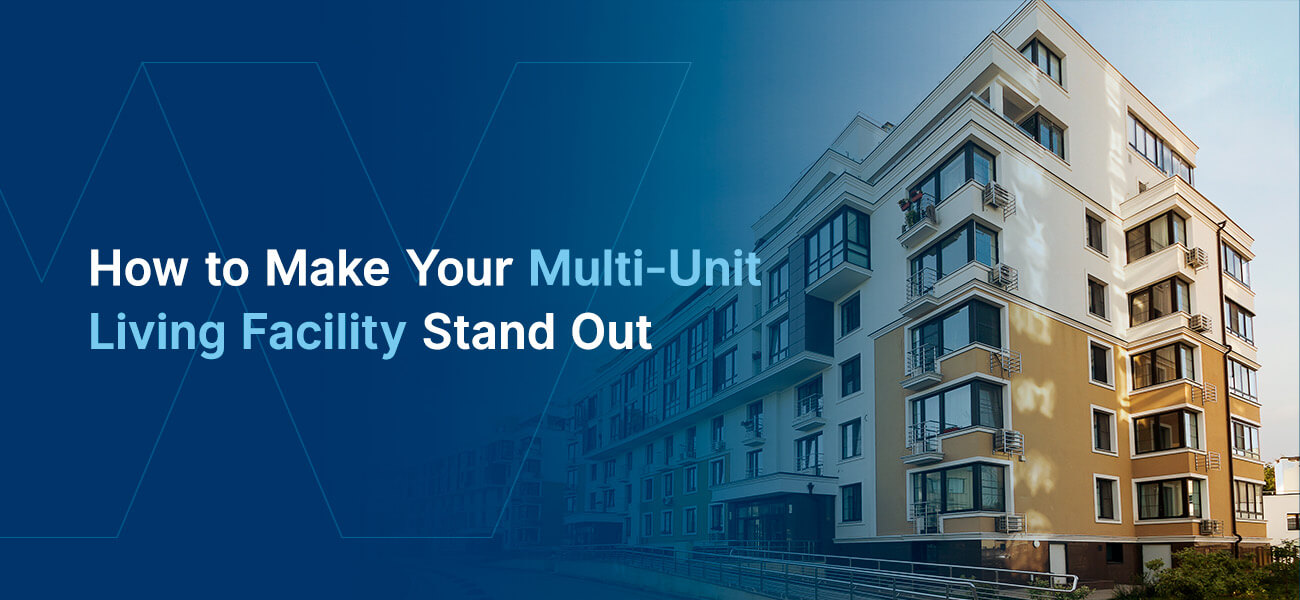 The multi-residential construction market is rapidly expanding. By 2025, experts predict multifamily dwelling construction to reach a value of more than $135 billion — up 43% from 2020.
With multi-unit living skyrocketing in demand in urban areas, developers and property managers need ways to make their facilities stand out. With high-end amenities, added security and functional design, multi-unit living facilities can increase their chances of attracting a steady stream of high-quality residents.
Table of Contents
Our guide to designing a multi-unit facility covers some of the top tips to enhance livability and desirability. We'll also focus on some of the ways to improve indoor and outdoor living areas, including common spaces.
Amenities
Besides location, one of the primary selling features of multi-residential buildings is the suite of available conveniences. Building amenities attract occupants who value having easy access to perks that are otherwise unavailable nearby.
According to research from Multifamily Design+Construction's 2021 Multifamily Amenities Study, lounge areas are one of today's top-ranked amenities. Lounge areas, also called clubrooms, common areas or media rooms, are multipurpose areas in the building accessible to all occupants. They typically have comfortable lounge and dining furniture and often come with a kitchen, cookware and TVs. Residents can reserve the lounge room for private parties during certain hours, typically with a deposit.
In addition to these popular lounge rooms, here are some other top features that attract tenants.
Package delivery areas: Secured rooms accessible with a PIN where residents can have packages safely delivered
Laundry rooms: Reloadable card-operated laundry facilities with modern appliances and clean facilities
Digital concierge desk: An online portal to submit electronic rent payments and maintenance requests, plus the ability to schedule move-in and move-out times or reserve lounge rooms or other common areas
Pet-friendliness: Allowing for pets with or without a deposit and providing pet-friendly perks, like dog-washing stations
Fiber-optic internet: Having access to the latest in high-speed internet technology, particularly for remote workers
Amenities like these make life in a multfamily unit easy, convenient and enjoyable, which is why residents are willing to pay more to live in buildings where they can access these comforts.
Community Spaces
Make your facility a thriving community by hosting events and providing spaces for residents to interact and build neighborly bonds. Here are some of the top ways to encourage community in your facility.
Indoor/outdoor meeting spaces: Today, many people working from home or as independent contractors no longer have a traditional office space. Instead, they look for other places to hold necessary in-person meetings. Indoor and outdoor areas in multi-unit residential buildings allow tenants to meet with clients or co-workers, providing a convenient solution to a modern challenge. These spaces also serve as spots to host events for residents.
Rooftop terraces: Another highly ranked amenity is a rooftop space such as a deck or terrace. Rooftop decks are popular common areas that provide a place for occupants to relax and enjoy the views or meet with friends. Furnishing a rooftop terrace with lounge chairs and dining tables also helps make the space more inviting and increases the chances of tenants using it regularly.
Dog parks: In pet-friendly buildings, dog parks are becoming more sought-after. Not only is this a convenience for pet owners, but it's also an excellent way to encourage community-building. Pet owners gravitate toward each other, which increases social well-being.
Playgrounds: With more and more kids growing up in urban areas, on-site playgrounds are becoming increasingly valuable to residents. Like dog parks, playgrounds allow residents to socialize while their kids play, creating better social cohesion among building occupants.
Community gardens: Community gardens provide a solution to small-space living, which limits the amount of room for hobbies, like gardening. Residents can work together to tend to and maintain a designated garden space where they can grow fresh foods while staying active.
Green Updates
Multi-residential construction has made a gradual shift toward greener building practices. Through sustainable building standards, like LEED and BREEAM, developers can create more environmentally friendly and energy-efficient multi-residential facilities.
Even without attaining certifications like LEED or BREEAM, other practical ways exist to update buildings to higher green standards.
Recycling facilities: Providing recycling receptacles has become common in multi-unit buildings, but ensuring they are clean, organized, well-maintained and properly serviced helps increase residents' perception of their usability. Making it as easy as possible for occupants to recycle can help make green initiatives more effective.
Composting: Along with recycling facilities, composting is an essential green offering in multi-unit facilities. Composting at home helps reduce the amount of waste sent to the landfill. Compost bins provide a place for residents to discard their biodegradable materials conveniently. In some cases, it may be possible to reuse the compost as fertilizer for a community garden.
Solar panels: Photovoltaic systems are no longer exclusively for single-family housing. Some jurisdictions now require the installation of solar panels on all new construction, including multi-residential units. It's also possible to retrofit buildings with PV systems, helping increase energy efficiency and slash energy costs for residents over time.
Mechanical systems: Technological advancements in mechanical systems design mean buildings of all ages can benefit from high-efficiency HVAC equipment. Modern HVAC design helps improve occupant health and comfort while reducing energy consumption.
High-efficiency appliances: Energy-efficient appliances operate on less power. Appliances such as dishwashers, washing machines, dryers, stoves and more can help residents benefit from the convenience of these appliances while spending less on energy costs to run them.
EV charging stations: One significant green upgrade multi-unit living facilities are undergoing is the addition of electric vehicle charging stations. As more people invest in EVs, having residential buildings equipped with the proper charging infrastructure can help attract more clientele.
Improved Parking Lot
In an updated approach to designing a multi-unit facility, developers are rethinking traditional parking lots and garages, considering how to optimize them for modern urban living.
Fewer families have multiple vehicles, and some have none at all. Lacking vehicles to store on-site, parking lots don't need as many stalls, meaning more space for other amenities or facilities.
Here are some of the ways to improve multi-unit building parking lots.
Bike and motorcycle parking: As more people choose to ride their bicycles or trade in their vehicles for fuel-efficient motorcycles, buildings can take advantage of these transportation modes' smaller footprint by designating motorcycle and bike parking areas.
Loading zones: With more space available thanks to fewer stalls, developers can reimagine how to use parking spaces more practically and safely. Designating more space for moving trucks, tradespeople and deliveries can help improve time efficiency and keep people safer as they load and unload vehicles.
Substitute for storage: Alternatively, fewer parking stalls may mean more room for secondary storage. Many people today invest in recreational equipment such as golf clubs, kayaks, paddleboards or fishing gear, and having ample space to store outdoor and sporting goods can be an excellent way to attract more residents.
Covered parking: In some climates, covered parking comes at a premium. Having parking garages or other forms of covered parking in colder climates is an attractive feature for commuters. Fully or partially covered stalls ensure vehicles remain protected from the elements and provide a desirable level of security.
Guest parking: Having ample and accessible parking for guests is critical. Tenants should feel comfortable inviting guests to visit and enjoy the amenities available at the facility — especially those with family visiting from out of town.
Landscaping
Landscaping can add significant property value and can help attract and retain tenants or buyers. Residents want to feel pride in where they live, and a well-manicured landscape can help residents enjoy their surroundings and want to spend more time outdoors.
Consider some of the top ways to improve the quality of multi-residential landscaping.
Trees and plantings: Having various trees, shrubs and flowering plants lining a building's landscape is essential to creating an enticing outdoor experience. Include various species rated for your hardiness zone, including drought-tolerant plants for dry climates. For trees and shrubs to provide serenity and lushness, they need proper maintenance. Have a landscape contractor routinely prune back overgrown shrubs and trim trees with drooping or damaged branches.
Build privacy screens: Strategically plant trees and shrubs to add more privacy to the landscape. For units with patios on the bottom floor, use tree plantings as a natural privacy screen to make the multi-unit outdoor areas more enjoyable, maximizing their use. Additionally, you can plant evergreen or deciduous trees near the building to improve privacy for the first several floors of units.
Water features and hardscapes: Contrast the soft natural beauty of trees and shrubs against decorative fixtures like water fountains, statues or art pieces. Water features with built-in benches provide a serene way for residents to relax as they wait in the courtyard. Hardscapes that use natural materials, including wood and stone, also help add depth to the building's aesthetic.
Shade and shelter: If outdoor communal areas, such as playgrounds and dog parks, are a valuable amenity of your facility, providing ample shade or shelter will improve residents' ability to enjoy the outdoor spaces. Use a combination of tree canopies and covered structures, like gazebos, to help add to your landscape's functionality.
Signage and entryway maintenance: Make your multi-unit living facility inviting with prominent, professional and well-kept signage. Enhance your entryway's appearance by framing the front doors with planters, benches or other fixtures that help anchor the property's gateway.
Wellness Spaces
Multifamily and mixed-use communities are increasingly prioritizing resident well-being as a staple of urban living. Attractive amenities packages that include modern wellness solutions are now essential to many people, especially those seeking a healthier work-life balance while they telecommute.
Below are some of the top ideas for wellness spaces in a multi-unit facility.
Fitness center: Gyms have long been a standard amenity in multi-residential buildings. However, with advancements in fitness technology, having updated equipment is critical to keeping your facility competitive in the marketplace. Having TVs to play fitness streaming services is a significant bonus for those who want the benefits of on-demand personal training. With the rise in functional fitness trends, gym equipment like kettlebells, medicine balls and foam rollers or massagers take any fitness center to the next level.
Yoga and meditation studio: Separate rooms outside a fitness center's traditional weightlifting area are also desirable features. Residents can use studios for yoga or Pilates classes or quiet spaces for meditation or stretching. Additionally, a studio is another amenity people can book for private instruction or training.
Cardio rooms: Another growing trend is the cardio room. Separate from the free weight area, a cardio room is for aerobic equipment, including rows of treadmills, stationary bikes, stair climbers and more. Having a separate area for aerobic exercise machines also allows the opportunity to offer private cardio classes to building residents.
Swimming pool: Depending on your climate, an outdoor or indoor pool is an attractive feature for wellness-minded residents. Swimming is a highly therapeutic recreational activity and provides a way to relax. In addition to offering swimming pools, multi-residential facilities may also find value in adding saunas, hot tubs or cold-plunge pools to create more a well-rounded wellness amenities package.
Enhanced Security
Security issues are among residents' most common concerns, so having a thorough security plan in place is critical to attracting high-quality tenants. Here are some of the ways to enhance security at your multi-unit facility.
Secured parking garages: A secured parking garage that's only accessible to residents or building employees is essential. It will protect tenant vehicles, bikes and other belongings from theft and vandalism and provides peace of mind for new residents.
Security personnel: In urban areas, having a door guard or security personnel on staff 24/7 prevents security risks such as unauthorized personnel entering the building and provides a strong theft deterrent.
Emergency stairwells: Having a properly designed building for safety and fire protection is essential, and secured emergency stairwells are a critical part of building safety and security. Having well-lit stairwells prevents vandals or other intruders from remaining undetected.
Security alarms and cameras: Public points of entry should be secure and accessible by fob or keyless entry. Exterior doorways should also have security alarms and surveillance cameras. Surveillance cameras in parking garages, lobbies and other common areas are also necessary for enhanced security.
Authorized worker access: Ensuring only authorized workers or building employees can access the building is another vital part of maintaining high levels of security. Storage units, mechanical rooms and supply cabinets should be secure and restricted to authorized personnel alone.
Move-in/move-out protocols: Tenants often leave their doors open when moving in and out, creating opportunities for intruders to enter the building. Implementing specific move-in and move-out protocols, including security guards or other practices, can help reinforce security and reduce unnecessary risks.
Increased Space
Limited room is one of the primary drawbacks of living in multi-residential units. Employing specific design techniques and practices can help increase and maximize the amount of space per unit — a sought-after feature.
Consider some ways to increase space in multi-residential units.
Large windows: Designing multi-residential units with larger windows helps increase the amount of natural light and creates the illusion of extra space. Generously sized windows enhance quality of life and well-being, especially during winter months with limited daylight. Large windows also maximize view corridors and scenery, allowing residents to enjoy their natural surroundings.
Use overhead space: In modern units with 12- or 13-foot ceilings, maximizing overhead space is a way to increase the amount of storage available. Lofts, overhead cabinets and floor-to-ceiling shelving use otherwise unused space, making it a more functional living area.
Built-ins and armoires: Another way to increase space is to construct units with built-in cabinets, shelving or armoires to provide additional storage for coats, linens and seasonal goods, improving the unit's livability.
Extended living areas: Multi-residential and mixed-use buildings with lots of common space encourage residents to view these areas as extensions of their units. Co-working spaces, lounges and media rooms provide ample areas for residents who want to use additional space for their hobbies, work or leisure time. Additionally, multi-unit outdoor areas, such as decks, patios, terraces and courtyards, are additional living areas that increase the room residents feel they can use.
Cleanliness and Sanitation
Cleanliness is essential for many people today, particularly with increased awareness of disease-control and sanitary practices. Building operators should hire professional cleaning companies who employ cleaning and sanitation best practices. Regularly clean common areas such as elevators, hallways, entryways and fitness centers.
Keep garbage and recycling areas clean and organized, and service them frequently to prevent garbage from piling up. Having junk removal services available or move-in and move-out garbage and recycling provisions is also essential to managing waste and preventing the dumping of unwanted goods.
Efficient Maintenance
Having an efficient maintenance program is another essential component of higher-end multi-unit living. Today, many property management companies rely on digital portals occupants can use to request and schedule maintenance needs.
From light fixture and plumbing repairs to mechanical systems issues, having technicians available to promptly resolve maintenance problems is critical to running a professional operation. Quickly resolve maintenance issues in common areas, such as burnt-out lightbulbs, chipped paint and malfunctioning intercom systems.
Building managers should follow a quarterly or annual plan for window washing or mechanical vent and duct cleaning to stay on top of heavy maintenance issues.
Outdoor Dining and Entertaining
Outdoor dining and entertaining conveniences are becoming increasingly popular, as they enhance multi-unit dwellings' quality of life. According to the previously mentioned amenities study, respondents rated a fire pit or grill as their No. 1 sought-after amenity in multi-residential buildings. Outdoor grills, fire pits and kitchens are ideal for entertaining, socializing and community-building. They provide an inviting space for guests or neighbors to get to know each other.
In addition to having a grill and outdoor kitchen space, outdoor entertainment areas often have furniture with dining sets, lounge chairs, patio lighting and outdoor heaters.
Choose Wabash Valley Furnishings to Make Your Multi-Unit Facility Stand Out
Make your multi-unit living facility unique with Wabash Valley Furnishings. Browse our blog for helpful tips and recommendations on how to improve commercial and residential spaces' design and functionality, including multi-unit and mixed-use facilities.
Explore our solutions for multi-unit living, such as outdoor benches, picnic tables, trash receptacles, bike racks and more. Contact us today to learn more about partnering with Wabash Valley Site Furnishings for high-quality outdoor living solutions.
Sign up for our newsletter