How to Design a Sports Stadium
Designing a sports stadium is a complex, ambitious undertaking. The design must account for traffic flow and other logistical issues while giving fans a unique, comfortable and unforgettable experience.
This article will show you the factors that impact the overall design and walk you through how to design a stadium from concept to construction.
Read the full article or jump to a specific section:
Types of Sports Stadiums
The stadium's intended use is the foundation for your design. You likely already have a vision in mind based on the level of the athletes:
High school
College
Professional
Additionally, each sports stadium within those groups will be single- or multiple-purpose. A stadium for high school football will have varying design needs than one meant for the NFL. However, the design for a multiuse college stadium will also look dramatically different than one for a dedicated baseball stadium at the same school.
Most high school stadiums are multipurpose, used for football and track and field. Similar combinations are common in many college stadiums. Colleges — especially smaller schools whose stadium maintenance costs might exceed what they earn from football games — may also open their stadiums to civic events. These institutions have begun considering the possibilities of hosting concerts, community events and more.
Designs for multipurpose stadiums must consider a wide range of possible uses — this was what Mexico's Tecnólogico de Monterrey did when it opened its new stadium in 2018. Along with fixed seats for soccer and football games, the design lets the school double the seats for other events.
Costs of Building a Stadium
Once you have your design's foundation, your budget will help you determine your next steps.
Building a stadium is a costly endeavor and likely to remain one. Of all the NFL stadiums built in the 21st century, Heinz Field's construction in 2001 was the least expensive at $281 million, and every new stadium since 2009 has cost at least $1 billion.
High costs can be part of designing school stadiums, too. For example, take the Cypress-Fairbanks School District's $80 million Cy-Fair FCU Stadium in Harris County, Texas. A high school stadium's $80 million price tag is a relatively familiar sight in Texas football, with the $70.3 million Legacy Stadium and $70 million McKinney Stadium close behind. These communities, heavily invested in high school football, are willing to pay for the best.
Funding for stadiums almost always relies on the communities around them. Of the 21 new NFL stadiums built between 1998 and 2020, 18 received public funding. Stadiums at public high schools or state colleges often get their funds through the state or local government, like the $748 million bond package that funded Legacy Stadium. Stadiums may also receive subsidies or tax breaks.
Taxpayers are generally the ones who shoulder these means of public funding by agreeing to increased tax rates. Communities that invest financially must first invest emotionally.
Any funding beyond what the public is willing to provide must come from private donors. For most professional sports, private funds come from either the team or its owner.
Timeline for Building a Stadium
As you'll find when assembling your timeline, the total time will depend on factors that vary from project to project.
On average, professional sports stadiums take between two and three years from start to finish — for example, construction on the Las Vegas Raiders' Allegiant Stadium took 31 months. However, your project's size, available funds, supply chains, weather and design itself all play a role in determining your ultimate timeline.
Whatever your projected end date, your timeline should include the following stages.
Planning: The project's initial stage will involve assembling financial and legal advisers to help you develop your financial strategy. You'll want to study and scout various possible locations before making your final choice. You should also prepare essential documents, including your budget, construction process and project brief, at this stage. Finally, you'll hire the architects and consultants who will draw up your design concept.
Design and preparation: This second stage can account for a significant portion of your overall timeline. Your design will need to achieve goals and meet required safety standards while staying within budget and will have to stand up to the local authorities' review. You'll also need to be sure you clear any licensing requirements. Once you've done so, you can start inviting contractors, reviewing their bids and establishing a completion date.
Construction: Along with the construction itself, this stage also includes securing the occupational licenses, safety certificates and building permits your stadium needs. Keep your legal advisers and consultants up to date so they can help ensure you're meeting any requirements.
Review: Having completed the initial construction, your architects and engineers will identify any necessary corrective or additional work. Your general contractor will take charge of these final changes during this stage.
Choosing a Location
You'll have several factors to consider when you start deciding where to build your stadium. The best location will have infrastructure networks that allow you to enhance the fan experience. As you scout potential sites, keep these questions in mind.
Where will the funding come from? Will the stadium be privately funded, or will you need to secure public funds as well? In the latter scenario, you'll want to look for communities that find the idea of a new stadium exciting. Consider areas where you may secure tax breaks or subsidies to supplement your funding.
Should I build in a city or a suburb? Stadiums require significant land for the stadium, parking lot and any related infrastructure. While it's easier to find that quantity of available land in a suburb, a suburban location should be convenient to a major highway.
What is the population density? Areas with a higher population provide a more substantial potential market. Urban locations are also more likely to have other amenities nearby — or opportunities for stadium developers to build up nearby areas. Nearby shopping, dining and entertainment can help fill stadium seats while also enriching the economic ecosystem around the stadium.
What are the environmental concerns? A location prone to heavy snow, rain or storms may require costly updates or limit the months your stadium could be in use. High-density urban areas might create traffic issues on game days. Consider the potential environmental impacts your design will have to account for.
Designing the Stadium
You know your stadium's purpose and location, your timeline and how to fund it. Now you can finally turn your attention to designing the stadium itself. A look at how stadiums are designed shows that the process breaks down into the five phases of architectural design. While these stages typically include construction, this section will focus solely on the four design-only stages.
1. Predesign
The predesign phase will take place during your timeline's planning stage. This phase is when the bulk of your research, data collection and analysis will occur. This stage should include:
Producing a comprehensive list of your stadium's intended uses to establish the project's full scope.
Performing site surveys to establish existing conditions.
Analyzing zoning and coding regulations.
Finalizing your budget.
Hiring architects and consultants.
2. Schematic Design
The schematic design phase is when the design will begin to take shape. Architects will work together to establish your stadium's size and shape.
Architectural drawings at this stage will primarily be rough sketches to illustrate the building's basic concepts. You should be ready to provide a list of spaces your stadium will include, such as locker rooms, administrative offices and food and drink vending. Your architect will use that list to establish those spaces' location, size and proximity to each other.
3. Design Development
During the design development phase, you work with your architects to refine and finalize their initial design. During this phase, your team will:
Draw up detailed floor plans.
Establish general structural details, such as locations for doors and windows.
Choose construction materials.
Select any interior finishes, fixtures and appliances.
Conduct preliminary engineering on the structure and any ventilation, electrical, plumbing and heating systems.
Design development concludes once you and the architect have approved the exterior and interior designs.
4. Construction Documents
Once you have finalized the design, this phase produces the documents that most people visualize when they imagine architectural designs.
Your architects and engineers will create notes and blueprints for the stadium's engineering and technical design, including:
Structural engineering.
Plumbing.
Electrical systems.
Heating and air conditioning.
Ventilation.
This stage is also when you will ensure that you have ordered all your selected materials and that they will arrive in time for construction. The blueprints and notes will include information for your general contractor about what materials they should use for each portion of the structure.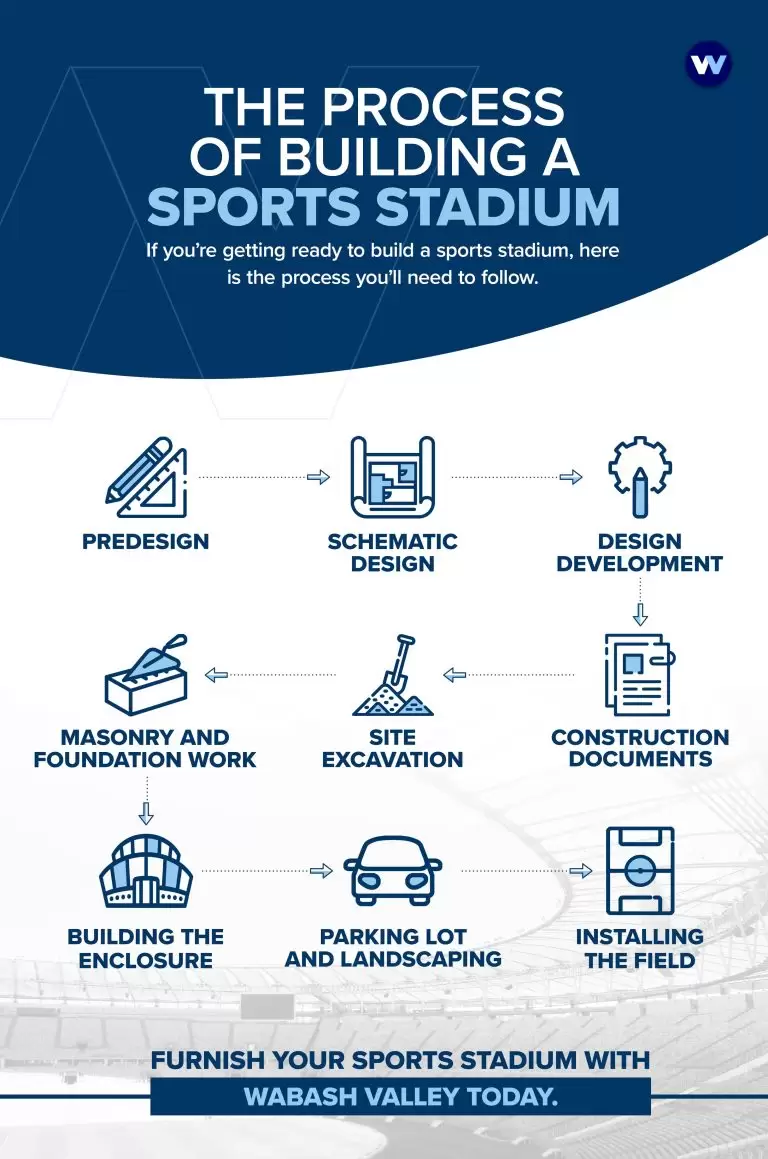 Construction Process
With a finished design, your project will be ready to move to construction. While intended use, size and budget cause some variation in how stadiums are built, these five steps create a typical outline for the process.
Site excavation: Once the site is clear and ready for construction, the first step is to excavate an area for the seating bowl. The pit for the bowl can be 50 or more feet belowground, depending on the stadium's size.
Masonry and foundation work: Based on your blueprints and specifications, the contractor will lay the foundation for the seats and the stadium ringing them. The foundation will likelyex consist of poured concrete and prefabricated pieces the contractor joins together.
Building the enclosure: Next, the contractor will construct the bulk of the stadium itself. They will build out any rooms and stalls surrounding the seats, such as restrooms, concession areas, shops, locker rooms and offices. They will also install lights, fixtures and interior and exterior finishes.
Parking lot and landscaping: This construction will occur either during the enclosure's final stages or directly afterward.
Installing the field: The playing field is always the final step in stadium construction, after heavy equipment use completes. Your contractor will carefully grade the area to ensure the ground is level and install sod or AstroTurf as your specifications direct.
Outdoor Furniture for Stadiums
After construction on your stadium wraps up, you'll need to select your outdoor furniture and site amenities before you're ready to open to the public.
Some of your considerations will be straightforward and practical. For example, you will need trash receptacles, benches, ash urns and hand sanitizing stations throughout the stadium, and tree grates and flower-filled planters will make the space feel welcoming. However, other additions will depend on your intended uses and demographics.
While sports stadiums were once primarily family destinations, modern designs have shifted to target a younger demographic looking for a more extensive entertainment experience. Broader options for concessions and premium seating options offer that experience during the game. Including concourses or pedestrian malls outside the stadium allows fans to extend their day before or after the game. A relaxing pedestrian area that includes sit-down restaurants with umbrellas shading their outdoor dining will encourage people to spend longer at the stadium.
If you plan to build your stadium in a densely populated urban area, consider adding bicycle racks to your design. Having a place can encourage attendance among residents who might find it cost-prohibitive to own a car in the city. More attendees choosing alternate transportation will also free up parking space for those who drive.
At this stage, it's vital to keep your design's color and style cohesive. Rather than choosing from existing options, consider the benefits of custom outdoor furniture and amenities. Dedicated stadiums can select their home team's color and logo, while multipurpose stadiums can design unique, branded color schemes.
Determining How Much to Purchase
When you've decided what kinds of outdoor furniture you need, the next question to consider is how much to buy. The answer will depend on your budget and the following.
The stadium's intended uses: Consider the type of stadium you're planning to build and what purposes it will serve. Will it only host one team's sporting events, or should you also consider other sports fans, concertgoers and more?
The location: How close is the stadium to the bulk of the fans who will attend? How much travel time are they likely to face versus time spent at the stadium?
The expected crowd numbers: This number can vary widely depending on the type of stadium you're building. Most high school football stadiums will have much smaller crowds and need far less furniture than you can anticipate at a major-league sports stadium.
You should ensure outdoor furniture needs are part of the design conversation from the planning and predesign stage. Wabash Valley Furnishings offers bulk pricing options for architects and general contractors to help stretch your budget further.
Furnish Your Stadium With Wabash Valley Site Furnishings
At Wabash Valley Furnishings, we specialize in the outdoor furniture and amenities your stadium will need.
We have experience working with architecture and design firms to curate site amenities and furnishings for a wide range of projects, and our team will work with you to create a bulk order that fits your budget and design. You can choose from items listed in our catalog or customize our durable, long-lasting products to fit your design.
Sign up for our newsletter