Guide to Designing Healthcare Facility Outdoor Areas
Designing beautiful, nurturing outdoor spaces for healthcare facilities can help improve patient healing and recovery. Combining complementary furnishings and landscaping details can create a peaceful oasis for patients, caregivers and families that use your location.
Our guide to designing healthcare facility outdoor areas explores some of the ways to optimize healthcare landscape and outdoor area design to maximize patient healing and caregiver well-being.
Table of Contents
Uses of Outdoor Areas for Healthcare Facilities
Commercial and institutional landscape design intends to blend aesthetics and functionality. Landscaping offers a way to enhance the natural beauty of the facility's surroundings while creating practical ways to use and enjoy the outdoor space.
With health facilities, the landscape can enhance the aesthetics of the property and provide a functional purpose. It may also directly contribute to the goals of patient caregiving and healing when approached with the right design techniques.
Below are some of the top uses for outdoor areas at healthcare facilities.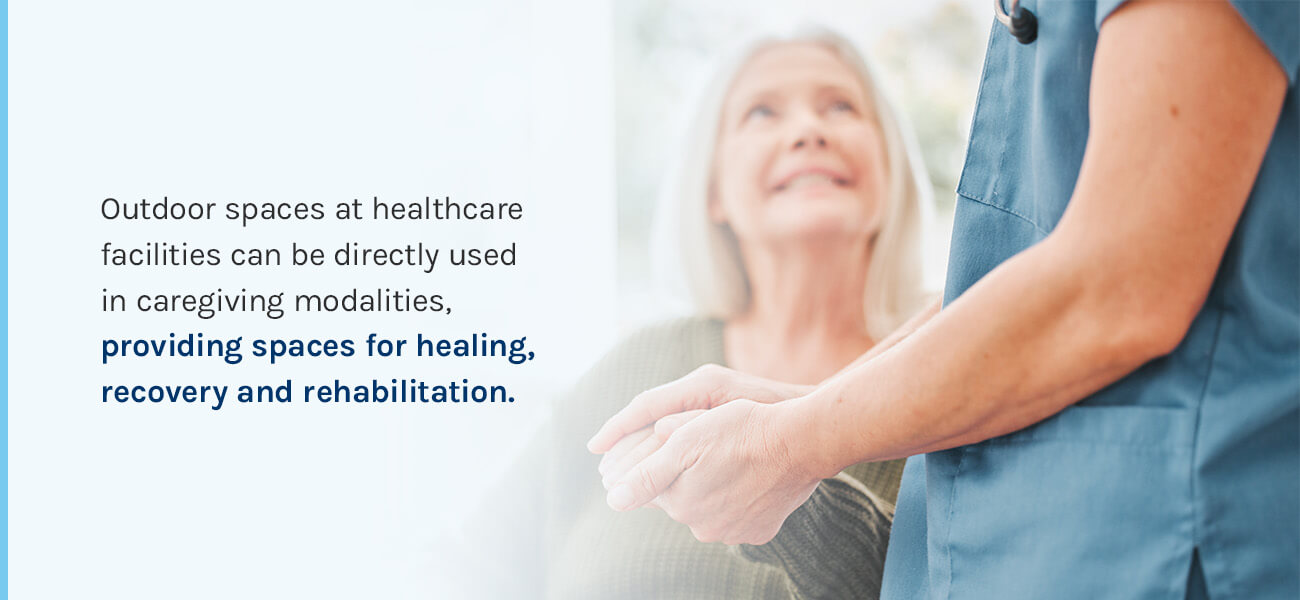 Patient Rehabilitation Spaces
Outdoor healthcare areas are seen as natural extensions of the healing experience. Outdoor spaces at healthcare facilities can be directly used in caregiving modalities, providing spaces for healing, recovery and rehabilitation.
Hospital outdoor design can be leveraged so it provides a place for outpatient rehabilitation, such as physical therapy and emotional and mental support spaces. Patients and their caregivers can use outdoor spaces to promote post-surgery and treatment recovery, providing a natural space for movement, conditioning and exercise. Likewise, holding patient counseling sessions outdoors can enhance emotional and mental recovery by exposing patients to the therapeutic benefits of greenery and sunlight.
Visiting and Waiting Areas
Modern healthcare design takes the approach of transcending the traditional clinical setting, utilizing outdoor space for a more refreshing waiting or visiting experience. In the typical healthcare experience, patients spend their time waiting for their providers or for potentially life-changing test results in an indoor waiting area. Likewise, when patients have family and friends visit, the experience may not always feel uplifting.
By reimagining the entire patient experience, landscape designers can create patient waiting and visiting areas that promote healing simply by being exposed to nature. Outdoor spaces with plenty of natural light, lush plants and serene features provide a more soothing space for patients to wait for appointments or for friends and family to visit.
Outdoor Dining
Outdoor spaces help nourish the mind and body, but they're also the ideal place for patients to enjoy their meals, especially with visitors. Creating garden spaces, plazas or natural courtyards with outdoor dining tables, chairs, benches and picnic tables encourages patients, visitors and caregivers to take breaks and eat their meals in a soothing, natural setting.
Outdoor dining areas should include shrub- and tree-lined pathways that are wheelchair accessible or designed for those with mobility issues. The furniture should also be accessible to those with mobility constraints and should be large enough to accommodate bigger groups.
Employee and Caregiver Respite
Caregiver health and well-being are critical to the overall care experience at health facilities. Having outdoor spaces for respite, relaxation and rejuvenation encourages staff to take the necessary breaks to recharge so they can deliver higher levels of care.
Rooftop gardens, private staff courtyards or plazas and other outdoor spaces provide sanctuaries for healthcare workers and caregivers to spend time. These designated places give caregivers space apart from patients so they can spend time alone or with colleagues.
Benefits of Outdoor Areas for Patients
Many hospitals and health facilities today are shifting their approach to care by incorporating more integrative healing solutions into conventional treatments. Infusing outdoor environments into the patient treatment experience can offer a variety of benefits for patients, including:
Promotes healing and recovery: Spending time in nature and being surrounded by natural elements can help patients in their healing and recovery process. Being outdoors encourages physical activity, which is essential to rehabilitation. Outdoor spaces also help patients with the mental and emotional sides of their healing journey.
Optimizes treatment plans: Outdoor spaces and the healing they promote can be an informal added treatment to the patient's primary care plan. The physical, mental and emotional benefits of spending time in outdoor spaces may help increase the patient's response to their treatment plan.
Facilitates social well-being: An important dimension of patient health is social well-being. Outdoor spaces facilitate socializing with visitors, other patients and caregivers, helping encourage patients on their road to recovery.
Improves quality of caregiving: A significant factor in treatment effectiveness is the patient's perception of the quality of their care. Thoughtfully designed outdoor spaces can increase patient confidence in the health facility and the overall treatment experience. Outdoor spaces create an empathetic and supportive environment that patients appreciate as they heal and recover.
Reduces the stress of medical diagnoses: Facing a medical diagnosis and undergoing treatment causes significant stress for patients and their families. Caregivers must find ways to help patients cope with stress and alleviate additional mental and emotional burdens that accompany medical treatment. Having access to outdoor healthcare areas can provide patients with natural stress relief as they recover and undergo treatment.
Encourages a focus on life after illness: An important part of the healing process is maintaining hope. According to a 2021 study published in the Health Environments Research & Design Journal, hospital outdoor design can promote healing by helping patients focus on the possibilities of life after they've recovered from their illness.
Benefits of Outdoor Areas for Caregivers
Healthcare workers' well-being can directly impact the quality of treatment patients receive. Healthy, happy and fulfilled caregivers are more likely to provide a positive and effective care experience, leading to higher patient satisfaction levels and recovery rates. Outdoor spaces at health facilities can help foster better caregiver health through outdoor spaces.
Some of the benefits of outdoor areas for caregivers include:
Reduced caregiver fatigue and burnout: Fatigue and burnout occur when caregivers are faced with increasing levels of stress. That stress affects their ability to remain positive, focused and optimistic about their role and the care they provide. The naturally rejuvenating benefits of outdoor spaces can help caregivers feel reconnected with their role in patient care.
Increased caregiver morale: Disengaged and demoralized caregiving affects patient recovery and healing. Outdoor spaces can provide positive mental and emotional health outcomes that help caregivers feel more engaged in their work, boosting morale among healthcare staff. By having peaceful spaces for outdoor retreats available throughout health facilities, healthcare staff can renew their morale and improve their abilities to provide impactful care.
Improved treatment quality: Stressed and fatigue caregivers affect the overall quality of treatment that patients receive. By providing caregivers and healthcare staff with solutions to improve their personal well-being, patients can receive higher quality treatment experiences that lead to improved healing and recovery rates.
Improved patient-provider relationships: The relationship between patients and their providers is essential in the overall healthcare experience. Outdoor healthcare areas provide a positive and nurturing space for patients and providers to communicate in a more informal setting that facilitates valuable exchanges.
What Types of Healthcare Facilities Benefit From Outdoor Areas?
Healthcare facilities of all categories can benefit from therapeutic landscape design and the addition of communal outdoor spaces. Some of the top types of facilities that invest in outdoor design include:
Assisted living, nursing homes and long-term care facilities: In nursing homes or assisted living and long-term care facilities, both residents and caregivers alike can benefit from outdoor spaces. Outdoor areas, like courtyards, walking gardens, rooftop terraces and more can provide residents with spaces for independence, physical activity and emotional well-being.
Outpatient clinics: Recovering from surgery, procedures or other forms of treatment can be a long road, with many patients spending weeks or months in health facilities. Outdoor areas provide spaces for patients to feel connected with nature, away from the traditional clinical setting.
General hospitals: With an enormous amount of activity and traffic every day at general hospitals, outdoor areas and landscaped grounds provide extended spaces for waiting, meeting or simply spending time outside of the hospital walls. General hospitals can have numerous gardens and natural features throughout the grounds, providing various points of rest for people staying at or visiting the hospital.
Cancer treatment facilities: Patients who are undergoing or awaiting to undergo cancer treatment may find comfort in having access to healing or meditation gardens or intimate outdoor spaces that contain a variety of natural elements. Exposure to light, nature sounds, water features and diverse trees and plants can help reduce patient stress and help them relax as they undergo difficult treatments.
Children's hospitals: Children's hospitals around the world are being designed with therapeutic landscapes. Children's hospital patients and families can benefit from landscapes designed with therapeutic purposes that foster improved healing. Children who have access to nature and interact with outdoor spaces may experience easier recovery and better health, while their families may find that outdoor spaces help relieve stress and boost their personal well-being.
Recovery centers: Patients at substance use recovery centers can benefit from outdoor spaces that help them focus on their personal well-being and connect them with the positive aspects of nature. Rehabilitation gardens provide a calming and peaceful setting where recovery center patients can spend time alone or with other patients and providers. Outdoor spaces help facilitate well-being on many levels, including physical, mental, emotional, social and spiritual.
Furniture to Include
When designing outdoor healthcare areas, consider the type of furniture and accessories that will make the experience more comfortable, functional and enjoyable for patients, families and caregivers. Below are some of the top furniture options to include in hospital outdoor design:
Benches: Outdoor benches are a necessary furnishing for functional and therapeutic outdoor areas at healthcare facilities. Patients and visitors need spaces to rest and relax. Having ample seating encourages people to spend time outdoors soaking in the natural elements. Benches should be comfortable and positioned to encourage interaction and inclusivity among those who use wheelchairs or have mobility constraints.
Swinging benches: In hospital outdoor design, having a select number of swinging benches tucked away from highly trafficked pathways can help provide patients and visitors with a more peaceful way to spend time outdoors. Swinging is a naturally soothing motion, helping relax the mind and body and reduce stress.
Outdoor dining sets: Outdoor furniture should also include tables and chairs to provide more functional seating. Outdoor dining sets offer comfortable seating arrangements that allow patients and visitors to enjoy meals outdoors or hold meetings. Dining sets can either have attached or detached chairs or benches, and picnic tables can be designed to accommodate wheelchairs. 
Umbrellas: Adding umbrellas and umbrella stands to outdoor dining sets improves the functionality of outdoor seating. Umbrellas provide protection from the sun and other elements so patients and families can get more use out of the available seating. 
Shelters: To maximize the outdoor experience, healthcare facilities should design their spaces with various points of shelter. Structures like pergolas, gazebos or arbors can provide shade from the sun as well as shelter and cover from rain and wind. Sheltered benches are a practical type of outdoor seating solution that provide cover.
Planters: Outdoor design solutions also include planters, planter boxes and other hardscape ideas to help give more structure to the landscape. Planters and other outdoor furniture accessories provide a showcase of trees and shrubs that patients and visitors can enjoy.
Trash receptacles: Keeping outdoor areas clean is important in providing a positive care experience at health facilities. Having plenty of trash receptacles available in convenient locations helps encourage visitors to keep the grounds free of litter and makes waste management more efficient. Ash urns are another important solution to help people dispose of their cigarette butts. 
Healthcare Facility Landscaping Tips
When designing outdoor spaces at healthcare facilities, keep in mind some key therapeutic landscaping principles that encourage patients to positively interact with their surroundings. Below are some of the top landscaping tips to make outdoor healthcare areas more therapeutic:
Incorporate greenery and therapeutic plants: Hospital landscaping should include a wide variety of greenery, such as trees and shrubs and native species of flowering plants. Certain plant varieties are considered to have healing properties, like lavender, which offers a calming scent.
Design with multiple elements: A well-designed landscape should engage the senses by incorporating multiple different natural elements, including live plants and hardscapes. Fragrant flowers, soothing nature sounds, textured vegetation and visually striking arrangements create a multi-sensory experience.
Establish a focal point: Landscapes should be built around a focal point, such as an impressive grove of trees, a living wall or a water feature. Fountains, ponds and waterfalls also help attract wildlife, such as butterflies.
Include a variety of distinct spaces: When designing outdoor areas for health facilities, it's important to consider how people will use the space. Creating numerous, distinct spaces throughout the landscape adds variety and offers more spaces for patients and visitors to choose from. Having multiple healing gardens encourages people to wander the grounds and explore the varied landscape.
Add plenty of walkways: Hospital and health facility landscapes should be accessible, with plenty of wide walkways, paths and trails that help spread foot traffic across a wider area. Most pathways should be flat and wheelchair accessible, but having a few paths with stepping stones can also add interest to the landscape. If you do use stepping stone paths, keep them short and ensure points of interest are still visible from the main flat pathway.
Keep up with maintenance: Health facilities should ensure their grounds are properly maintained year-round. Cutting overgrown shrubs and trimming trees help keep the landscaping safe and walkable. Pruning flowering plants and cleaning water features and hardscapes are important practices in landscape maintenance. Maintain your outdoor furnishings, as well, and take care of winterizing your furniture.
Factors to Consider When Designing Healthcare Facility Outdoor Areas
Hospital outdoor design has some unique considerations compared to other types of facilities or institutions. Because of the nature of the facility, the landscape must be able to cater to sensitive health situations and mobility concerns. Here are some factors to consider when designing outdoor spaces for health facilities:
Mobility: Whether designing outdoor spaces for a general hospital or a nursing home, it's important to keep in mind that many patients will have restricted mobility. Outdoor spaces should be wheelchair-friendly and have flat and stable surfaces for those using mobility devices. Place seating along paths to give those walking a place to rest when needed.
Functionality: Outdoor spaces should be designed for aesthetics and functionality. Some of the features that can make outdoor spaces more functional include tables, bike racks, playgrounds, shade trees, fencing and rain barrels. Think about the space's purpose, whether it's an extension of a dining hall or a recovery garden, when choosing the furnishings.
Safety: When designing for mobility and functionality, it's also important to keep in mind certain safety issues. Pathways, walkways and courtyards should be well lit. Using guide bollards and pathway lighting can help improve safety for patients or caregivers who use the outdoor space in the dark. Fence in the garden areas to prevent patients from wandering outside of hospital grounds.
Privacy: Outdoor space designers can implement various strategies and techniques to help create a natural sense of privacy. Planting shrubs or trees along the perimeter of a small healing garden creates a more secluded atmosphere. Gazebos, arbors and pergolas also add privacy, while tall trees help shield patients from view.
Design and Construction Requirements
Healthcare facility design must meet certain requirements that address a variety of health, safety and functionality concerns. Below are some of the main design and construction requirements related to hospital outdoor areas:
Construction codes: All landscape design plans for hospitals and healthcare facilities should meet standard building codes. Hardscapes and structures should be designed and approved by applicable experts to account for codes related to seismic and fire safety. Additionally, structures like terraces, decks or retaining walls should be reviewed and approved by applicable engineers.
Functional planning: All indoor and outdoor designs should be oriented toward the facility's function. Having a functional program in place ensures that design decisions are based on the type of health facility and its unique health and safety needs.
Safety risk assessment: As part of the design planning process, designers should work with applicable experts to perform a safety risk assessment. For healthcare facilities, a safety risk assessment should primarily focus on safe patient handling and movement, as well as infectious disease control.
Sustainability: Outdoor area design should also factor in sustainability issues, such as water and energy conservation, biodiversity and habitat protection. Drip irrigation systems and sprinklers help conserve water, while solar-powered outdoor lighting improves energy efficiency. Having a wide diversity of native plant species protects wildlife and promotes a thriving landscape.
Design Your Outdoor Healthcare Facility With Wabash Valley Furnishings
Design a nurturing outdoor environment for your health facility with Wabash Valley Furnishings. Our high-quality outdoor furnishings allow patients, visitors and caregivers to enjoy outdoor areas and benefit from therapeutically designed landscapes.
View our line of outdoor furnishing solutions for healthcare facilities to explore our wide variety of outdoor benches, dining sets, picnic tables and outdoor furniture accessories.

Sign up for our newsletter