Guide to Choosing the Right Trash Receptacle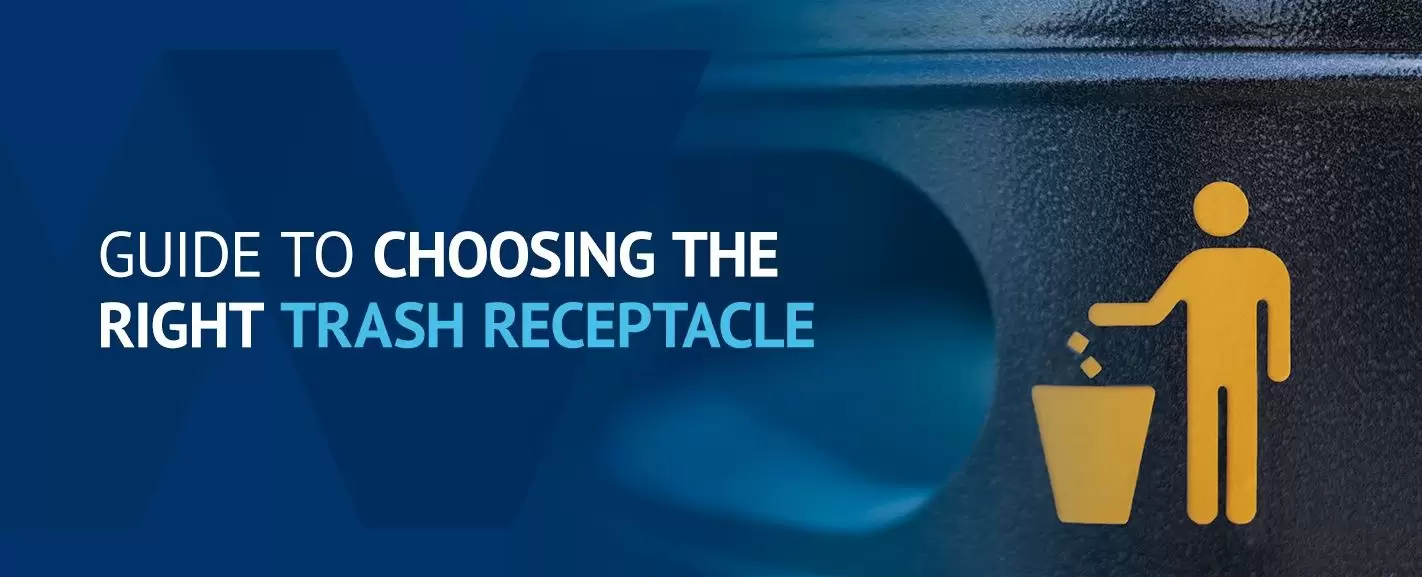 Durable, attractive trash receptacles can help maintain a commercial area's visual appeal and prevent pest infestation. Since businesses and municipal parks have reputations to uphold, it's crucial to install trash cans around the outside of a property to make sure food wrappers and other trash don't wind up on the ground, and unpleasant odors don't bother their customers.
With a wealth of material, configuration, and color options for trash receptacles available, you might not know which products would be best for your commercial site. Consider these tips to help you select a commercial trash receptacle to work best for you.
How to Choose a Commercial Trash Receptacle
The outside of a commercial or municipal property can influence patrons' first impression of the business. If there is trash lining the streets, they are likely to notice the trash first instead of beautiful flowers or an eye-catching building. The right trash receptacle for your commercial space can help keep your area clean and keep customers' focus on your business. Here are some tips to help you choose the right trash receptacle.
1. Place the Trash Receptacles in Visible Locations
Outdoor commercial trash receptacles can help control the litter around a company's exterior property, but they're only useful if employees and patrons can easily access them. Unless you put them in visible locations, people are more likely to drop their trash on the ground, making your receptacles useless.
Before installing the trash containers, you may want to look at a map of your property or sit outside and examine the foot traffic. Check the space for areas where patrons visit and what kind of litter they carry with them. Knowing the potential sources of garbage can help you and your team figure out where to put your new trash receptacles.
Here are some popular places where trash tends to accumulate:
In seating areas, where guests might like to eat lunch or drink a cup of coffee
Transition points, such as building entrances, train or bus stops, food vendors, and shopping malls
Intersections and crosswalks where most people tend to be in a hurry

2. Keep Your Trash Receptacles Close to One Another
Make sure you order enough trash receptacles to handle all the pedestrian traffic and waste you have on your property each day. One unit by the entrance may keep the front or inside of the building clean. If you're designing a solution for a large plot of land, you need plenty of receptacles near walking paths and meeting areas so visitors can conveniently throw out their trash.
As you consider where to install your trash receptacles, keep in mind you should position all your units so they aren't too far apart to cut back on litter. If you don't have enough trash receptacles to accommodate visitors walking on the path, they might end up throwing their food wrappers or cups on the ground instead of trying to find another trash can.
3. Install Distinct Trash and Recycling Bins
If you want to install recycling bins, you may want to put them close to your trash receptacles so people know they're available. Consider the local area's regulations to find out if you can store all your recyclable materials in one bin or if you need separate containers for plastic, cans, and glass.
Recycling containers feature similar materials to trash receptacles, but you can design them with a recycling symbol and make them blue for easy visibility. Compared to trash receptacles, recycling bins also tend to have smaller, uniquely shaped openings to remind people not to throw regular trash inside of them.

Factors to Consider When Choosing a Trash Receptacle
As you explore the various size and design options for a trash receptacle, try to find one to complement your company's brand and can withstand local weather conditions. You may want to keep the following factors in mind during your search.
1. Material
The right material for your trash receptacles depends on your location and aesthetic preferences. Your containers need to be able to handle the trash you put inside. Here are some of the most common materials for a trash receptacle:
Steel: This durable metal can withstand vandalism, rainwater, and heavy winds. Its standard silver color gives the trash receptacle a clean, modern appearance, but you can decorate it with colorful slats or paint it to enhance its finish. You could also design it with a metal mesh covering to further protect it from damage.
Recycled plastic: This material is resistant to moisture, allowing it to maintain its integrity in an area with lots of rain or humidity. You may find recycled plastic in the form of decorative slats over a metal trash bin.
Aluminum: This metal is more malleable than steel, so you have more design flexibility. Aluminum is a durable material effective for outdoor trash receptacles.
Besides the material, you can also add a protective coating, such as paint, to your trash receptacle to enhance its weather resistance and change its appearance.
2. Size
You may also want to consider the capacity of your trash receptacles based on their use and location. If they're too small, they'll fill up quickly and could even overflow. On the other hand, if they're too large, the maintenance staff may not empty them as often, so the old trash will start to smell. In general, outdoor trash cans are more spacious than ones you'd find in an office because they often receive more trash.
Consider the following tips for choosing a trash can size:
Type of trash: Think about what garbage is going inside your receptacles to find out how big you need them to be. If there's a take-out restaurant nearby, you can expect patrons to throw a lot of food and wrappers into your receptacles, so you'll need to install large bins.
Location: If there are areas on the property where many people tend to meet, you need to install large trash receptacles so people can dispose of their litter appropriately.
3. Maintenance Requirements
To keep the area free from trash throughout the year, you should try to get receptacles that are convenient to empty and clean. A durable trash can material will better withstand grime buildup and weather damage, so garbage doesn't leak out of it. Removable tops can also help the maintenance staff pull the trash out to stick to their cleaning routine efficiently.
Trash receptacles are relatively easy to clean when you follow these tips:
Install trash cans far away from areas where they could get damaged.
Put a few garbage bags at the bottom of the trash receptacle to quickly replace a full one.
Regularly clean your trash bins with a garden hose and a cleaning solution to eliminate odors.
Have the maintenance staff empty the trash at the same time each week to stick to a schedule.
4. Appearance
Your trash receptacle's design is usually more about practicality than looks, but you can also create a product to reflect your company's brand and unique to your location. Here are some things to keep in mind when you're choosing your trash receptacle's aesthetics:
Color: The colors you choose can reflect your company's brand and its outdoor surroundings.
Shape: Most outdoor trash receptacles are either cylindrical or rectangular. The configuration depends on your style preferences, but keep in mind that a rectangular trash receptacle's straight edges allow you to mount it on a wall to save space.
Add-ons: Besides the trash receptacle's body, you can also design the lid or ashtray to go on top of your trash receptacle.
Different Types of Trash Receptacles to Consider
Outdoor trash receptacles have a higher capacity and durability, allowing them to withstand pedestrian, weather, and pest damage. At Wabash Valley Furnishings, we provide a wide selection of trash receptacles you could install on your property. When you search our website, you'll be able to narrow your choices based on the following filters.
1. Brand
Depending on your budget and style preferences, you can choose from the following brands:
PLASTISOL: Our Heritage line of PLASTISOL outdoor furniture features a protective coating to enhance its durability against the elements.
Urbanscape: Powder-coated products from our Urbanscape line can complement the aesthetic of an urban, industrial environment.
Recycled Plastic Lumber: We also provide trash receptacles made from recycled plastic lumber for a natural, eco-friendly environment.
2. Mounting
Even though you should have enough trash receptacles for your location, you should keep them off walkways to ensure pedestrians can walk safely. You may also want to mount them into the ground to save space.
You can mount most of our products in more than one configuration, depending on your style and space needs. Here are some of the different ways you can install them:
In-ground: You might want to invest in in-ground trash receptacles to help them withstand harsh weather and prevent theft. These products usually blend in with their surrounding environment and take up less space than traditional bins.
Portable: A portable trash receptacle is easy to transport, so if you remodel your property often, you can easily move the receptacles around. You can also use it for public events, such as concerts or sports games in the park.
Surface-mounted: A wall- or floor-mounted trash receptacle can help you save space and make the most of your existing architecture. This product tends to fit in small, unique places, like poles or side doors.
3. Side Door Receptacle
A trash receptacle with a side door can provide your commercial property with several benefits. For instance, with a side door option, it can be easier for maintenance to empty the receptacle. Instead of having to pull a full bag of trash out the top of the receptacle, they can just open the side door and slide the full bag out. This can be especially useful if the receptacles often get very full and heavy or if they are larger.
You could also explore our options without a side door if you decide having a top opening is a better fit for your property.
4. Lid
A covering system can help prevent leaks and pest infestations. Here are some examples of different types of lids for outdoor use:
Dome lid: This type of covering is a rounded top to keep rain and snow from pooling on top of the trash receptacle, and the hinged opening prevents weather elements from coming inside. You may want to use this lid near playgrounds or outdoor venues.
Open lid: A large round opening in the middle of a trash receptacle allows people walking by lobbies or open areas to drop as trash as they leave or enter your indoor property.
Sand-top lid: You can add an ashtray on top of your trash receptacle to provide a place for people to extinguish cigars and cigarettes instead of potentially setting your trash on fire. You can use this type of lid for any bins near designated smoking areas.
Funnel lid: This lid features a large hole in the center with sloping edges. You might want to use this type of cover at public events and arenas so you can catch trash as people are leaving the event. The sloping edges help to ensure the trash doesn't fall out as well.
Tall square lid: This lid typically goes on an outdoor trash receptacle, and it features an opening on both sides for easy disposal. You might want to use this type of cover at an outdoor restaurant or a playground.

Advantages of Wabash Valley Furnishings Trash Receptacles
Our outdoor commercial trash receptacles can help contain trash around an office building, park, sports arena, or school. Here are some of the benefits of our products:
Versatile design: We know that you want a unique trash receptacle that reflects your company's brand and clientele, so we offer plenty of design options on our website. Our products are available in several functional, elegant, or environmentally friendly patterns and finishes — allowing you to pick the trash receptacles that will work best for your needs.
Durability: Our design team has extensive experience creating outdoor furnishings that should last a long time on your property. Since your trash receptacles need to withstand your local weather conditions, we apply a durable protective coating over our products that enhance their resistance to moisture and impact damage. To demonstrate our confidence in our products, we offer an industry-leading warranty along with your purchase.
Low maintenance: The superior materials we use for our commercial trash receptacles allow them to be easy to clean so they can maintain their eye-catching appearance.

Browse Our Wide Selection of Commercial Trash Receptacles
If you need new trash cans for your commercial property, you can explore the various outdoor trash receptacles we offer on our site. You can also reach out to us online to request a catalog or discover more information about our products.
Sign up for our newsletter