Designing Outdoor Retail Centers
To attract today's shoppers, the retail industry has had to reinvent itself. Whereas many malls in the past offered little more than shopping and food courts, successful retail centers today provide much more, including movie theatres, gyms and sometimes even amusement rides. In other words, they are destinations in themselves.
Discover tips on how to design a successful outdoor mall, including how to pick a location, how to landscape an outdoor center and how to make the mall stand out to shoppers and keep them coming back.
Tips for Shopping Mall Outdoor Design
When designing an outdoor mall, you must consider a number of important factors, including the type of merchant tenants it will have, the climate and the overall theme of the center. Take the following into consideration when thinking about your shopping center's exterior design:
1. Evaluate the Location
When picking a location for an outdoor shopping center, ask yourself the following questions:
Is the location centralized? You'll want to pick a place that people will want to congregate at. This premium location is often in or near the center of a city, where many people can easily meet up for lunch or weekend plans.
Is the location easily accessible? Ideally, your mall should be located near a major highway, making it convenient for shoppers to reach you.
Is the location near other popular attractions? Proximity to other popular attractions, including amusement parks, are often good places for outdoor shopping centers, as there will be consistent foot traffic nearby.
Is the location itself attractive? Putting your mall near an attractive geographical feature, such as by a lake, on a river or on top of a hill that offers stunning views, will also help attract shoppers to your center.
2. Consider the Retailers
How much space you dedicate to outdoor activities will depend on what type of retailers you will have. If your mall will have more restaurants than stores, keep in mind that most restaurants will want to have outdoor seating. You'll then need adequate space for restaurants to add dining sets outside. If your outdoor retail complex will feature fewer sit-down eating establishments, you can dedicate less space to outdoor seating and more for other purposes.
3. Judge the Local Climate
The amenities and attractions you include in your outdoor shopping center will largely depend on where you're located. For example, if your mall is located in a cooler climate like the Pacific Northwest, you may not want to add a splash fountain, where it will only be appreciated a few days of the year. Likewise, if you're located in Florida, you may not want to add fire pits, where their warmth will not be often needed.
Local weather can also determine how much covering you provide outside. Commercial umbrellas are suitable for sunny areas, while rainy climates will require extended coverage for visitors going between retailers.
4. Keep the Design Versatile
As technology changes how we buy things, traditional, physical stores must make more of an effort to attract customers. These traditional malls, with limited store options and nothing else but food court-style eating to offer customers, have realized they must offer customers additional experiences to thrive.
For this reason, many malls are being transformed into lifestyle centers that offer special experiences outside of shopping, a process known as "demalling." These new malls are often primarily open-air and include amenities such as:
Theaters
High-end restaurants
Specialty grocers
Exercise studios
Concert spaces
Housing structures
Offices
The objective of adding these and other amenities is to boost profitability by creating a relaxing, convenient and modern place that shoppers will want to visit.
When thinking about mall design, there's no one-size-fits-all solution — the most important thing is to prioritize customers. One effective way to demall is to repurpose a larger anchor space to support a variety of smaller tenants such as lifestyle, entertainment and restaurants. These new tenants should also face out toward the community.
5. Remember to Stay on Brand
When designing an outdoor urban center, it's essential to stick to your theme. Some of the best themes are ones that capture the local landscape and culture. La Cantera, a shopping center in San Antonio, Texas, is a shining role model in this regard. Some of the ways in which its design reflects the local area include:
Abundance of local flora: Mature live oaks, an icon of Texas Hill Country, were preserved in place all over the center. Many other plants native to the local area are also featured in the landscaping.
Preservation of local landscape: The hilly terrain of the region is also preserved here.
Connection to famous local attraction: The pathway throughout the mall is similar to that of the San Antonio River Walk, a famous San Antonio attraction that meanders lazily through the downtown area.
Use of local materials and artwork: Many native materials were used in the construction of the retail center, which lies between Hill Country and San Antonio, a city with deep Mexican roots. Mexican craftsmen and artists from Central Texas have decorative items featured throughout the mall, including tile and metalwork. Stone fountains carved from Mexican Cantera stone also connect the center's design with the local culture.
Take inspirations from the culture and nature around your retail center when creating your mall design if that suits your brand. Commission local artists, plant regional flowers and trees and show off what your area has to offer.
6. Design Within Your Budget
This bit of advice is perhaps the most obvious — don't opt for shopping mall outdoor design ideas you don't have the budget for. But when trying to stay within your budget, don't compromise quality in the process. You should still choose quality furnishings that visitors can admire and will be attracted to — even if it means buying fewer of them. "Less is more" applies here, and if your space is overcrowded, it can actually have a negative impact on customers.
7. Choose Features to Make Your Mall Stand Out
When people go out to have a fun time, they often want to take photos of their experiences and post them online. And when taking a photo, they will look to find some feature in your mall that is unique. Examples of unique features include:
Fountains: Fountains aren't just beautiful — they also make people feel calm and serene.
Statues: Carved figures of people naturally grab people's attention, and many are inclined to snap a photo with one.
Murals: Murals are a fantastic way to beautify an otherwise plain and boring wall and a great opportunity to showcase the talent of local artists.
Quotes: Quotes — especially the inspirational variety — can resonate with passersby, which may make the location more memorable to them. You can also use quotes from notable figures that called your region home to create a local brand.
Unique snacks: Shoppers often get hungry while walking around but don't have the time to sit down for a full meal, which is why so many grab snacks during their stay. What will really draw in hungry shoppers is a unique snack — such as a uniquely shaped pretzel — that shoppers can enjoy and take a photo with.
Archways: Archways at the entrances to malls give a great first impression, and they also serve as a popular backdrop for selfies.
Aquariums: Aquariums, like fountains, provide viewers with a sense of peace. An aquarium full of tropical fish can also make visitors feel like they've traveled to an exotic, tropical paradise.
Scenic rooftops: If your mall is in a scenic area, take advantage of it by adding a scenic rooftop, where visitors will likely go to relax and take a memorable selfie.
Wharves or boardwalks: Likewise, if your mall is adjacent to a scenic body of water, allow your visitors to experience it by adding a boardwalk or pier.
Signs: A sign welcoming visitors to your outdoor mall is another opportunity to get creative and create a landmark visitors will be drawn to and want to photograph.
Seasonal decorations: Customers love celebrating holidays and the changes of seasons, so putting up seasonal decorations is sure to make your mall a more popular shopping destination. It's also a way to keep your shopping center fresh and new.
Amusement rides: If you have the space to accommodate an amusement ride of some sort, it will be sure to attract many new visitors, especially families with children.
Keep your branding in mind with these unique features, as well. Since visitors will be posting pictures online, you can encourage them to use a hashtag or tag your place of business with aesthetic signs.
8. Make It a Destination
These days, if you want to attract shoppers to your mall, you need to offer more than shops and restaurants — it has to be a destination in itself. It has to be a place to which people will gravitate and where they will want to explore and hang out.
To make your outdoor mall an exciting destination, consider the following:
Integrate the "wow!" factor into your mall's brand: When it comes to mall design, retailers need a "wow!" factor that attracts customers to their spaces. Consider something unique and memorable, which could be anything from a train caboose to a lounge where customers can enjoy a $200,000 stereo system. Another design element that's becoming more and more popular is artwork, which can be in the form of statues, murals and paintings.
Make a great impression with grand entrances: Consider making vestibules and entrances grander and taller, which will make shoppers feel like they're entering a drastically different place. Covered outdoor entrances can also suit these purposes.
Don't depend on retail to generate traffic by itself: For many malls, retail has become the secondary or tertiary driver of traffic. The primary traffic in malls is often some form of entertainment, including amusement rides, aquariums and casinos.
9. Embrace Nature Within the Design
Having an outdoor retail center provides a great opportunity to bring customers in close contact with Mother Nature. If you're looking for mall landscape design ideas, consider the following:
Pretend your retail center is a park: You want your customers to relax and stay for a while. If your shopping center consists primarily of grass and sidewalks, they probably won't be tempted to spend much time there. But if there are landscape architecture features like benches, patios, tables and umbrellas surrounded by potted plants and beautiful trees, visitors will want to kick back and get comfortable.
Consider tropical plants: Planting exotic plants in your retail center will make customers feel like they're vacationing on a luxurious island, even if they're just shopping for towels. Keep your regional climate and branding in mind before implementing this landscape design option.
Add some seasonal decor: We all love to celebrate the changing of the seasons with seasonal and holiday decor. Doing so at your outdoor retail center is a great way to keep it looking current, vibrant and welcoming.
Choose skinnier trees: Plant trees that have a column shape and thinner profile — these types of trees don't have large heads, which can obstruct your signage, and they won't outgrow their area. Ginkgo, Bowhall maple and Armstrong maple are great examples of trees with thin profiles that work well in outdoor malls.
10. Plan for Regular Maintenance
Another point we'd like to stress is that, no matter how fantastic your amenities are spaces are, they must constantly look their best through routine maintenance.
This need for maintenance is especially true for areas where food and beverages are consumed, which need to be power washed regularly because they tend to get stained quickly from spills. If you want to keep your outdoor mall looking fresh, you'll need to make maintaining high-traffic areas a priority.
The materials you choose for your furnishing must be durable and able to withstand these cleanings, as well. Luckily, if you have an outdoor retail center, you will be choosing furnishings for outdoor use, which do not require nearly as much maintenance as their indoor counterparts.
Indoor seating, which tends to be made of cushions and cloth, requires lots of maintenance, and you will need to budget for their cleaning. They also tend to get permanently stained very quickly, in which case they will have to be replaced. Choose quality outdoor furnishings for retail to ensure your furniture is designed for minimal maintenance.
Benefits of Outdoor Spaces at Malls
If you're unsure whether more outdoor space at your mall is worth the cost, consider the following benefits of creating this shopping experience:
1. You'll Enjoy a Lower Cost of Operation
Outdoor spaces don't need to be air-conditioned or heated year-round, which means that HVAC units only have to be installed in individual shops. This benefit significantly reduces power consumption, ultimately lowering your property's operation cost.
Outdoor retail centers also mean that artificial lights don't need to be installed in every corner. Daylight will be sufficient to illuminate walkways and common seating spaces. Even if lights are installed in these areas, you won't need to turn them on in the daytime. Outdoor shopping centers also tend to be smaller than their indoor counterparts, which further reduces overhead.
These lower operating costs are great for both property developers and tenants. It keeps rents from rising and attracts more retailers, including local, small businesses. In turn, you can curate a wide variety of shops for your customers.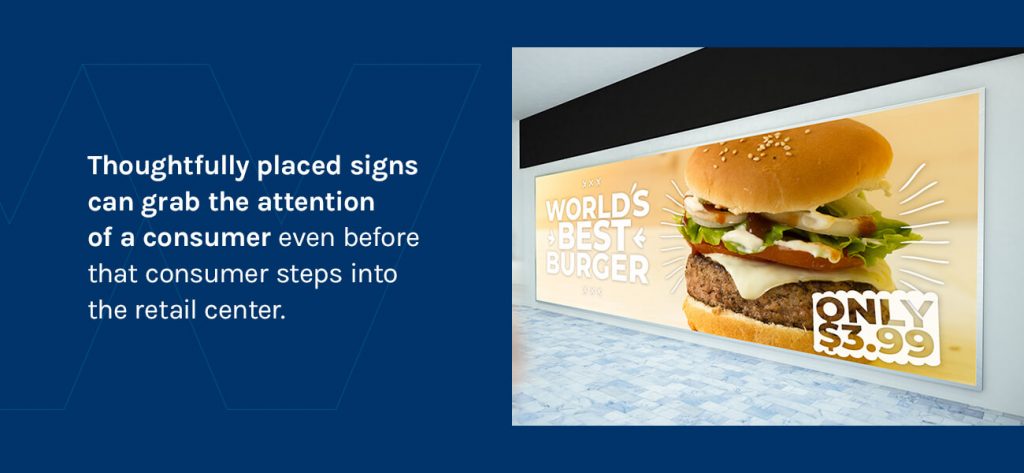 2. Tenants Can Enjoy Maximum Visibility
The design and architecture of open-air retail centers make sure that individual stores enjoy the most visibility possible. Thoughtfully placed signs can grab the attention of a consumer even before that consumer steps into the retail center. If the store is in the consumer's line of sight while they're in the general vicinity, this can attract a customer. In enclosed malls, customers must enter the building before they can see the stores you offer.
For example, if there's a gym right next to your retail center, a person leaving after a hard workout will not be interested in shopping. But if they catch sight of a smoothie bar, they might wander over to quench their thirst. Offering a variety of visible retailers can be very effective at increasing foot traffic and boosting sales.
3. It Provides Shoppers With a Memorable Experience
As a retail center owner, one reality you must face is that consumers today won't leave their comfortable houses just to buy something. It doesn't matter whether it's footwear, apparel, accessories or makeup — they can order all of these things online, right to their door. When people today do go out, they want to have a good time with family and friends. For this reason, they're always looking for experiences that are unique and exclusive.
Outdoor retail centers fit this description perfectly because they take mundane activities like shopping for groceries and transform them into memorable outings. While parents are shopping for necessities, their children can play at the center's park or playground. These centers are also great for hanging out with friends over coffee or fast food.
4. You'll Gain Consistent Traffic
Outdoor retail centers tend to be reliant on tenants like salons, gyms and grocery stores, as these are places many people visit regularly to fulfill essential needs. With those offerings, you'll ensure constant foot traffic and steady revenue. It will also ensure that existing customers return again and again, which boosts customer loyalty.
When such customers come to your retail center, the visibility of other stores will also increase, meaning customers will be tempted to check out these other shops, as well. This benefit can be very helpful when it comes to driving conversions for these stores. Note that it's still crucial that tenants come up with novel ways to attract the attention of these frequent visitors. Common examples include exclusive products and seasonal discounts.
5. Shoppers Gain an Entertainment Hub
A spacious outdoor area means your visitors can be entertained in many ways. Whether it's a cooking contest, fashion show, football match or live screening, the possibilities are virtually endless. You could even start weekly art workshops, farmers' markets, yoga classes — the limit is only your imagination. Events like these help bring in customers from various walks of life and generate more buzz about your retail center.
The most important thing is to create a feeling of community and unique memories for first-time customers. If customers enjoyed their first visit to your center, there's a good chance they'll come back — and bring family and friends with them.
It's important to note that for these events to be successful, you will need to promote them through offline and online channels. Consider installing signs to let passersby know about future events. You may also want to use retail center marketing software to send updates on events to customers connected to your Wi-Fi.
Choose Wabash Valley Furnishings for Your Outdoor Retail Center Design
For more than three decades, Wabash Valley Site Furnishings has provided outdoor retail centers with a wide variety of high-end, durable and functional furniture, including commercial-grade picnic tables, benches and waste receptacles. Our commercial outdoor furnishings can be used in a wide array of applications and industries and also comes in a variety of styles, colors and finishes.
Our commercial-grade outdoor furnishings feature two custom lines — the Urbanscape line of furnishings coated with powder and the Heritage line of PLASTISOL-coated furniture.
If you want to receive a quote or ask about our products, please fill out our contact form.
Sign up for our newsletter