2022 Top Park Design Architectural Trends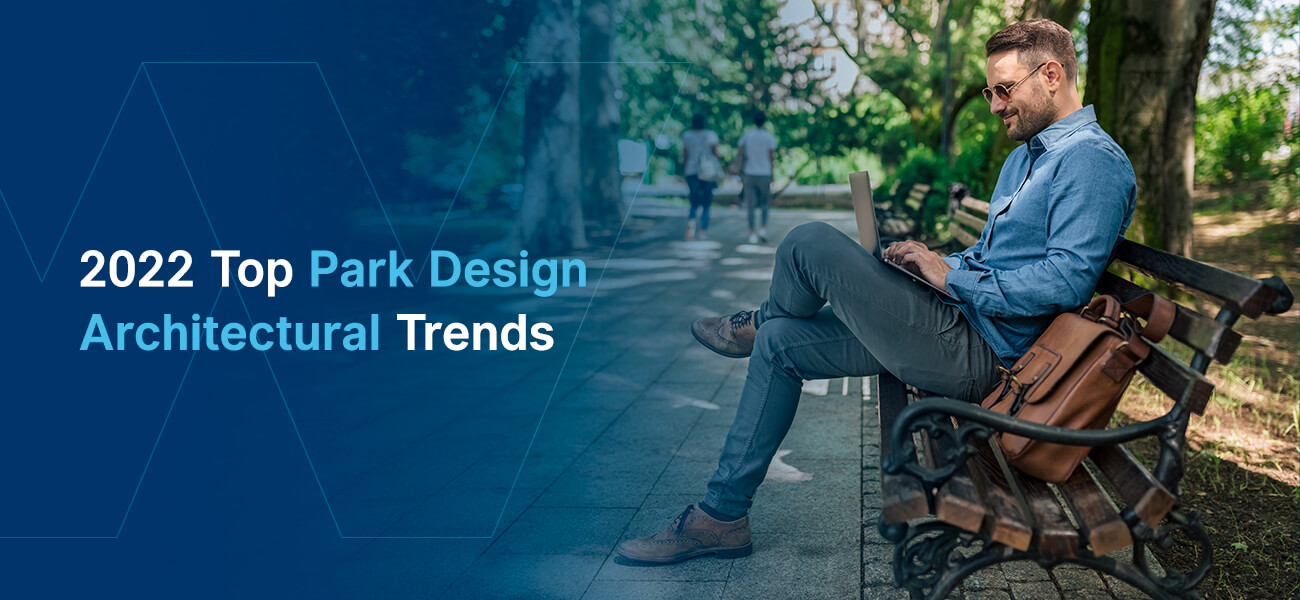 Urban parks have become more in demand over recent years, and their visitors have unique needs as they choose to spend increasing amounts of time outdoors. The changing social landscape has significantly affected park architectural trends to account for people's growing need for a safe outdoor space in their daily lives.
Post-pandemic, almost half the adults in the United States participate in outdoor recreation, and up to 30% of these are new to the pursuit. In short, people are craving a connection to nature, and park architecture trends are starting to reflect this. Landscape architects face a unique challenge — taking limited urban space and turning it into a lush outdoor retreat for all ages. Let's examine some of the top park design architectural trends for 2022.
Repurposed Urban Elements
Urbanization has made keeping green areas in cities challenging. However, the trend towards green oases in the urban jungle continues to grow as the population's needs change. Urban parks are becoming more popular, and architects have had to get creative in their application — with limited space and a focus on sustainability, repurposing urban elements is possibly the most effective method of incorporating nature in built-up environments.
Consider the Coulée verte René-Dumont, built atop the old Vincennes Railway line in Paris. This park met the space challenge head-on, taking an existing yet obsolete structure and creating an elevated linear park. This sustainable, beautiful and functional architectural masterpiece adds another layer of growth within a densely populated area, making the perfect healthy and practical solution to a complex architectural challenge.
Green spaces within an urban setting have many mental and physical health benefits, and 2022 has seen their incorporation continue to rise. From pocket parks to mini urban forests, unused spaces are finding new life within the architectural framework of park design. While the Coulée verte René-Dumont may have set the benchmark for urban repurposing, the challenge of finding space within space will continue to inspire future trends as supply meets the demand of an ever more sustainability-focused population.
Embracing Existing Nature
People are more open to protecting existing natural landscapes as the desire for natural spaces intensifies across the developed world. While previous trends bent nature to suit the design, now designs bend around existing nature. Designers connect with the landscape's natural topography instead of disrupting it, allowing visitors to embrace the feeling of abundance and overflow in their most natural forms.
Architectural tweaks can augment the preexisting natural forms to heighten the emotions associated with the freedom of nature. Differences in layout and natural textures provide visitors with a multisensory experience, immersing them in the outdoors. Creating genuine connections with sophisticated custom furniture and finishes elevates the environment further and provides a user-friendly touch.
The same can be said for playground environments — landscape architects can design these to do more than flow with their surroundings. Instead, they highlight the unique geographical elements of the site, focusing on the wildlife and greenery found within the landscape.
Indigenous flora create a sustainable biosystem enhances engagement in a park. Including both play and fitness areas within the existing environment marries the natural and engineered facets of park architecture. Highlighting and connecting the natural environment with architectural structure is a trend that will continue to satisfy the innate human tendency to connect with elements in nature, which has grown increasingly vital to physiological and psychological well-being since the COVID-19 pandemic.
Architectural Story
Landscape architecture trends in 2022 include a psychological element more than ever. The park experience is a multisensory one that resonates with visitors on several levels. In many cases, buildings and art have merged, focusing on enriching the mind and titillating the senses. A theme often runs through the design, noting the natural elements within the landscape while simultaneously surprising and delighting visitors with artistic accents. For example, parks might include minimalistic sculptures expertly placed to enhance the natural features within the space.
Modern landscape architecture is rarely straightforward. Current trends engage the human mind and encourage viewers to ask questions. Architectural experiences are all-encompassing for visitors, engulfing them in a complete sensory experience and leaving them wanting more.
Successful designs master the precarious balance between relaxation and natural energy, creating a sense of calm while cultivating a desire to be active within the natural surroundings. The ideal middle ground leaves readers almost breathless, their minds awash with psychological challenges and aesthetic delights.
Incorporating meaning and responding directly to the surroundings involves using appropriate materials to weave the landscape almost effortlessly into the existing urban fabric. Within the story, the design must meet the user's needs, whether to exercise, engage or sit and enjoy quiet contemplation. Supporting multiple functionalities in a relatively small space is a cornerstone of modern landscape architecture and requires imaginative storytelling and a sense of responsibility to the people and the environment.
Seasonal Planning
Enhancing the fluidity of nature is another 2022 trend. Clever planning leaves people with new natural elements to marvel at as the seasons change. Incorporating native plants with consideration for seasonal palettes allows park designers to play with seasonal changes and account for how visitors can enjoy the park throughout the year.
Changing colors and layers of seasonal trees and shrubs give a rich feel and provide visitors with myriad new experiences as the year progresses. Vegetation is a living part of the design and provides seasonal palettes and textures at different times.
Modern trends feature adventurous designs with rich textures and a combination of colors to augment the seasonal changes. Designers pay close attention to highlighting the natural greenery in different areas and include native plants in deciduous, coniferous, perennial and annual varieties.
Outdoor furnishings play a vital role in enhancing the seasonal landscape. Options that fit the area's natural accents all year round — in muted tones to offset the vibrant fauna — provide visitors with an interactive yet non-invasive opportunity. Sustainable alternatives are essential to satisfy a heightened visitor consciousness in line with the worldwide waste management trend. Eco-friendly and recyclable materials, such as recycled plastic lumber, augment the seasonal beauty of the park. They accentuate, rather than detract from, the natural environment.
Artistic Perspective
Park landscapes are functional art. Architecture accentuates how humans perceive nature. Many artists were also gardeners, inspired by the wonder of nature for centuries. Modern landscape design must evoke the same sense of wonder visitors would expect when looking at a piece of art of exceptional quality and imagination.
The perfect park design is part creativity and part science. Like any good piece of art, the ideal balance, color and texture set it apart. Landscape design trends breathe new life into the concept of four-dimensional, multisensory art pieces. Parks are not just functional places for community gatherings — they have taken on new meaning and greater depth in recent years.
Landscape design is no longer incidental. It is multifaceted, complex and purposeful, just like art. Modern trends require a focus on color, texture and balance to meet visitor needs. They need both angular and soft elements, both textured and smooth features. The demand for landscape designers to produce functional spaces that take visitors' breath away continues to rise. Consider the use of light, just like an artist would.
The furniture and amenities must maintain their functionality within the visual feast that is the landscape. Careful choice of functional accents such as park benches and picnic tables are the artist's flourish — the final brush strokes to see the project to completion. Creating park spaces as art is a trend likely to continue beyond 2022, as changes in lifestyle over the past few years have led to a better appreciation of natural form and texture and a yearning for the outdoors.
Element of Surprise
There is nothing quite as dated as predictability, and the manicured lawns of yesteryear no longer align with current visitor needs. Instead, visitors want to make their park experience exciting. They want to be surprised. Modern landscape design requires a degree of imagination and a sense of adventure.
Think of a maze-like setup where people can turn around a corner and find themselves face-to-face with a previously unthought-of addition to the landscape. Consider these hidden gems when using your space and make room for these unexpected elements. The East Ruston Old Vicarage Gardens in the United Kingdom made excellent use of surprise elements, with well-placed hedges creating a maze effect, where visitors can meander through and come across several secret gardens on their travels.
Architects can use several methods to address the need for surprise in landscape design. Harness the visitors' sense of wonder with surprise elements scattered in the park, or consider an entire surprising garden hidden from immediate view with the effective use of screens, plants and other structures. The concept of flow is pronounced in current trends, so adding the element of surprise with moving water is also an option.
The natural topography can also accentuate your surprise. Consider hills and multileveled options to make the most of your space.
Integration With Nature
Parks should must be both an aesthetic feast and a functional part of the community. Additional functional aspects, such as playgrounds, fitness equipment, picnic tables and waste receptacles, must be aligned with the current trends. Visitors want to enjoy the amenities without them having a disproportionate impact on the natural aspects of the park experience. Manufactured items should blend in with the natural surroundings to align with the shift in community focus.
Say goodbye to sterile-looking environments and garish contrasts as park design takes on a more lived-in feel. People are less likely to use sustainable green spaces within urban environments when manufactured items fail to blend seamlessly with the surrounding nature. The trend towards muted, natural colors and shapes that meld together with the surroundings changes the entire feel of the park.
Outdoor park amenities are stylish, functional and discreet. They should suit the space while retaining functionality. Ideally, these additions are high quality, durable and require little maintenance. Everything from benches and bike racks to grills, picnic tables and trash receptacles integrates with the environment and enhances the feeling of freedom in the outdoors. While functional and pleasing to the eye, they retain a level of uniformity in their modesty and create a space where visitors feel comfortable.
Coded Spaces
Technology and architecture work together more every year as the need to consider our environmental impact increases. The use of coding and technological advances doesn't hamper creativity in the design space. Instead, it augments the process and allows landscape architects the freedom to design within the bounds of sustainability and to mitigate long-term environmental impact.
Landscape design requires a meaningful approach to decelerate the effects of climate change. Technology can change land management practices to align with this global goal. Modern applications and software can help landscape designers take a more solutions-based approach to designing recreational spaces. Technology gives us the information to assess design outcomes based on environmental, economic and social considerations.
Project leaders embrace interdisciplinary skills and mindsets in landscaping projects as a greater emphasis falls on using and maintaining outdoor spaces. From design to maintenance, the addition of technology assists in reformatting landscapes to minimize their carbon footprint and incorporate sustainable maintenance practices. Technological assessments are an increasingly valuable tool and help landscape architects broaden their horizons and make an impact on people without disrupting the environment.
History in the Everyday
Modern parks provide more than an escape from life's hustle and bustle. Considering history and culture allows landscape designers to create a meaningful link to the past within a functional recreation area in the present. Parks enable the preservation and appreciation of historical sites. When accompanied by expressive design, they can also provoke thought.
As the efficient use of space becomes more critical, the trend of designing parks around historical sites seems bound to continue. Combining the past and the future allows these cornerstones of the community to receive frequent visits that connect with their local heritage. In this regard, landscape design takes on another role — preserving history.
Park architectural trends continue highlighting these historical landmarks while adding a modern touch to make them accessible. The San Juan National Historic Site in Puerto Rico is a perfect example of how park design can keep history alive in the next generation's minds. This place has a story to tell, and the rolling lawns surrounding the buildings stand in stark contrast with the fortresses and their turbulent history. Visiting a site like this is awe-inspiring and thought-provoking and helps visitors connect with days gone by.
As modern life sweeps us off our feet, these rich historical areas take on increased significance. Park architectural trends will lean toward preserving historical sites and sharing them with visitors for as long as possible.
Permanent Temporary Spaces
The COVID-19 pandemic and the years that followed solidified our need to spend time outdoors. As our movements were restricted, we realized how much we needed fresh air and a connection to nature. Cities across the globe took spaces previously used as parking spaces and repurposed them to give people more access to the outdoors. While they all can't remain as they are, there is a definite trend toward making some of these temporary spaces permanent.
Again, this comes down to the clever use of space. Carving out an oasis in an urban environment requires more than a bit of ingenuity from the landscape architect. If these "pop-up parks" or "parklets" are to become permanent, designers must make them functional without interrupting visitors' connection to the outdoors. With limited space, environments become increasingly multifunctional as they transition from temporary to permanent. Outdoor dining is common in these spaces and requires unique design elements.
Temporary parks that left a lasting impression remain to this day, and the process to transition them to permanent parts of the urban landscape is well underway. Since 2020, landscape architects have had the opportunity to unleash their imaginations on these spaces, and they will continue to do so as long as the desire to connect to the outdoors remains and communities continue to form around these areas.
Focus on Protection
Alongside our rekindled desire to enjoy the outdoors comes a simultaneous trend toward protecting it. As more people set goals for a sustainable lifestyle, park architecture trends lean more toward environmental protection. Many new parks have one primary purpose — protecting the natural environment and encouraging growth.
Landscape design takes on new meaning within this paradigm. The choice of greenery can no longer be aesthetically pleasing alone. It must develop a natural ecosystem. Park designers should choose native plants that encourage insects and animals indigenous to the area to take residence and provide a haven where they can thrive. Amenities blending in with the natural environment and topography become even more critical when diversifying the wildlife in parks and recreation settings. Common trends in this area include planting trees to encourage diverse wildlife and creating green and sustainable spaces.
Parks now have multiple functions, and design trends aim to create places where people and nature can thrive side by side, neither impeding the other as they enjoy their miniature sanctuary. People can enjoy being in nature and still participate in healthy pursuits, but a natural park design allows native plants and animals to inhabit and thrive in the space.
In line with this focus on protection, outdoor furniture and amenities are becoming more eco-friendly. This holistic approach to park design architecture takes us back to natural, sustainable alternatives in areas designed for conservation and an appreciation of the natural world.
Intergenerational Design
The average park visitor demographic has also shifted since the pandemic. Many people started working from home in the initial stages and have continued with hybrid or work-from-home options. The resulting shift in priorities to include more family-oriented activities has had a ripple effect on park landscape design. The entertainment and amenities must meet multiple needs of different generations of visitors.
Visiting the park is a family affair, often including pets, grandparents, parents and children, each seeking something different from their experience. Providing activities and accessibility for all ages is a consistent landscape design trend in 2022. Landscape architects often incorporate physical fitness elements for adults, gentler options for older adults, and play areas for pets and children. Park designers frequently incorporate innovative fitness and play options while keeping with natural aesthetic trends. These can include walking paths, fitness equipment, climbing nets and relaxing options.
Accessibility is another critical consideration. Landscape architects now ensure they provide spaces and activities that are accessible for people with disabilities, such as people who use wheelchairs or other mobility aids. Current trends have a marked focus on inclusivity as park visitors' needs become ever more dynamic.
Elevate Your Park Architecture With Wabash Valley Site Furnishings
When considering how best to upgrade your outdoor recreation center, the furniture and amenities should reflect your park's overall feel and purpose. Wabash Valley Site Furnishings has provided high-quality, durable and aesthetically pleasing options for the industry for over 30 years. We stay aligned with park architectural trends and have a wide range of commercial outdoor furniture and amenities to suit your space, including recycled plastic lumber, to keep your park eco-friendly.
You can browse through our extensive collection of products whenever you get a chance and use our considerable experience and expertise to create the park of your visitors' dreams, care for the environment and enrich your community.
Sign up for our newsletter